Week In Review: Transgender Bill, Verizon Workers Strike
19:59
Play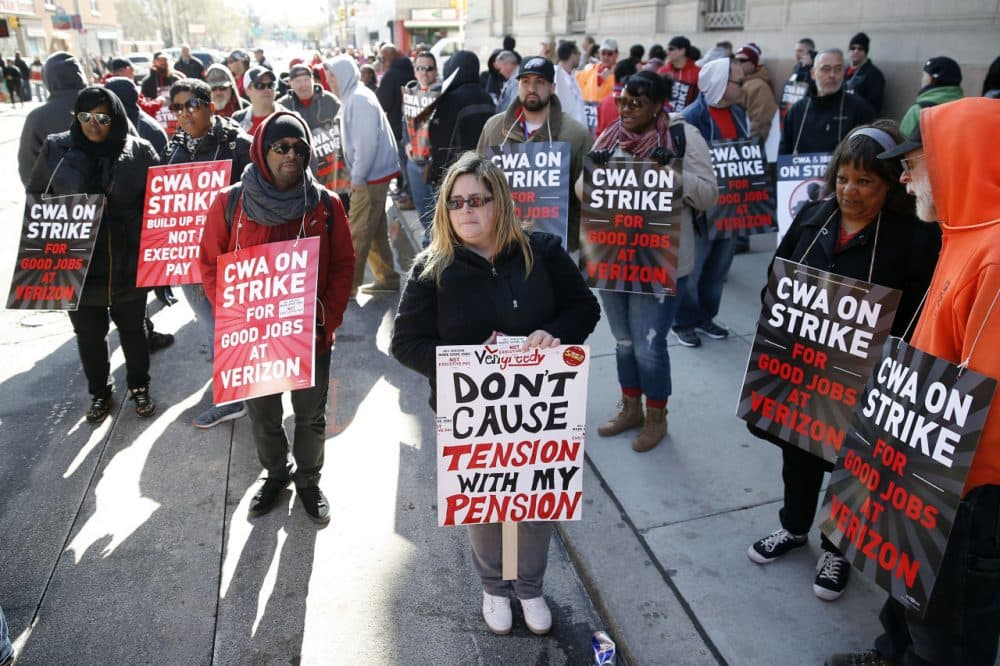 This article is more than 5 years old.
It's been three years since the bombing at the Boston Marathon. We'll talk about our conversation with former Gov. Deval Patrick and his remembrance of the day. Then, we'll dive into the week's news, including a bill on Beacon Hill that would expand the 2011 law protecting transgender people, and the Verizon workers strike along the East Coast.
Guests
Tom Keane, former Boston city councilor and a columnist for The Boston Globe. He tweets@tomkeaneboston.
Arline Isaacson, president of Isaacson Political Consultants and co-chair of the Massachusetts Gay and Lesbian Political Caucus.
More
WBUR: 3 Years Later, Boston Pauses To Remember Bombing
"Gov. Charlie Baker and Boston Mayor Marty Walsh joined survivors of the bombing and families of victims for a wreath-laying ceremony Friday morning at the bombing sites on Boylston Street."
The Boston Globe: Baker Defends Approach To Transgender Bill
"Gov. Charlie Baker defended his noncommittal approach to a transgender rights bill Thursday, a day after advocates booed him during a speech for failing to take a position on the measure at an LGBT networking event. Baker, a Republican, told reporters he generally does not take a position on legislation until it reaches his desk."
WBUR: When Being A Republican Means Supporting Transgender Rights
"Jordan Evans is transgender and a Republican. She recently wrote an open letter to Gov. Baker in Commonwealth Magazine, urging him to support the bill because being a Republican compels him to do so."
Boston Herald: Transgender Bill Backers To Keep Pressuring Charlie Baker
"Advocates for a transgender rights bill say they'll keep the pressure on Gov. Charlie Baker to commit to signing it, while Baker defended his record on LGBT issues yesterday and insisted he won't commit to any legislation before it lands on his desk."
WBUR: Verizon Workers In Boston Join Tens Of Thousands On Strike
"Tens of thousands of Verizon workers from Virginia to Massachusetts went on strike Wednesday, after the company and unions failed to come to terms on a new contract. At issue are proposed cuts to pension benefits and changes to workplace rules that Verizon says are needed to keep the company's landline business competitive."
This segment aired on April 15, 2016.