First Woman To Run Boston Marathon Honored
18:58
Play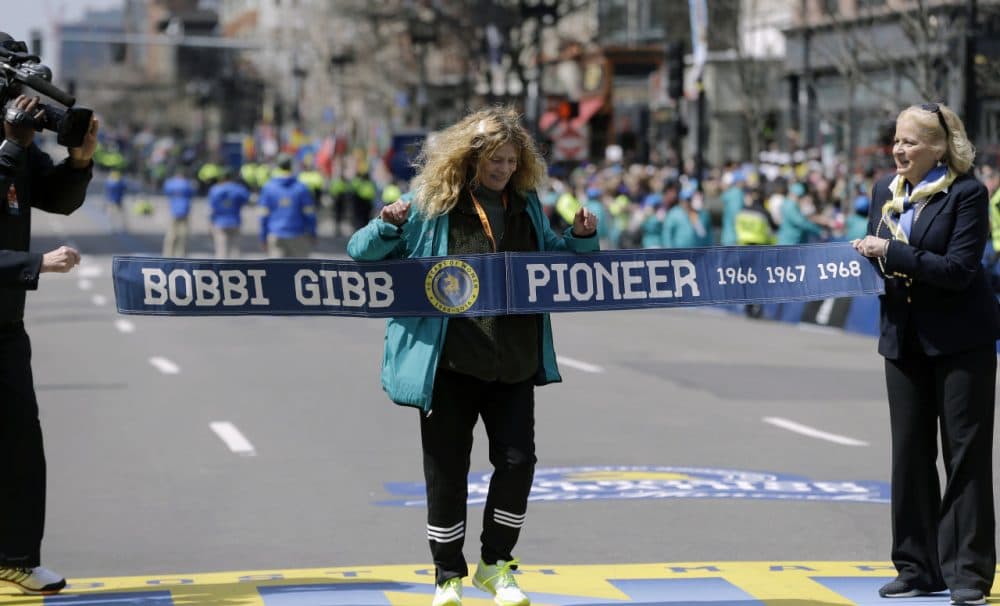 This article is more than 5 years old.
Fifty years ago, the first woman crossed the Boston Marathon finish line, even though it was a men-only race.
"No one knew that women could run marathon distances. Women didn't even know they could run marathon distances (be)cause they were never allowed to run more than the mile and a half that was sanctioned by the Amateur Athletic Union," recalled Bobbie Gibb.
But Gibb always loved to run, ever since she was a child. "As soon as I could walk, I was running."
Gibb went with her father to watch the Boston Marathon in 1964. She was hooked, and determined to run. Gibb wrote the Boston Athletic Association to apply for a spot in the race, but they said they couldn't take the liability of having a female runner.
So in 1966, Gibb took a Greyhound bus from San Diego, arriving in her her hometown of Winchester the night before the race. In the morning, she hid in some bushes near the starting line in Hopkinton. Once about half of the runners had passed, Gibb jumped in.
She wore a black swimsuit underneath her brother's Bermuda shorts, a hooded sweatshirt to hide her hair, and a brand-new pair of men's running shoes.
Guest
Bobbi Gibb, artist, neuroscientist and first woman to run the Boston Marathon. She tweets @BobbiGibb.
More
Here & Now: Bobbi Gibb Led The Way For Women At The Boston Marathon
"In April 1966, Roberta Gibb rode a bus from San Diego to her parents' home in Winchester, Massachusetts. It was the day before the Boston Marathon and she told her mom and dad, 'I'm running.'"
Bobbi Gibb Marathon Sculpture Project
"The Gibb marathon sculpture will actually be created by Gibb herself. She is an accomplished painter and sculptor who studied at the Boston Museum of Fine Arts in the mid-1960s — at the same time that she began running longer distances."
This segment aired on April 18, 2016.