'Say It Loud': 50 Years Ago, James Brown Redefined Black Pride
Play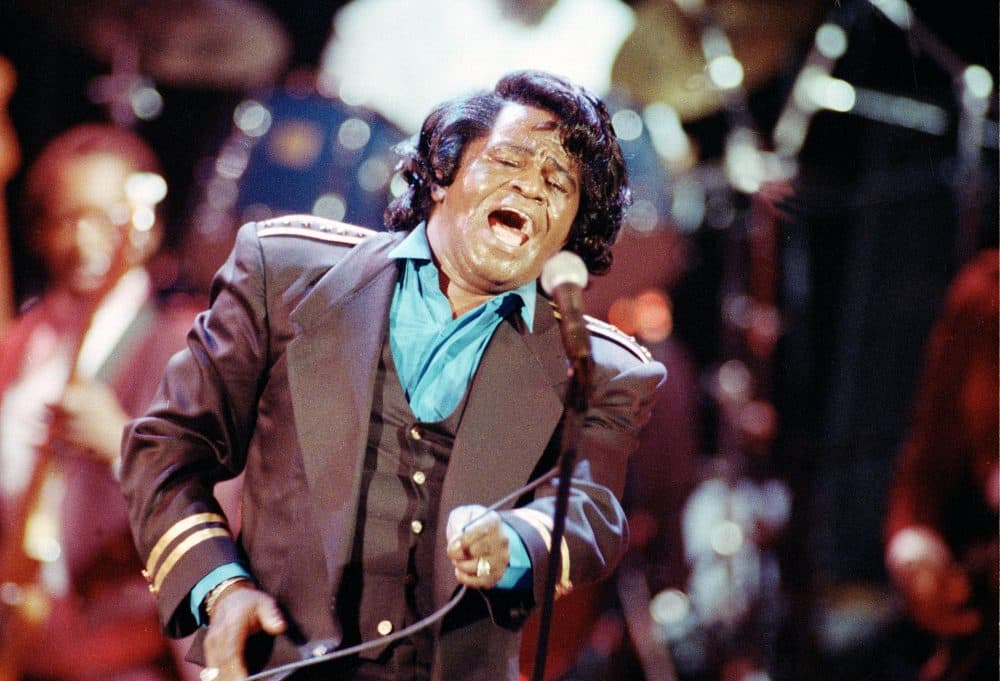 This article is more than 4 years old.
Fifty years ago, James Brown, the "Godfather of Soul," released the iconic song, "Say It Loud, I'm Black and I'm Proud." It was released in August 1968, just four months after the assassination of Martin Luther King Jr.
Randall Kennedy, a Harvard law professor, said he remembers when he first heard the song. The funk- and soul-inspired hit was like nothing he had heard before — especially at a time in which Kennedy said overt "colorism," or the preference for lighter skin color, was prevalent in the black community.
Kennedy writes for The New York Times that "it was precisely because of widespread colorism that James Brown's anthem 'Say It Loud, I'm Black and I'm Proud' posed a challenge, felt so exhilarating, and resonated so powerfully."
Guest
Randall Kennedy, law professor at Harvard University
Interview Highlights
On the song's importance in 1968
"It is one of the landmark cultural texts of the 1960s. The Black Liberation Movement had a variety of fronts. One front was outward facing challenging white supremacy. The other front, however, and a very important front was the inner struggle in black America to rehabilitate itself, reclaim itself.
"Remember, in the 1960s, the word black itself was, in many precincts, a bad word. I clearly remember people fighting, you know, 'You called me black?' and then a punch would come. And so when James Brown came out with 'Say It Loud, I'm Black and I'm Proud,' he was issuing a challenge within the black community to the denigration of blackness that existed within the black community."
On the central meaning in 'Say It Loud, I'm Black and I'm Proud'

"It does not mean black people saying we're better than. The reason why James Brown felt that he had to say this is because, for most of American history blackness has been denigrated, it has been a subject of contempt, it has been a subject of derision. So, he felt that he had to say it. That sort of idea has come up with Black Lives Matter as well. People say you know 'Why do you say Black Lives Matter? Or is black life any more important than white life?' Of course not. All lives matter. All hues are beautiful, except some hues have been systematically put down for decades, if not centuries."
On the unpredictable politics of James Brown
"[Brown] was politically quite conservative. He lauded Ronald Reagan. He embraced Richard Nixon. He said nice things about Strom Thurmond. But he also had this other feature with him which was a sort a strand of black nationalism. ... It was a strong assertive autonomy that he represented within the black community.
"One thing that people need to remember and keep in mind always is that individuals are complicated. Communities are complicated. Political opinion within black communities ranged widely. There were people who had all sorts of different views including radically conflicting views. James Brown was part of that too. That's right: 'America Is My Home' right next to 'Say It Loud, I'm Black and I'm Proud.'"
On how colorism still exists within the black community today
"I clearly remember people putting on various creams to lighten themselves. I clearly remember in the summertime, some of my relatives telling their younger relatives, 'Don't go out in the sun, you'll get too black.' Colorism within the black community has been tremendously diminished but is it still there.
"The extent of self-consciousness about this, the extent to which people get worked up about it, the extent to which people are debating this shows that this still remains a force in black American life and therefore in American life."
This segment aired on July 24, 2018.