'We Built A Movement': Ayanna Pressley Reflects On Her Road To Victory
Play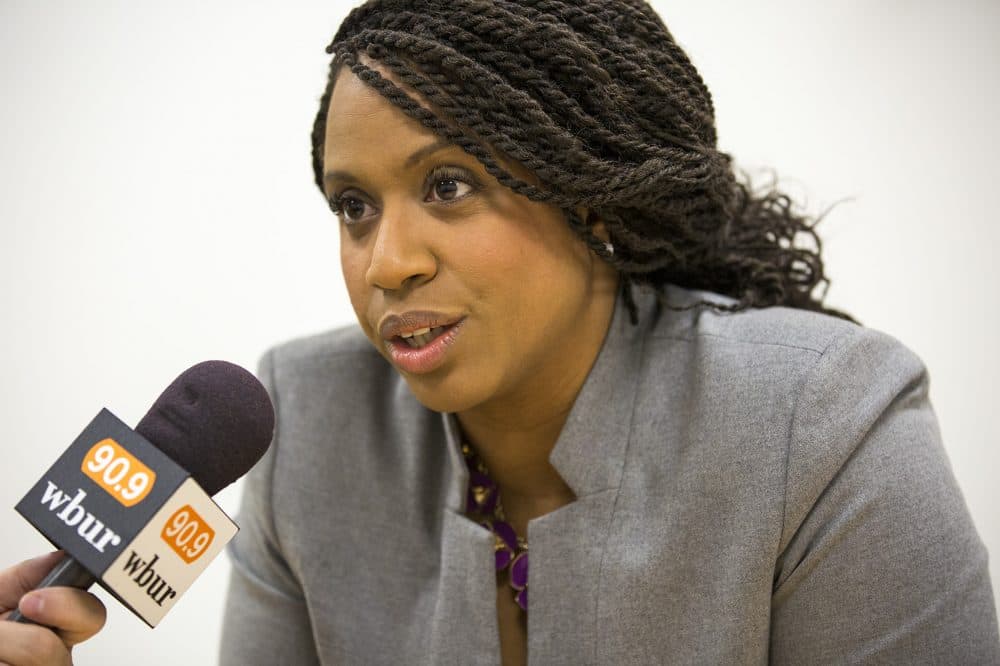 This article is more than 4 years old.
After winning the Democratic primary for the 7th Congressional District last Tuesday, Boston City Councilor Ayanna Pressley discusses her path to victory and what she'll do now.
Interview Highlights
On how she won:
"This was a people-powered, broad, deep and diverse grassroots coalition that we built one door, one voter, one living room, at a time.
"We expanded the electorate. And I knew we were doing that all along. ... [We didn't] make assumptions about who was a likely voter. It's so critical that we are intentional about engaging new voices. We invested resources in ethnic and specialty media. We built this grassroots coalition that was intergenerationally diverse, socioeconomically, racially, culturally.
"And our victory was a testament less as a referendum against hate, but a mandate for hope, for aspiration, for vision, for boldness."
On identity politics:
"I had fully expected that this would be an uphill climb, and a lonely walk and very bruising some days and some hours. I think specifically about the Labor Day breakfast. That was a very hard day.
"I had been a foot soldier in the trenches with so many people that I was in that room with that day. And some of them were not their usual warm selves. And many of them told me to my face how frustrated they were ... that I was running and specifically brought up the issue of identity politics, which I found incredibly hurtful.
"What was most painful about that is that we call ourselves Democrats and that play was a very predictable play from the GOP handbook and not one that I had expected."
"We built a movement. This was a people-powered, broad, deep and diverse grassroots coalition that we built one door, one voter, one living room at a time."

Ayanna Pressley
On her legislative priorities:
"I'll be advocating for the canceling of student debt, addressing the cost of childcare [and], right alongside with that, the fight for [a $15 minimum wage]. And then certainly addressing rent relief. Sixty percent of people in the Massachusetts 7th are renters. ... Then the last is health care. ... Almost 60 percent of people in the Massachusetts 7th are living with preexisting conditions."
On why voters supported President Trump:
"Listen, I ran a campaign talking about people in this district who have been ignored, left out and left behind. Because I am black and I'm a woman, people shorthand that and full-heartedly assume that I'm only talking about people of color. And I'm not. I'm talking about the electrician in Everett who sees their union rights being dismantled every day; the grandmother in Charlestown who's raising her grandchild because of the opioid epidemic; the artist in Somerville who doesn't feel seen as a worker and a contributor to this economy; the mother in Dorchester that can't afford child care; the cyclist in Cambridge who doesn't feel safe on the roadways. We shouldn't make assumptions.
"At some point or another everyone has felt unseen and unheard and marginalized. And I think [President Trump] struck a chord with many who feel marginalized and unseen and unheard and didn't believe that anyone else was speaking for them."
This segment aired on September 11, 2018.