'After Emily' Introduces The Women Who Brought Emily Dickinson's Poetry To the World
14:00
Play
This article is more than 3 years old.
Emily Dickinson is considered one of most original voices in poetry and as one of the founders of a uniquely American poetic tradition.
But the world may have never known her had two women — Mabel Loomis Todd and Millicent Todd Bingham — not devoted their lives to editing, promoting and selling Dickinson's work.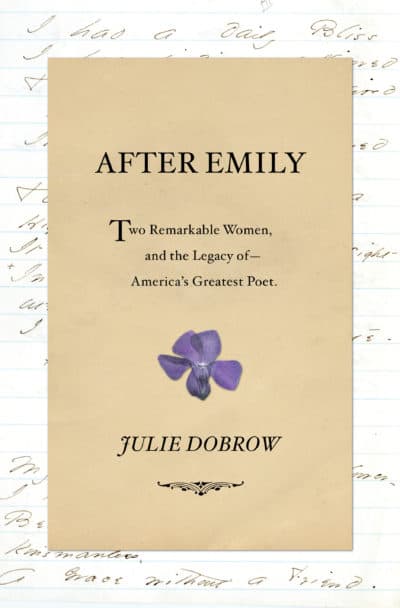 This mother-daughter duo takes their turn in the spotlight in the new book, "After Emily. Two Remarkable Women and the Legacy of America's Greatest Poet."
Book Excerpt: "After Emily: Two Remarkable Women and the Legacy of America's Greatest Poet."
By Julie Dobrow
Mabel Loomis Todd's revising, ordering and titling of Dickinson's poems and her regularizing of Dickinson's punctuation in her poetry have long been contested among literary scholars and Dickinson fans. The ways in which Mabel altered spellings, gave some poems names, grouped them thematically rather than chronologically and at times even changed words to make lines that might have scanned or rhymed better but which possibly altered their meaning, have been the subject of many an academic debate. But the clever and cutting- edge ways in which Mabel designed and marketed the early volumes of Dickinson's poetry— ensuring that these brilliant works that defied most conventions of nineteenth- century verse actually sold out in their first editions and went through several printings— have almost never been recognized or discussed.
These new perspectives are possible only because of the enormous reservoir of previously unmined and unpublished papers that both Mabel and Millicent left behind. Neither woman ever threw out a single scrap of paper; indeed, one of the major ongoing themes of the final three decades of Millicent's life was her tormented quest to figure out what to do with all the STUFF— the hundreds upon hundreds of boxes of saved letters, diaries, journals, scrapbooks and photographs that had scrupulously recorded the lives of her grandparents, her parents and herself.
Eventually Millicent donated the great majority of these papers to Yale University. I have spent several years slowly making my way through the seven hundred- plus boxes of primary source materials that live at Yale's Sterling Library, as well as uncovering materials that reside in libraries in Amherst, at Harvard, at Brown, and other repositories— even in the attic of an old house. Systematically reading Mabel's and Millicent's diaries and journals (each woman religiously kept both for many decades— Mabel for sixty- six years and Millicent for close to eighty) has given me insights into the lives, hopes and dreams of these women who so obsessively documented their lives. Sometimes I even had the great advantage of reading about the same event in each of their private writings, through each of their eyes and individual perspectives.
In their other extensive papers, I have unearthed some astonishing materials: among them, Millicent's revealing notes from her psychiatric sessions that divulge why she felt compelled to take on her mother's Dickinson work despite her own very considerable ambivalence, and Mabel's lecture notes from the talks she gave on Emily Dickinson that helped craft a certain image of the poet and her work. I had the unique opportunity to read internal documents from Amherst College that shed new light on the battles over where Emily Dickinson's papers would ultimately reside. None of these materials have ever been extensively cited in any published work. And the plethora of additional materials has yielded many other telling discoveries about these fascinating women.
These primary sources illuminate a set of captivating and intricately interconnected lives. This is ultimately a story about sorting through Mabel's and Millicent's papers to tell the full narrative of their lives, uncover their secrets, and see how they created mythologies and defined identities for themselves as well as for Emily Dickinson.
Mabel, who often reflected that hers was "the most positively brilliant life I know of," came to believe that Emily Dickinson, too, lived a life with moments of dazzling vividness. It was a life she felt she understood, a torch whose shine she had seen. And yet for Mabel and for Millicent, the light of Emily's life was still glimpsed only from a distance, shadows that emerged sporadically from her partly opened door.

Excerpted from AFTER EMILY: Two Remarkable Women and the Legacy of America's Greatest Poet by Julie Dobrow. Copyright © 2018 Julie Dobrow. With permission of the publisher, W. W. Norton & Company, Inc. All rights reserved.
Guest
Julie Dobrow, author of "After Emily. Two Remarkable Women and the Legacy of America's Greatest Poet" and director of the Center for Interdisciplinary Studies at Tufts University.
This segment aired on November 6, 2018.