The Way Dorie Greenspan Cooks At Home
Play
This article is more than 4 years old.
Do you ever open the fridge and think, what can I pull together from what I've already got to whip up a delicious dinner?
Or perhaps you've got that go-to favorite recipe that you've made dozens of times, each time tweaking and changing it based on what's in season or what's in the crisper drawer?
You're not alone. That's the kind of thing that five time James Beard Award-winning author Dorie Greenspan took to heart in her latest cookbook, "Everyday Dorie: The Way I Cook." It's a collection of simple, beautiful recipes that don't require special skills or new gear to make.
Greenspan will doing a cooking demonstration at Northeastern University and speaking at the Harvard Bookstore on Dec. 4.
Guest
Dorie Greenspan has written 12 previous cookbooks, including "Around My French Table," "Dorie's Cookies" and "Baking With Julia." She writes the "On Dessert" column for the New York Times Magazine.
---
Here are two recipes from Greenspan's book:
Ricotta Spoonable
Makes about 2 cups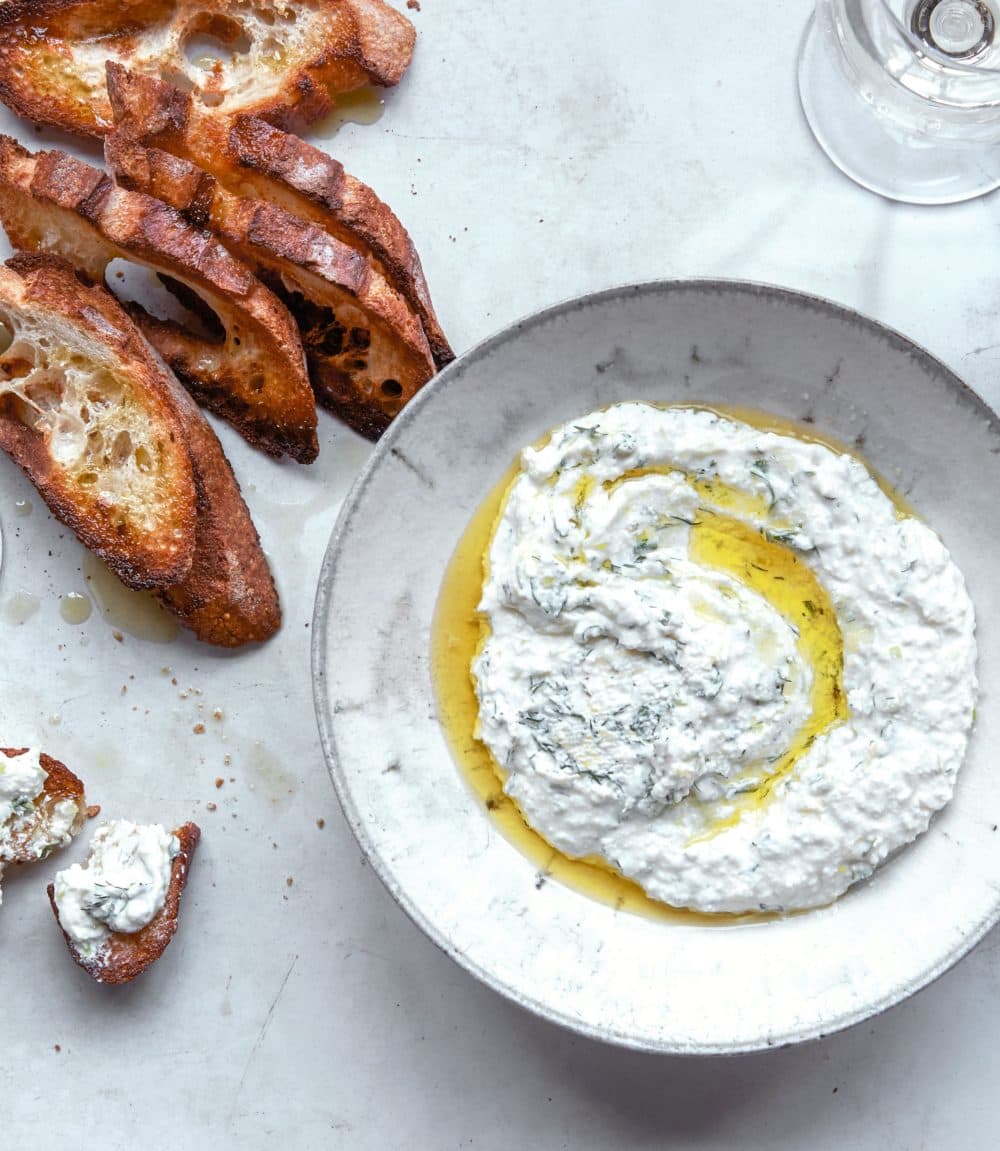 Take a peek in my fridge, and you'll find the usual staples—milk, butter, eggs and yogurt, and my favorite plus-one: "ricotta spoonable." I started making it years ago and I've probably never made it the same way twice. It's a mix of ricotta, lots of chopped herbs, freshly grated lemon zest, olive oil and plenty of salt and pepper. It's simple but special.
I prepare this year-round, changing the herbs according to what I have at hand, but I make it most often in summer, when I'm apt to fill the table with small plates of good stuff, things that don't need to be eaten in any order and that lend themselves to mixing and matching. Put the spoonable into the mix, and it will match with beet salad, frittata, onion galette, charred peppers and so many other dishes.
A Word On The Ricotta: If there's liquid in the container, it's best to drain the cheese. Line a strainer with a double thickness of damp cheesecloth, place it over a bowl, spoon in the ricotta, pull the cheesecloth around the cheese and weight it with a plate or a can of something. Put it in the refrigerator and let it drain for at least 30 minutes, or up to 1 day.
Alternatively, you can make the spoonable, scrape it into a cheesecloth-lined strainer and refrigerate until needed. Do this, and when you turn out the ricotta, the cheesecloth's mesh pattern will be visible — it's pretty.
2 cups (492 grams) whole-milk ricotta, drained if there's liquid (see headnote)
1 large lemon, or more to taste
3 tablespoons minced shallots, rinsed and patted dry
2 scallions, white and light green parts only, thinly sliced
1 tablespoon extra-virgin olive oil, plus more for drizzling
About ½ teaspoon fleur de sel or ¼ teaspoon fine sea salt
Freshly ground pepper
⅓ cup (13 grams) minced mixed fresh herbs, such as dill, parsley, tarragon, thyme, cilantro and/or basil
Put the ricotta in a medium bowl. Finely grate the zest of the lemon over it, then halve and squeeze the lemon and blend in the juice. Stir in the shallots, scallions, olive oil, salt and a healthy pinch of pepper. Taste for salt and pepper, then stir in the herbs. Cover and chill for at least 1 hour before adjusting for salt, pepper and lemon juice and serving.
CHOICES: A dollop of this on a cracker or sliced baguette makes a good appetizer; more of it on dark bread with roasted tomatoes, charred lemons or sliced cucumbers makes a tartine; and a lot of it stirred into pasta makes a dinner.
STORING: The spoonable is best the day it is made, but you can keep it for up to 2 days tightly covered in the refrigerator. Stir well before using.
Honey-Mustard Salmon Rillettes
Makes 6 servings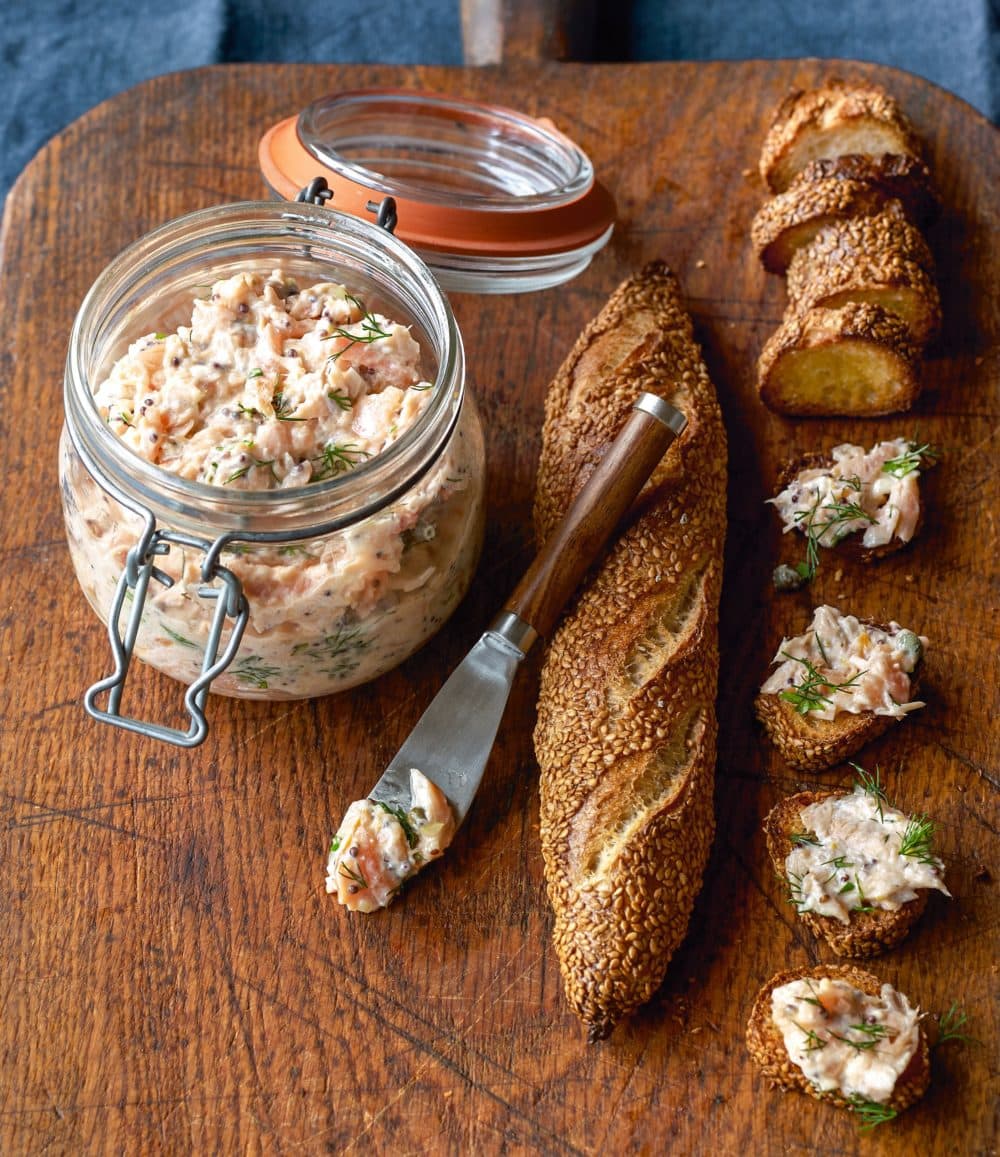 Classic salmon rillettes, a spread made of both smoked and fresh salmon, is bound with butter, flavored with lemon and only lightly seasoned. This version is zestier than tradition would have it, and the two variations that follow are more exotic, but they're all perfect as an aperitif nibble (they're made for white wine and sparklers), a brunch dish or picnic fare. I often double the recipe, keep one batch and spoon the other into a pretty canning jar to bring as a hostess gift.
A Word On The Salmon Duo
This dish doesn't need to be made with the most expensive salmon, smoked or fresh. If you can buy smoked salmon bits, get them. They're sometimes cut from the end of the salmon fillet and so they're a little saltier — taste before you add any more salt to the rillettes. As for the fresh salmon, I've had good results using frozen wild Alaskan salmon fillets. If they have skin on them, I put them — still frozen — skin side down in a pot of simmering water for 1 minute and that's enough to loosen the skin so that it's easy to remove. Also, it's okay to poach the salmon when it's still slightly frozen — just cook for 3 minutes.
2 scallions
1⁄2 cup (120 ml) white wine or white vermouth 1⁄2 cup (120 ml) water
Fine sea salt
6 to 8 ounces (170 to 227 grams) fresh or frozen salmon fillet, skin and any pin bones removed (see headnote)
2 tablespoons unsalted butter, softened
1 small shallot, minced (about 1 tablespoon), rinsed and patted dry
Freshly ground pepper
1⁄4 pound (113 grams) smoked salmon, cut into thin strips or small squares
1⁄4 cup (56 grams) mayonnaise
2 tablespoons grainy Dijon mustard (preferably French)
1⁄2 teaspoon honey
1 tablespoon capers, rinsed, patted dry and finely chopped if large
2 tablespoons minced fresh dill
1 tablespoon minced fresh cilantro
Crackers, toast or dark bread, for serving
Minced (or thinly sliced) fresh herbs, for serving (optional)
WORKING AHEAD
The rillettes are best when made at least 6 hours ahead, packed into an airtight container, and refrigerated.
Trim the scallions, mince the white and light green parts and set aside. Toss the dark green parts into a medium saucepan, add the wine, water and a pinch of salt and bring to a boil. Drop in the salmon and lower the heat
so that the liquid just simmers for a minute (3 minutes if the salmon is frozen), then remove the pan from the heat, cover and set aside for 10 minutes.
Drain the salmon (discard the cooking liquid) and transfer to a plate; refrigerate for 20 minutes. (You can refrigerate the salmon for up to 1 day; cover it once it has cooled.)
Using a flexible spatula and working in a medium bowl, beat the butter until it's spreadable. Grate the lemon zest over the butter, squeeze the juice from half of the lemon into the bowl and add the reserved minced scallions, the shallot, a pinch of salt and a few grinds of pepper. Blend thoroughly, then stir in the smoked salmon.
In another bowl, stir together the mayonnaise, mustard, honey and capers. Squeeze a few drops of lemon juice into the bowl and stir in some pepper. Scrape this out over the smoked salmon mixture and blend well. Remove the poached salmon from the fridge, cut it into bite-size pieces and gently stir them into the smoked salmon mixture — even if you're extremely gentle, the salmon will flake and flatten; go with it. Fold in the dill and cilantro, then taste for salt, pepper and lemon juice.
You can serve the rillettes now, but the flavor and texture are better if you pack them into a sealed container and refrigerate for at least 6 hours. Serve with bread or crackers and, if you'd like, put out minced herbs that can be sprinkled over each serving.
STORING: The rillettes will keep, tightly covered, in the refrigerator for up to 4 days.
MISO-SALMON RILLETTES
Use the same amounts of fresh and smoked salmon and cook the fresh or frozen salmon as above. Beat 3 tablespoons softened butter until spreadable. Mix in 3 tablespoons white miso, grate over the zest of 1 lemon, squeeze in the juice from half of it and add 1 minced small shallot. Season with a pinch of salt and a little pepper. Blend thoroughly, then stir in both salmons, 3 tablespoons minced mixed herbs (or use cilantro) and a splash of Sriracha. Taste for salt, pepper and Sriracha.
FRENCH-ASIAN SALMON RILLETTES
Use the same amounts of fresh and smoked salmon and cook the salmon as above, adding 1 tablespoon seasoned rice vinegar and a pinch of togarashi (see page 000) or cayenne to the poaching liquid. Mix the butter, lemon zest and juice, shallot and minced scallions together as above, and stir in the smoked salmon. In another bowl, mix together 1⁄4 cup mayonnaise, 1 to 2 teaspoons gochujang (see page 000), the juice from the remaining lemon half and 1 teaspoon seasoned rice vinegar. Add
to the smoked salmon and blend well. Add the sliced poached salmon and the cilantro, then taste for salt, togarashi and gochujang.
Both recipes excerpted from Everyday Dorie © 2018 by Dorie Greenspan. Reproduced by permission of Rux Martin Books/Houghton Mifflin Harcourt. All rights reserved. 
This segment aired on December 3, 2018.