In 'American Dharma,' Filmmaker Errol Morris Sits Down With Steve Bannon
Play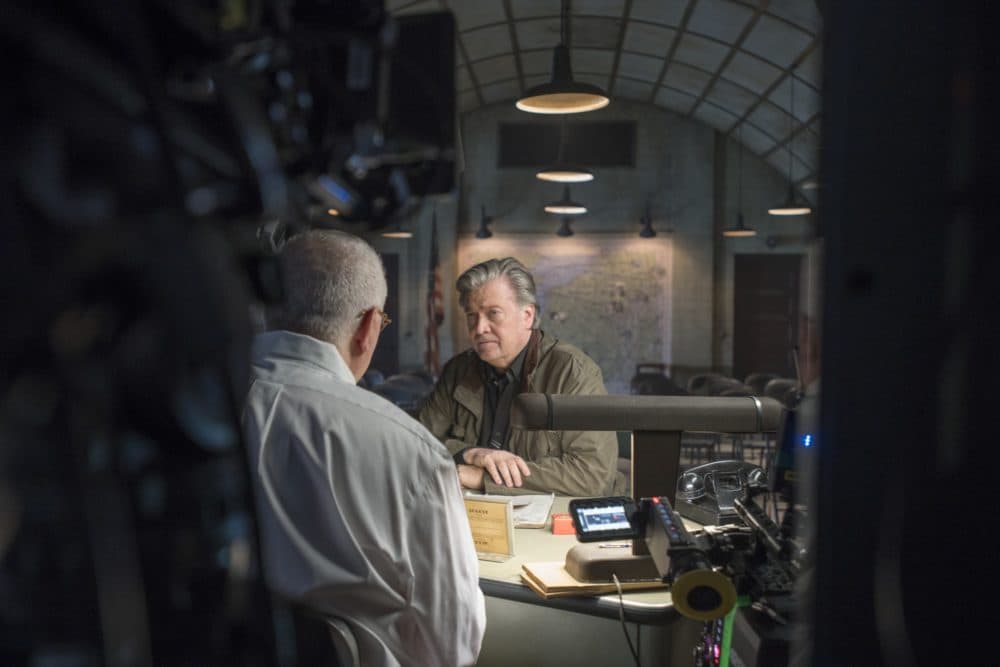 This article is more than 2 years old.
Filmmaker Errol Morris has been fascinated about the motivations of powerful men who shaped modern political history. He interrogated Robert McNamara in 2003's "The Fog Of War" and, 10 years later, Donald Rumsfeld in 2013's "The Unknown Known." Both men are former U.S. defense secretaries.
Morris' latest film, "American Dharma," is a conversation between him and Steve Bannon. It takes place in a Quonset hut, built for the movie, that is a replica of the flight crew's headquarters from "Twelve O'Clock High."
Bannon was the CEO for Trump's political campaign and later served as one of his chief strategists in the White House until 2017.
Bannon views himself as a champion for working people, intent on tearing down an American political elite he believes has held power for too long. But, as made very evident by the tension throughout the film, Morris doesn't see him that way. We spoke with Morris about the film.
Interview Highlights
On why he wanted to create a film about Steve Bannon: 
"If I know what's going to happen in an interview, I say to myself, 'Well, why bother doing it?' I do them because I hope to learn something. I don't know what. And I'm always looking for a different way in. Doesn't matter exactly what that way in, but it has to be different if you expect to get something that you haven't heard before. My way in was through his obsession with the movies, in particular a 1949 movie, 'Twelve O'Clock High,' starring Gregory Peck."

On how Morris perceives how Bannon views himself: 
"My movies usually, I wouldn't say always, but usually are about some kind of self-deception. A person who imagines themselves one way. But we see them differently. Bannon sees himself in many ways as a classic Hollywood hero."
"But I don't see him as a hero. Far from it. One of the central ironies of 'American Dharma' is this comparison of himself with Gregory Peck, with General Savage. Here's a movie about our fight against Nazi Germany ... and then whatever 60, 70 years later, he sees himself as that same kind of hero."
On why he didn't confront Bannon in the film on his more controversial policies: 
"Occasionally I challenged him. [But] reviewers said, 'Well, you didn't ask questions that were hard enough and you didn't ask hard enough questions often enough.' [For me], this is not about asking difficult questions."
"He has a whole number of techniques at his disposal. I've seen a lot of interviews with Stephen Bannon. [In other interviews], he goes into a filibuster mode. He will bore you to death... The movie was a way of getting around that to something different."

On what he wants a viewer to learn from "American Dharma":
"I want them to think about some of the ironies that [are embraced in] some of the most beloved American movies. It scared me to think that movies ... accommodate everything. They're strangely fungible... You can apply any interpretation you like."
"For Bannon, his use of dharma, his use of destiny, his use of duty, it really frightened me because I thought here is an ideology that justifies everything and anything. All you have to do is say, 'Well, it's my dharma to do this. It's my duty to do this. It's my destiny to do this.' And then everything else falls away."
This segment aired on January 6, 2020.