What It Means When You're Deemed An 'Essential' Worker
Resume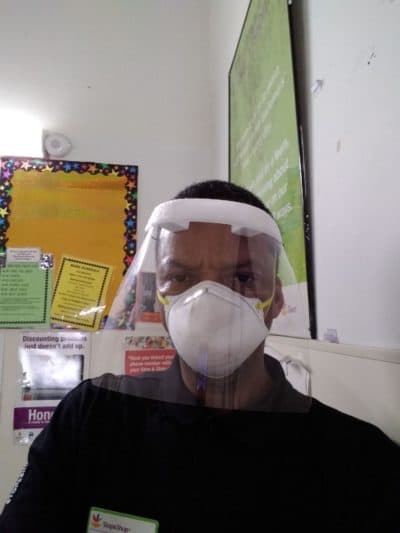 Health care workers aren't the only ones on the front lines of the coronavirus crisis. Workers deemed "essential" still go to work every day — and could be putting themselves at an increased risk of contracting the coronavirus.
"It's very strange when you hear [people] say that we are on the front line," said Jose Lopes, who has worked for Stop and Shop for 38 years. "Yet describing what we used to do before to now: it's totally different world that we work in."
Radio Boston spoke with Lopes, as well as Jose Martinez, who has worked 30 years as a custodian at Boston University about their experiences as essential workers.
Interview Highlights:
On the fear and anxiety that they're experiencing: 
Martinez: "My day starts at about 4:30 in the morning. When I get on the bus, it's all essential personnel and you see it in people's eyes — [that] nervousness, that fear. Who's next? You let your guard down for one second, you can get this virus or you could — [even] worse — take it home.
Our [union SEIU Local 32BJ has a total of around 700 members of Boston University. About half of them are over 50 and they have preexisting conditions. And I see the fear, you know: 'when it will be my turn, you know, am I going to get hit?' ... You have to put it in the back of your mind and do your job and just keep going forward."
Lopes: "[I'm] afraid every day. I mean, if you... go into a store, now you have to go with a mask. You have to go in with your gloves. It's a totally different scenery: you're going into the unknown. You don't know if you going to get their disease and carry on to another person."
On whether they feel appreciated for the work they're doing at this time: 
Martinez: "As a member of the essential personnel, you see their dedication, that you see they're putting their lives on the line. And are they getting the same treatment as other members of, you know, the first responders and whatnot? And they're not." 
Lopes: "I hope that officials out there and all the employers out there listening... know that we're [being called] essential workers but [we're] not treated as essential work. That is something that they need to look at... To look at their pay and their benefits and all that that comes with it. That this job is essential, [and] it needs to be looked at better than... in the past."
On what they said is one of the biggest needs as a grocery store workers:  
Lopes: "If we supposedly are essential workers, we should be getting the equipment so [an employee] can go in the store and feel that you are safer... Right now, they're not providing enough of that... The main equipment is the mask. I mean, what the CDC is saying now that this travels if somebody coughs. So, you definitely need a mask if you are going to be in public with everybody else out there in the stores. So, if you don't have the mask and if you're re-using the mask, same as the one you used before — and they want you to reuse it — that's not protecting you. That's what's scary."
A spokesperson for Stop and Shop said they have provided multi-use KN95 masks, with care instructions, and a face shield, to all associates. Here's their statement: 
"Stop & Shop is making every effort possible to maintain a safe environment for our associates and customers. We have distributed KN95 masks to all store associates, which they are strongly encouraged to wear. The KN95 masks are multi-use and instructions for fitting, removal and care have been shared with associates to minimize the chance of exposure. To prolong the effectiveness and life of the mask, we also recommend associates wear a face shield over the KN95, which has also been provided.

Associates may choose to wear their own mask or personal face covering, provided it is clean and must cover their nose and mouth. These alternatives might include a scarf, bandana or a gaiter. Associates are advised to speak to their supervisor if they have any concerns or questions on the use of masks."
This article was originally published on April 16, 2020.
This segment aired on April 16, 2020.