Keeping Our Relationships Whole In An Era Of Social Distancing
Play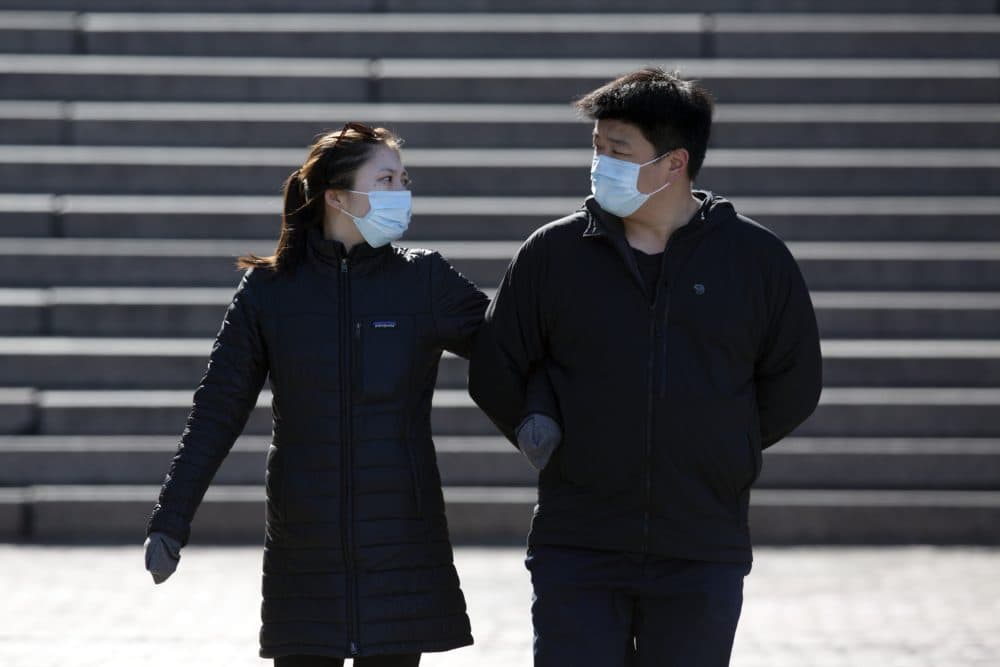 This article is more than 2 years old.
This pandemic and the ensuing social distancing restrictions have put a real strain on many people's relationships — romantic or otherwise. In our "new normal," Meredith Goldstein, who is behind The Boston Globe's "Love Letters" column and podcast, told Radio Boston that her inbox has been flooded with questions from people being forced to find new ways to navigate their relationships.
"It's hard to say who has the greatest challenge," Goldstein said. "I think that people who are living with family right now and loved ones have their own courageous experience that they're living every day, just like the people who are alone."
For everyone, she said one of the most important things you can do is to take care of yourself, even though that may be difficult for those experiencing loss.
"It's so difficult to think about finding joy and self-care when there's so much to worry about and there's so many people to worry about," she added.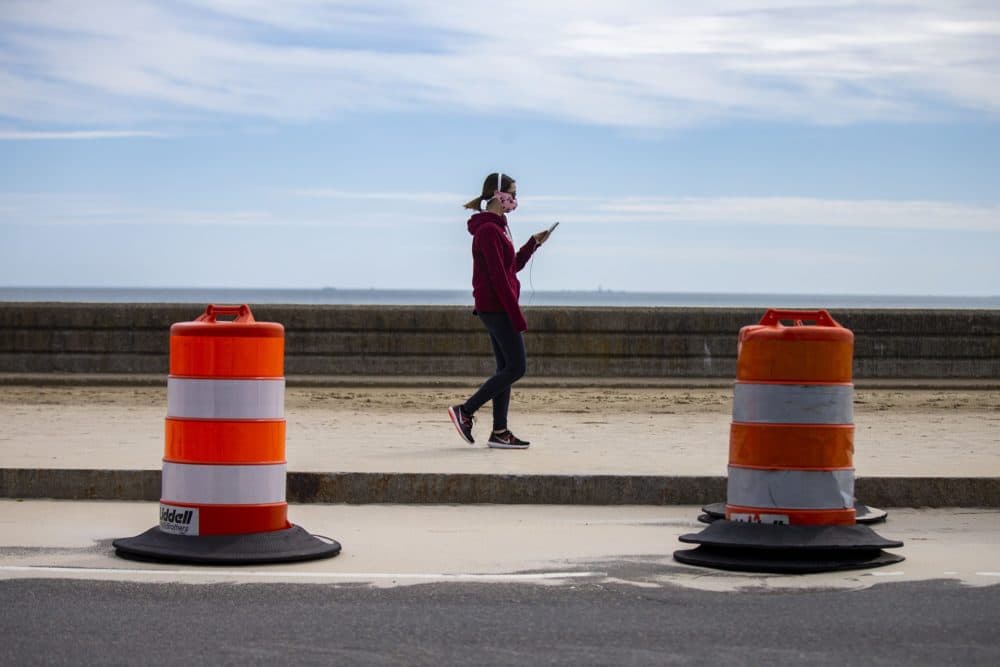 For Goldstein, self-care means taking long walks around the neighborhood while wearing a mask. She says these walks have helped remind her of the importance of maintaining a sense of community during this crisis – and going forward.
"I see people in masks [on my walks] and they're far away. I want to know who they are and I want to smile at them. Ordinarily, I'd walk quickly by them in a hurry. My goal is to not be in such a hurry after all this is over," said Goldstein. "Boston's a great place for community, and I never want to take that for granted again."
Here's Goldstein's advice for other things you can do to get through this time.
First, Take Care Of Yourself:
Be kinder to yourself and celebrate the day-to-day tasks you are getting done.
"Life before this was to-do lists and obligations and me feeling like I didn't get enough done. Now when I make my own coffee, I'm really proud of myself. When I call friends and loved ones, I'm very proud of myself... If you get through a day and you were good to yourself, you had a good day."
Give yourself permission to tune out if you feel overwhelmed. 
"I noticed [between five to seven] o'clock at night, it was a very difficult time [for me]. That's when all of the terrible news of the day starts to land in my lap, in the form of emails and texts and alerts. I started to realize that part of self-care was turning the phone off at that point."
Keep things in perspective. While everyone is struggling right now, some people are feeling the impacts of this crisis more than others. Think about how you can help. 
"People keep saying we're all in this together, [but] every person is experiencing this quite differently. I think that people who can be grateful for what they have... are trying to figure out how they can give back. I think a lot about: 'Well, I am a single person. How can I give back?' I don't have children to watch and obligations to me in terms of family, so perhaps I can sit on FaceTime with somebody's kid and entertain them. Perhaps I can call someone who doesn't have someone to call them on any given day. There are a lot of great volunteer opportunities right now."
Don't be afraid to ask how you can best support the people you know in need.
"Often the best people to answer that question – [how can I best help?] – are the people going through it... I always say check-in four-times as many times as you need to. They'll tell you [what they need] or they won't answer if they don't want to talk."
For Couples In Close Quarters:
If you are struggling in your relationship, remember these are not normal times. 
"There are some couples who say: 'We're doing so well, we're amazing. We're winning quarantine.' Well, good for them. That's wonderful. But this is not your normal... I think it's important to note that it doesn't say something greater about your communication or your relationship. If you're having a difficult time, it is difficult."

It's about being the best roommate possible and, sometimes, building a fort. 
"It's about the daily compromises and the daily check-ins. 'You need 15 minutes by yourself?' Great. [Or] 'I need to wake up in the morning early, tonight's not the night to be social.' It's being the best roommate you can possibly be to your partner. There is a different set of rules for roommates than for romantic partners."
"I was talking to a reader who has turned her kitchen into her office and she said: 'If my kitchen is my office, I don't like it when my husband comes into the kitchen and throws things in the sink.' So, I was actually telling her to build a fort. I mean, literally to put up a sheet in front of that desk space to really delineate what's the office, what's not the office, and bring that sheet down at the end of the workday."
Find an activity that's easy for you to share with your partner. 
"My first advice to couples is: find a [television] show. I think there is nothing better than watching something with a partner that you can really talk about, especially right now because we don't want to talk about [this crisis] all day."
And, if you're going through a divorce or separation, find healthy escapes. 
"People who are going through a divorce right now, once they get on the other side of this, I'd like to believe that all of those conflicts are going to be easier to work out. If you can get through this, you can just get through any type of negotiation. It's just trying to figure out how to be mutually respectful, enjoy [any] children, and take some long walks. Finding any kind of space is the right kind of self-care that you need."
This segment aired on April 22, 2020.