As Mass. Reopens, Are You Ready To Start Riding The T Again?
Resume
As Massachusetts reopens, there will likely be an increase in ridership on the MBTA, commuter rail, and bus. MBTA General Manager Steve Poftak told Radio Boston that the T is preparing for the first phase of reopening and our new normal.
Plus, our expert transportation panel weighed in on what the T has gotten right so far, and what issues or policy changes it should be considering as it begins to reopen.
We hear from former Massachusetts Secretary of Transportation and TransitMatters board member Jim Aloisi, and Chris Dempsey, director of Transportation for Massachusetts and the former Massachusetts Assistant Secretary of Transportation.
Conversation Highlights
MBTA General Manager Steve Poftak says businesses should allow more flexible work from home policies or staggered hours to help the T lower ridership at peak hours:
"The old commute had a big peak at 8:30 and a big, big peak at 5:30. We are hopeful that we can, to the extent that folks continue to work from home, that some of that demand doesn't resurface. And also that we can spread out the peak, which allows us to take advantage of some of the additional capacity we might be able to provide kind of on the shoulder of each rush hour, as opposed to having it really concentrated at the rush hour.
"Right now, we have far fewer customers, but even that group of customers is more dispersed. The peak is less dramatic and it's actually earlier our peak now is around 6:30 and 3:30, which I think tracks pretty closely with the shift changes at medical facilities."
Jim Aloisi says the MBTA should do more, but so should cities and towns: 
"If you limit people per bus, you can distance them on the bus. Then the question becomes, are you leaving people behind? And the answer is, not if you run more frequent service. So what the T really needs to do is be agile. Maybe the T needs to move some service away from low demand lines right now to higher demand lines, run that service more frequently. Running more service is the answer to a lot of issues regarding not just distancing, but also restoring confidence in the system.
"Part two of the story is cooperating with the city. The mayor of Somerville has announced closing a variety of streets. It's a very important initiative. The mayor of Boston is talking about doing the same. The cities in the inner core on key bus routes need to work with the T immediately, in my view, to provide buses with dedicated lanes, even though there's not a lot of traffic today. There may be tomorrow. There may be next week. And we need to have those dedicated lanes in place so that bus speeds and frequencies are not impacted negatively."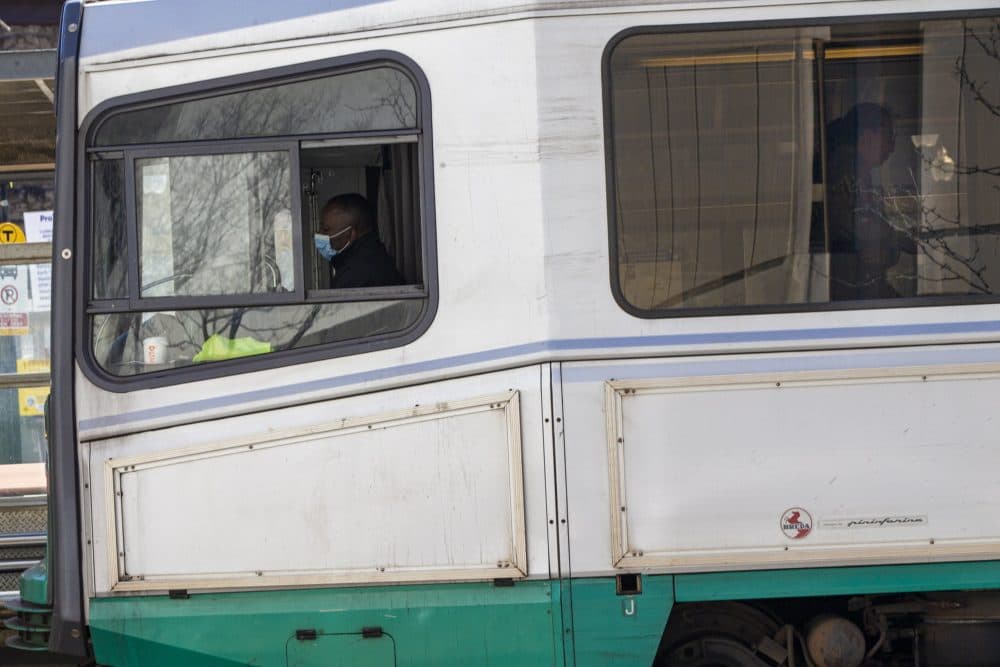 Chris Dempsey says this is a crucial moment for public transit:
"Look, we are in sort of a new world and a new normal, and we're gonna have to each individually feel some of this out and see what we're comfortable with. At the same time, we need to make sure that our public leaders are trying to set up the right circumstances for all of us so that we can feel more comfortable. We are not going to work as a region if we give up on public transit and decide to all just start driving. We're only going to have more congestion, more air pollution and more frustration.
"The MBTA was a system that just in December was cited as a system in a culture that was not emphasizing safety and was not living up to national standards for safe operations. That's a preexisting condition, so to speak, that's now made worse in some ways by the coronavirus crisis. And so we're going to need more investment. We're going to need more attention to public transit and more leadership from everyone from the governor on down in state office and in local office to say this is a priority for our region. We're only going to thrive and come out of this crisis recovering strongly if we make sure that transit works well."
Clarification: Radio Boston spoke to the source of the photo referenced in this audio conversation and was told the picture was taken on the Silver Line 3 bus.
This segment aired on May 20, 2020.
This segment aired on May 20, 2020.