Children And Play, During A Pandemic
Play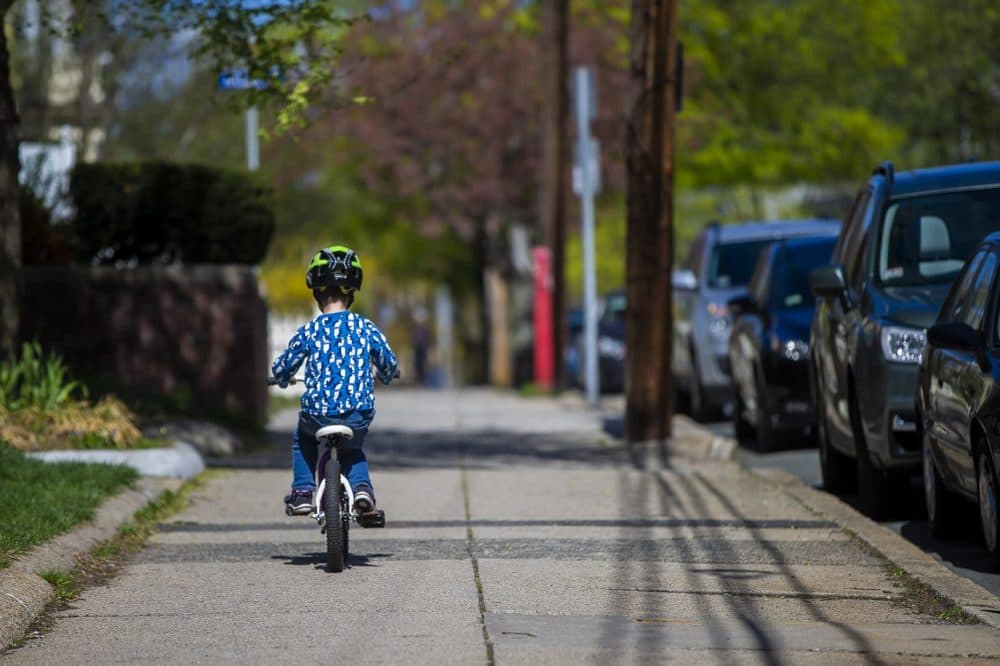 This article is more than 2 years old.
As Massachusetts continues to reopen and the number of new coronavirus cases remains stable, many parents are thinking about their kids and play.
Is it safe now to start up that regular playgroup, go to the playground?
What about team sports? Plus, what's been the impact of the months-long stay at home advisories and lack of social interaction — free play — for children?
We take listener calls with Dr. Richard Malley, a senior physician in pediatrics in the division of infectious diseases at Boston Children's Hospital, and a professor of pediatrics at Harvard Medical School. Also, we hear from Peter Gray, a research professor of psychology at Boston College, author of "Free to Learn," and co-founder of Let Grow, a nonprofit that promotes child-led play.
Interview Highlights
On the role kids play in spreading coronavirus: 
Dr. Richard Malley: "Most people really thought that [coronavirus] was going to follow the same pattern as other common respiratory viruses, like the flu, where children are really, unfortunately, the main vectors of transmission. And so a lot of people were worried that that was going to be the case. But we had read reports from China that really indicated that children were somewhat more likely to resist the negative consequences of this infection and not get quite as sick. So that was the first puzzle. The second puzzle was that we found out from other countries, like Iceland and Israel, ... that not only were children less likely to get sick, they were also less likely to even catch the virus in their nose and therefore less likely to spread it. Now, it isn't to say that they can't get sick from the virus. We certainly have, unfortunately, many examples of that. But they do seem to be more resistant to getting sick. And they also seem to be probably more resistant to serving as Ping-Pong players to spread the virus across their families or other members of the community."
On how parents can keep their kids safe: 
Malloy: "We all recognize that our dream of running around in a park or on the beach with our kids [does] not involve them wearing masks and and staying six feet away from from other children or other people even that you know and are friendly with. But I do think that we have to take a certain amount of precautions, because even though children are less likely to get sick and less likely to transmit, probably they still can get sick and they can still probably spread the virus. Therefore, ... if the child is ... old enough to understand what we're trying to do, to explain to them that you can have fun, you can be outside. In fact, we want you to be outside, but  we want you to follow a few rules that did not exist until six months ago, and those are the rules of staying a little bit away from people who are not ... in your family unit or in your social bubble, and also — if the child is willing — to wear a mask so that they do not infect others. And I think that's a very empowering statement you can make to a child to say that the reason they're wearing masks is to make sure that they're keeping all the other people safe as well."
On the importance of play in children's development: 
Peter Gray: "Play is crucial to children's development. And much of my research shows that over the last few decades, our children have been very play deprived. They spend so much time in school, so much time that homework after school, so much time in adult-directed activities which are not fully play — play is activity that children develop themselves — that children take control of themselves and their children learn to be independent and solve their own problems.
"I've done a lot of research that shows that as we deprive children more and more free play, we get more anxious, more depressed or less resilient children. We have huge increases in childhood suicide over the last several decades, which is, of course, just the tip of the iceberg. What my research suggests is because children are so often in stressful, competitive kinds of activities such as school, and have so little time to just really be children to play."
On how privilege plays into a child's freedom to play: 
Gray: "The problem that existed before this pandemic is across social class. It's across race. Children have been suffering because of deprivation of play. And the primary reason for the deprivation of play is not having time to do that. And because we're living in a world where people feel that it's unsafe for children to go outdoors. We've exaggerated the dangers, and this is across social class. There was a time a couple of decades ago when this was more common in the so-called more privileged classes. They were more overprotective of their children ... than people who are economically less privileged. Now, this is across social class, partly because people are afraid they'll get arrested if they're to send their children out to play."
This segment aired on June 24, 2020.