A Springfield Detective Shared Photo Of Her Niece At A Black Lives Matter Rally. She Was Fired
Play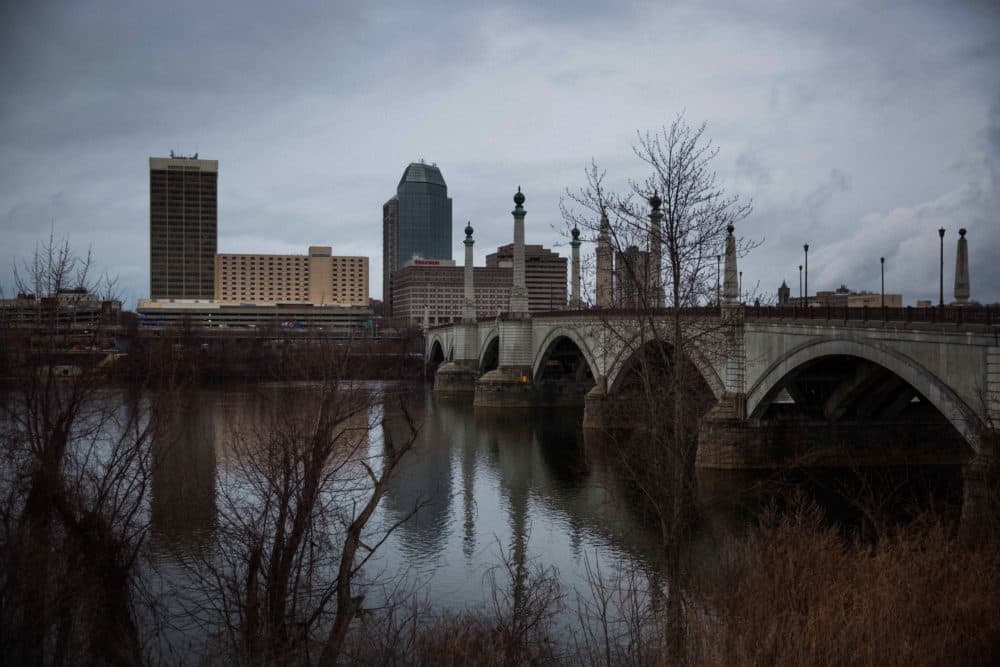 This article is more than 2 years old.
A Springfield police detective was fired less than two weeks ago after sharing a post of her niece at a Black Lives Matter rally holding a protest sign that appeared to suggest people should "shoot ... back" at police, according to a report from MassLive.
In that story, Florissa Fuentes, 30, recounted that the post she shared to a personal Instagram account while off the clock sparked a swirling controversy in the department, prompting her to delete the post and apologize to the local police union's Facebook page.
On June 19, Fuentes was reportedly fired by Commissioner Cheryl Clapprood, about a month after she shared the post. In a statement to WBUR on Wednesday, Clapprood wrote:
"This was Ms. Fuentes's second infraction during her probationary period. Complaints about her social media post came from co-workers who were hurt by it and questioned her stance on the quote that advocated shooting police officers. It was my decision to terminate her employment."
Fuentes' dismissal comes amid what many have described as an American reckoning with racism, following recent widespread demonstrations against police brutality. Radio Boston spoke with Fuentes about this moment in the U.S., her social media post and firing, and what comes next for her.
Interview Highlights:
On why she says she initially posted the photo on Instagram: 
"I didn't take the post as being anti-cop. When I shared the post I didn't think about how others would perceive it. At no point did I share that post with malicious intent. I was just solely supporting my niece and her right to practice her First Amendment."
On what she heard from her fellow officers after posting the photograph: 
"After sharing the post, a few hours later I received messages on social media, phone calls, text messages from my officers who expressed their concerns. They said that the police didn't look good. That it looked like an anti-cop post. Once I realized that I had offended some of my fellow officers, I immediately deleted the post and I apologized to those who had reached out to me and also thanked them for looking out for me...
"The following day, I received a phone call from my direct captain. Before he could explain himself, I explained that I know why he's calling me, but at no point did I share that post with malicious intent or any intent to harm or offend any of my fellow officers. The captain stated that the commissioner was highly upset. She was embarrassed. I did express to him that I understand how she could be embarrassed and offended ... The Commissioner had done a lot for me all my career."
On how she describes her initial conversation with Commissioner Clapprood:  
"In the meeting, the commissioner basically told me that I embarrassed her and that she was highly upset with me ... I apologized to her and I told her that I understand where my fellow officers are coming from. But, at no time did I post that with malicious intent ... I told her that I know I should apologize to all the officers ...
"She went on to tell me that people had called up to the Commissioner's office, and when I say people, I mean my fellow officers. They were upset and they wanted me terminated. She did say that she thinks very highly of me, and she didn't want to terminate me, and that I needed to figure out a way to fix this."
Note: Commissioner Clapprood denies that she used the term "fix this" in the meeting. 
On whether her termination came as a surprise: 
"Yes, it did. After I spoke with some of the supervisors in the department, they had basically told me, you know, 'Lay low, would just try to blend in. Take this as a small bump in your career and a lesson learned, and you'll get through this.' "
On why she thinks she was fired: 
"You know, I honestly don't know. I feel like the Commissioner, as the Commissioner stated, she was pressured by the mayor. I think it was driven by politics ..."
On her reflections on the hostile response from some officers to her apology, which was posted on her police union's Facebook page:
"I believe the emotions are just very high at this time. I can't tell you why they felt offended. Again, I had some allies, and then I had some that some officers that attacked me."
On how she explains the "first incident" that the Commissioner pointed to in a statement to WBUR on her termination, and how she feels it contributed: 
"During [my] time [at] the Academy, I get into a verbal dispute with a family member. That family member had filed a police report. I was in the Academy and one of the lieutenants who was the director of the academy spoke to me about it. He said that you know, they have to write up the incident. He asked me to write on it. And that was pretty much the end of that. I didn't think that that would actually come back and haunt me now or that the department we use that as an excuse to fire me."
On whether she thinks she could have healed the rift if she had not been fired: 
"I mean, it hurts to know that I genuinely apologized and I was attacked by these officers. But, you know, I was dedicated to my job. I'm a Latina woman who grew up in this community. You know, my heart is with the city. And I went to work every day and I did my job. Whether people like me or they didn't like me, you know, I was dedicated.
"You know, late hours, I was at work. My focus was the community. You know, whether someone like me or not, if they needed help, I was going to be there for them. I was hoping with time, you know, things can heal within the department."
On whether she would want to re-join the Springfield Police department: 
"When I left, my final conversation with Commissioner Clapprood, we both acknowledged that there were no hard feelings. She stated that she was pressured by the mayor to terminate me. And if I could get my job back, I would take it without second-guessing. Again, I'm a member of the community. We do a lot with the community. I coach basketball, I train domestic violence victims. I do a lot within the community. This is where my heart is. If I could get my job back, I would take it."
This segment aired on July 1, 2020.