Chef Elle Simone Scott Retells Her Great-Grandmother's Story Through Poetry And Lemon Pound Cake
Resume
Elle Simone Scott, the first African American woman to be featured on PBS' America's Test Kitchen, credits her great-grandmother with her love of cooking.
"I was cooking long before I was trained, but it was definitely the confidence she displayed in the kitchen," said Scott. "She moved like she was floating and you could see her mind was in another place, she was transplanted to a different place."
Her great-grandmother, Ann Jordan Ford, died about 14 years ago. Simone said she was a natural in the kitchen, and cooking for the family meant a lot to her.
"I know [cooking] was not just an experience of putting food on the table for her, but it was emotional and political," said Scott.
Radio Boston visited Scott at America's Test Kitchen in the Seaport, to make the very same pound cake that the best chef in Elle's family, her great-grandmother, used to make for her.
This year, Scott published a poem about her great-grandmother and a recipe for lemon cream cheese pound cake. It's in a cookbook called "Rage Baking: The Transformative Power of Flour, Fury, and Women's Voices."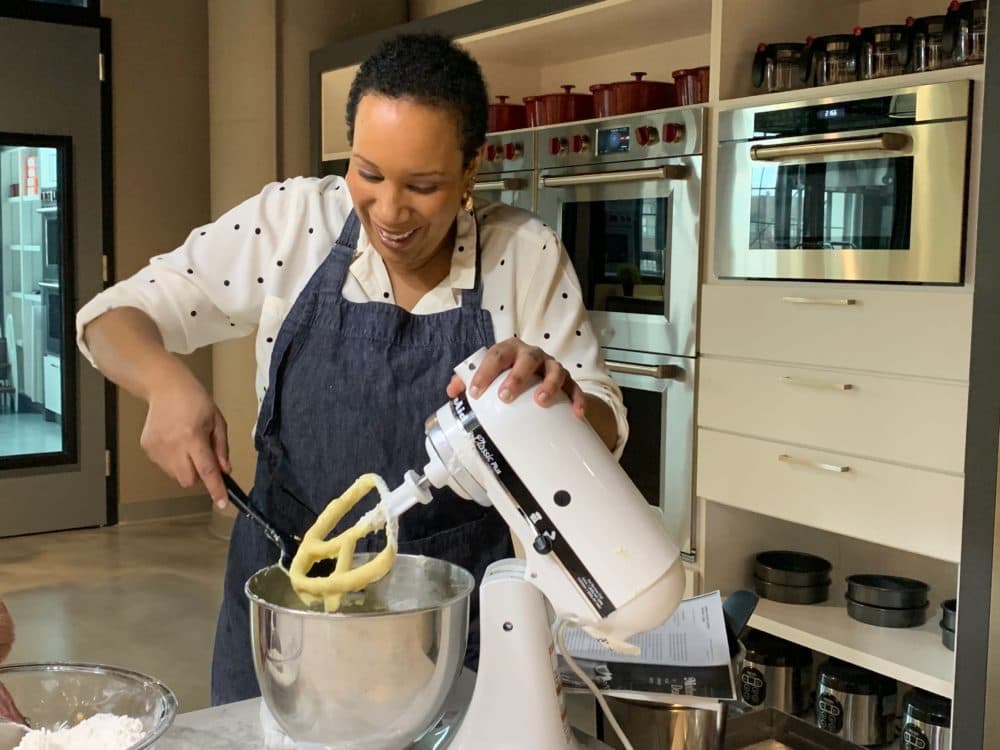 Scott participated in the book after she was asked by her mentor at the Food Network. The book was co-authored by two white women, Katherine Alfred and Kathy Gunst, but includes submissions and recipes from women chefs all over the country.
Earlier this year, it received some negative attention for the use of the term "rage baking" in the title, which a Black woman, performance artist and activist Tangerine Jones, said she originally coined.
But, for Scott, this recipe and the poem she wrote to accompany it, are not about rage. They are about honoring her great grandmother's story during the great migration.
Ford migrated north from Mississippi to Michigan to escape life in the South. Scott said she had to send her mother and children ahead of her, before joining them.
"I was just imagining what she must have been feeling when she needed to leave one region because of the way life was happening during the South... I can imagine she experienced a great amount of sadness and anger and frustration," said Scott. "Knowing her the way I did, I'm pretty sure she cooked her way through that."
Mother Dear's Lemon Cream Cheese Pound Cake:
This recipe, from Elle Scott Simone, appears in "Rage Baking: The Transformative Power of Flour, Fury, and Women's Voices" by Katherine Alford and Kathy Gunst.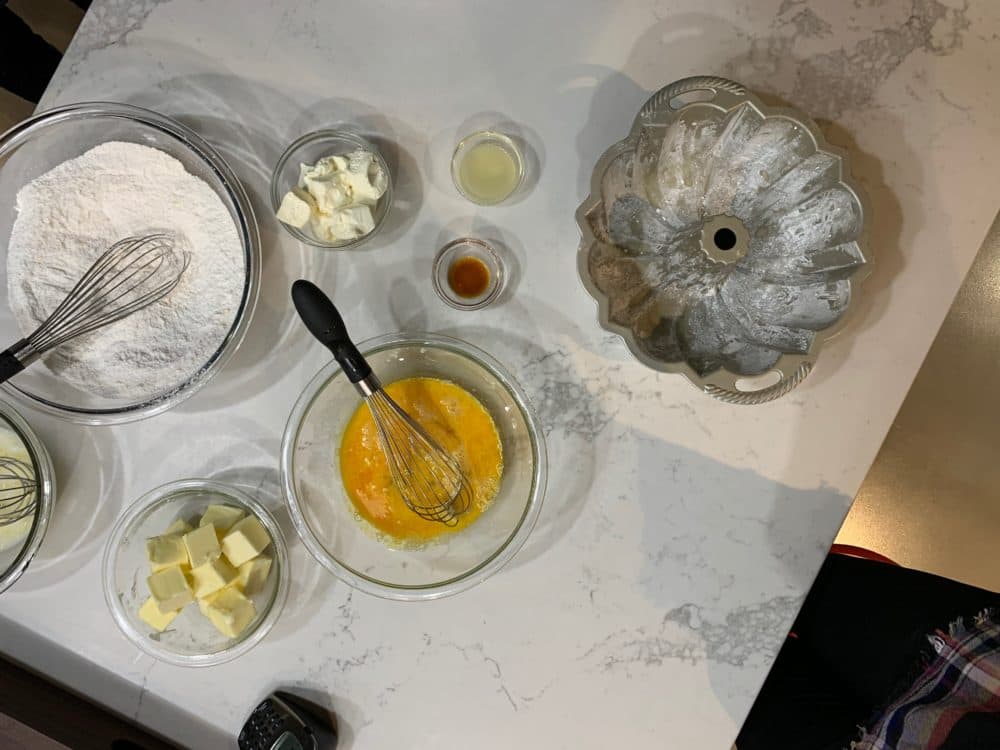 Ingredients For The Cake:  
3 cups (360 grams) cake flour, plus more for dusting.
3 cups sugar
1 1/2 teaspoons baking powder.
1 teaspoon fine salt
2 teaspoons finely grated lemon zest (from about 2 lemons)
8 ounces cream cheese, at room temperature
3 sticks unsalted butter, quartered at room temperature, plus more for buttering
1 1/2 teaspoons vanilla bean paste or pure vanilla extract
6 large eggs, at room temperature, lightly beaten
2 tablespoons fresh lemon juice
Ingredients For The Glaze:
1 1/2 cups confectioners' sugar
1 teaspoon finely grated lemon zest
2 tablespoons fresh lemon juice
1 tablespoon buttermilk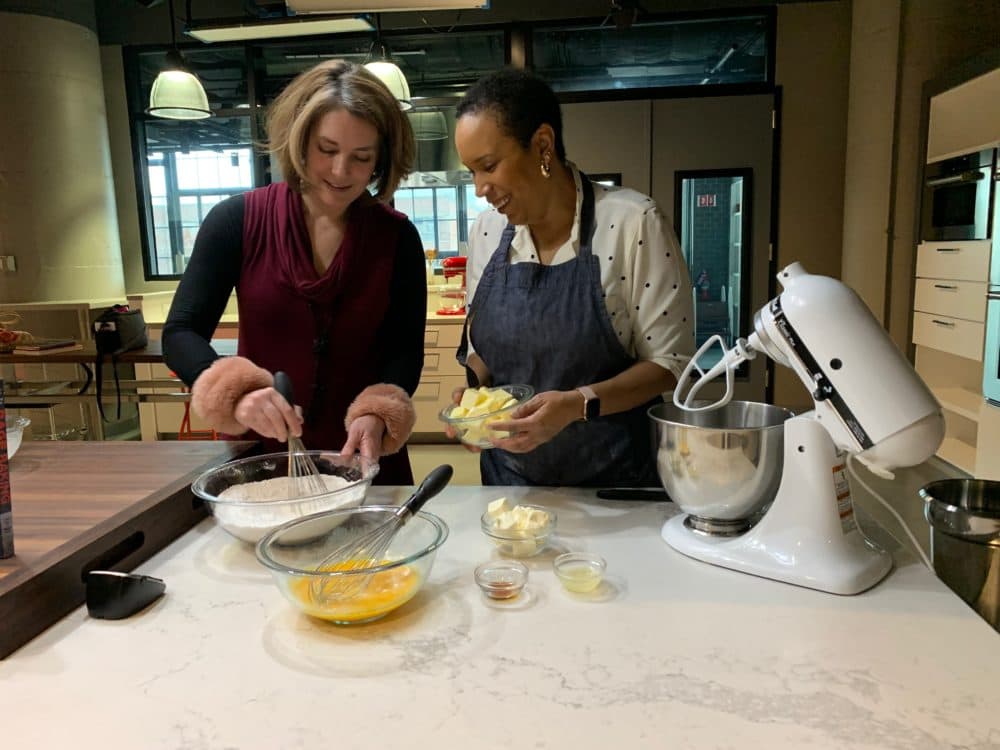 Directions: 
Position a rack in the center of the oven and preheat the oven to 325 degrees. Generously brush a 10-inch Bundt pan with butter and dust the bottom and side with flour until well coated, and then out any access flour.
Stir the flour, baking powder, and salt into a large bowl. Mix the lemon zest with a fork, breaking up any clumps.
In a stand mixer fitted with the paddle attachment, combine the cream cheese, butter, and vanilla and beat on medium-high speed until smooth and slightly airy, two to three minutes, stopping to scrape the sides of the bowl as needed. Add half the eggs (it may look a little curdled at first, but keep beating), then add the remaining eggs and the lemon juice and beat until well combined and smooth, scraping down the sides as needed.
With the mixer on low speed, add the flour mixture in three batches, gently beating until just combined after each addition, scraping down the sides as needed. Pour the batter into the prepared pan and smooth the top using an offset spatula. To release air bubbles, gently tap the pan on the counter.
Bake until the cake is golden brown and a toothpick inserted into the center comes out clean or with a few crumbs attached, about 1 hour and 15 minutes. Place a plate over the top of the pan and carefully invert the plate and pan together to turn the cake out onto the plate. Lift off the pan and let cool for up to two hours.
Meanwhile, make the glaze: In a small bowl, whisk together all the glaze ingredients until evenly combined.
Drizzle the glaze over the cooled cake and let sit for 15 minutes before serving.
This segment aired on July 2, 2020.