Travelers Find Refuge In Our Lady Of The Airways, The Nation's Oldest Airport Chapel
Play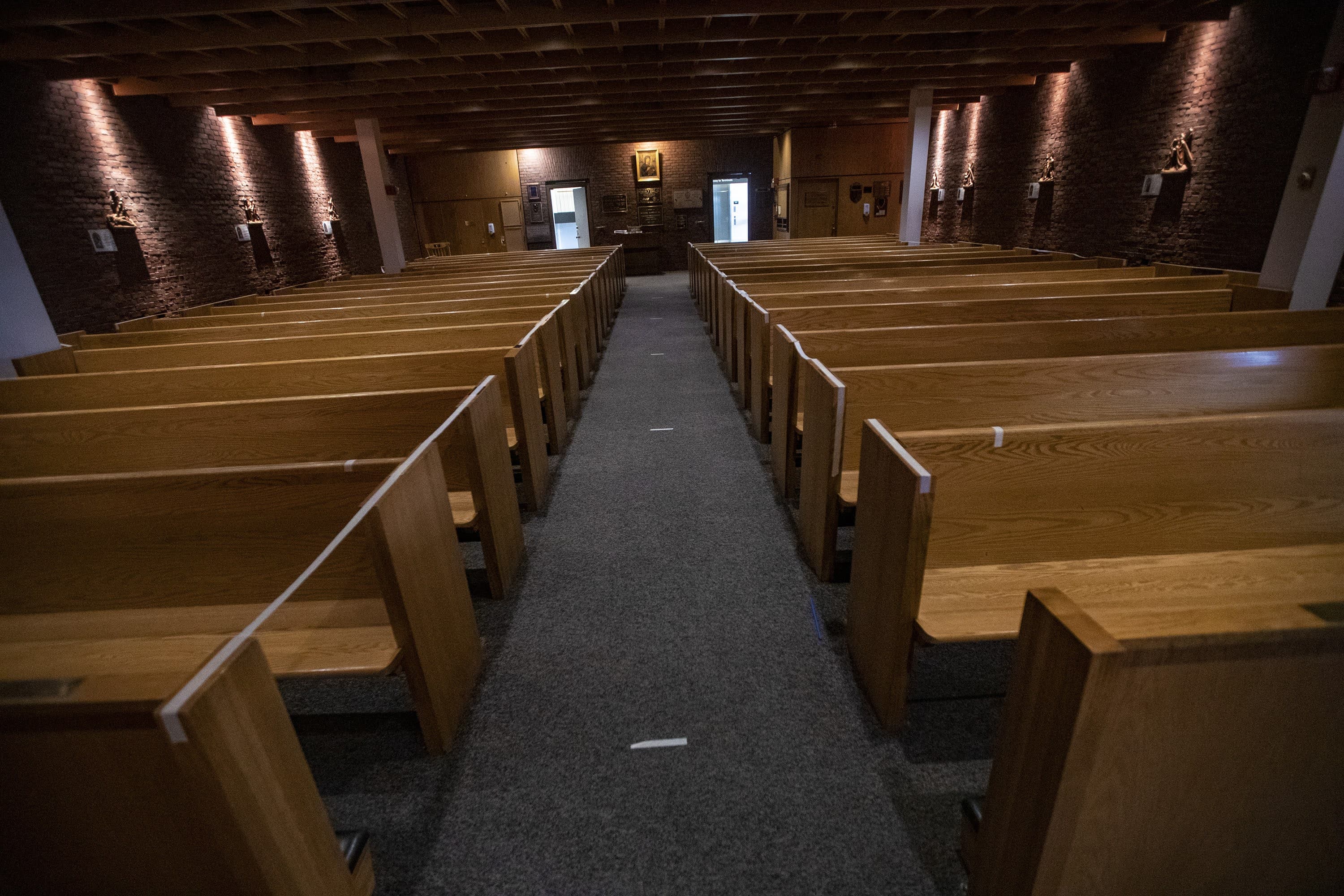 This article is more than 2 years old.
Editor's Note: Before the pandemic shuttered many houses of worship in the U.S., WBUR, in partnership with Brandeis University and Walking Cinema, embarked on a project to explore non-traditional religious spaces throughout Greater Boston.
The audio-visual project, called "Hidden Sacred Spaces" and underwritten by the National Endowment for the Humanities, takes listeners and viewers inside these little-known places of worship to reveal their significance and histories. As the coronavirus crisis rages on and these tucked away spaces remain closed to the public, this series features three radio stories and 3D augmented-reality experiences that offer new and otherwise impossible ways for the public to interact with these spaces. 
This is part two of a three-part series. Part three will publish on Thursday, Sept. 17.
---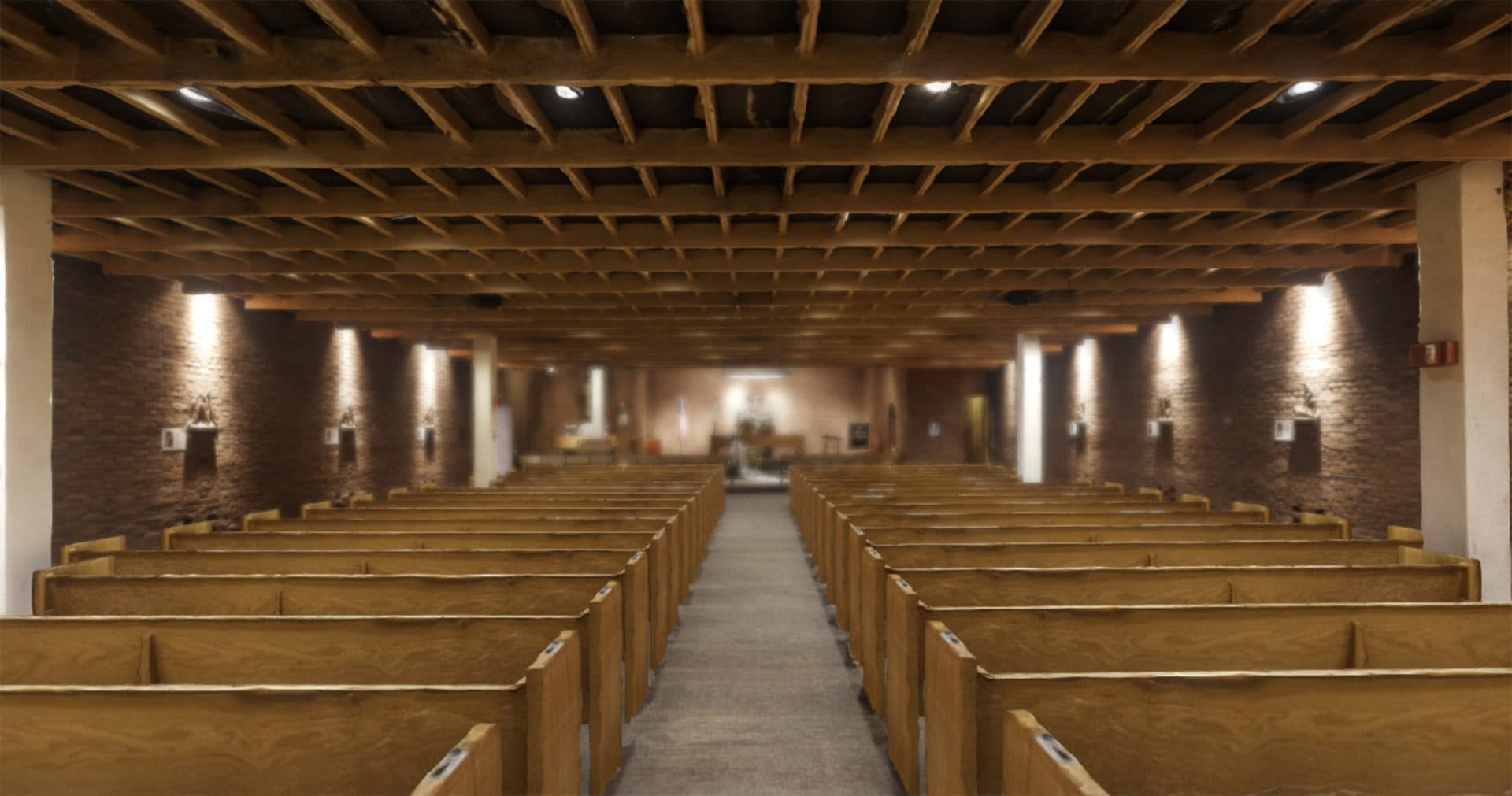 Click here or on the image above to access Walking Cinema's 3D augmented-reality model of Our Lady of the Airways. For the best experience, view on Androids or desktops.
Our Lady of the Airways, the country's oldest airport chapel, is not easy to find.
It's tucked away near baggage claim at Logan Airport, in between terminals B and C.
But once you're inside, it feels a world apart.

On a chilly Sunday in January, Father Richard Uftring, the chapel's priest, celebrates mass with a few dozen people.
The rectangular chapel is dimly lit, with red brick walls. There's a custom-made statue of the Virgin Mary up front: she stands on a globe, circled by three airplanes.
Father Uftring stands in the aisle to be closer to the parishioners in the pews. Some are travelers, but others are regulars, like Anne Foster.
Foster lives in nearby Peabody, and was married at Our Lady of the Airways about 35 years ago. She says she makes a point to come as often as possible.
"I stay in Peabody occasionally, I float back and forth, but when I really need to feel like I've been to really — I don't know," she says, searching for the right words. "I like it down here. It's much more personal."
John Verrengia, of Revere, has been coming for 10 years. He says he used to come with his father:
"I have a lot of great memories here. My dad passed away six years ago, and late in the game, he decided to return to his faith," he says. He points to a pew up front.
"Matter of fact, where you sit in front, there's a little plaque that has his name on it ... we came for the last 16 months of his life every single week," he says. "It was a wonderful, wonderful experience."
"Matter of fact, right up until the week before he died," he adds.

But these parishioners say the masses here aren't as well-attended as they used to be.
Father Uftring sees it, too.
"People come now, get dropped off at the airport, (and) they think right away they got to get through security ... it's stressful flying right now. So people get here, they don't have time to mull around," he says. "There used to be shopping, there used to be restaurants, all of those are phased out because people just want to get in, and get to their plane."
In many ways, Our Lady of the Airways is a relic of an older Boston.
And one that exists because of one person: Richard Cardinal Cushing, who was the archbishop of Boston from 1944 to 1970.
In those three decades, he forever transformed the region, leading a massive expansion of parishes and churches.

James O'Toole, a scholar of American Catholic History at Boston College, says the airport chapel is a symbol of Cushing's grand religious project.
"It was very much a part of his larger program to bring the church to where people were," he says. "And that might mean new suburban towns that were growing — but that might also mean the airport, where people were now traveling increasingly."
Cushing built Our Lady of the Airways in 1951 as part of his plan to establish "workmen's chapels" around the city, so the working class could more easily go to mass. They would also become home parishes for all the newly-ordained priests coming home after World War II.
"The population of Catholic priests in Boston, and the country as a whole, was growing very rapidly in the aftermath of the war," he says. "You could see it as a kind of supply and demand dynamic, I suppose, and the airport chapel would have been a part of that."
Behind the scenes, Cushing pulled the levers of state government to get a chapel put into the airport, and got the space essentially for free. The rent was $100 a year.
Our Lady of the Airways was so well attended in its early years that it outgrew its original location. The archdiocese had it relocated and expanded in 1965, to where it remains today.
But these are different times.

The share of the population identifying as Catholic in the United States has steadily decreased as the country's religious landscape changes and the church continues to reckon with its horrific sexual abuse crisis.
The Archdiocese of Boston is closing churches and consolidating parishes. O'Toole says the church is now dealing with the opposite kind of supply and demand problem it had after World War II. Priests are dying and retiring faster than new ones are ordained.
"And the priests who remain are graying," O'Toole says. "So the church won't be able to support the same extensive infrastructure of institutions."
As for the parishioners who attend regular Sunday masses at Our Lady of the Airways, they say it's their priest, Father Uftring, who holds them together.
Mary-Grace Gravallese-Festa is the creative director of Massport. She says she comes to mass solely for Father Uftring.
"I got hooked on him," she says. "I think if he wasn't here and he was somewhere else, I would go where he was."
But when the pandemic ends — Father Uftring won't be back at Our Lady of the Airways. He retired in July, after serving 24 years as the chapel's priest.
The future of Our Lady of the Airways isn't clear. But for parishioners, and travelers from around the world who stumble across this church, it remains their own hidden sacred space.
This segment aired on September 10, 2020.