Climbing "The Mountain That Stands Alone" With Author Andrew Krivak
Play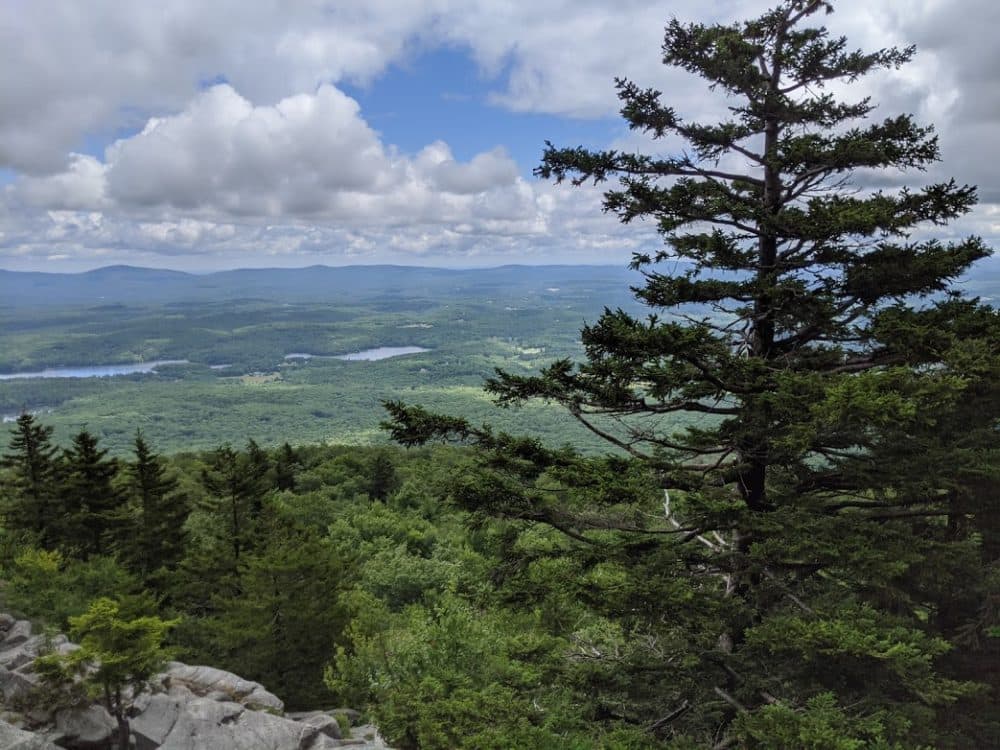 This article is more than 2 years old.
Author Andrew Krivak's new novel "The Bear" is about a nameless man and his daughter, the last two humans on Earth. The book takes place on the shore of a lake, at the foot of "the mountain that stands alone."
Radio Boston's Chris Citorik recently traveled to Krivak's home in Jaffrey, New Hampshire, at the foot of Mount Monadnock, to talk to the author and hike up the mountain that inspired the book's setting.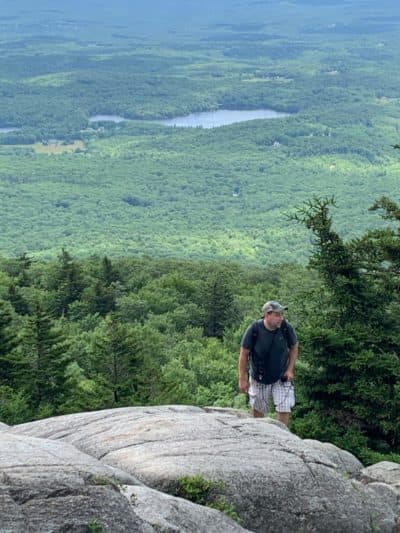 The peak of Mount Monadnock, which stands at 3,165 feet above sea level, isn't quite visible from Krivak's front yard. To see the summit from below, he rows out into the middle of Thorndike Pond for a view straight out of his novel — or else, he makes the ascent up.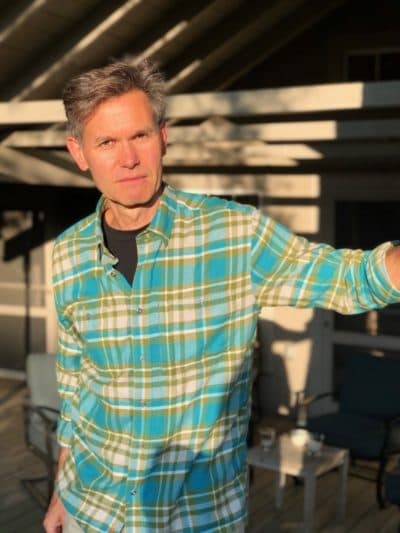 His new novel contains some pretty heavy themes, but its origins, Krivak recalls, are in a story he once told his own kids, based on his childhood in rural Pennsylvania.
"That's how it all began," he says. "On the fly, [a] totally exhausted parent, trying to come up with a story."
In the final, novelized version of the story, the nameless man and his daughter are the last two humans left in the world. It's a kind of bookend to the story of Adam and Eve, Krivak says, with the man's daughter poised to be the last person to inhabit the Earth. For her father — and for parents everywhere, Krivak says — preparing her for that future is a difficult prospect.
"When the man is at the beach and he's looking out at the horizon and he's saying to no one, to everything and nothing, she's not ready yet, it's that tension of, I know I'm going to go, and she'll never be ready, as far as I'm concerned," Krivak says. "But... he can't write her story for her."
Krivak says that, both as a father and a son, he thinks about that tension all the time.
"It's not my job to make them anything other than who they are," he says of his children. "I think about my parents as well, I didn't realize this until my father had passed away that he did a great job of never putting an obstacle in my way. And I am who I am as a result of it."
But even more than parenthood, "The Bear" is a book about the lasting primacy of the natural world — and how we've lost touch with it.
"We've created that distance with nature," Krivak says. "Not only just accept it as the status quo, and say oh isn't that terrible, but really, I suppose in some corners, saying this is precisely the way we ought to be."
Instead of abandoning nature to our civilizational projects, Krivak says he wishes people would stop prioritizing the march of "progress" over our peaceful coexistence with the rest of the world.

"I think what I was imagining was a way in which we could think about the existence of humanity as something that's part of stories," he says of his book. "The flesh, as it were, dies; there are no more humans. But the story of humans is captured and lives on here, in nature, in the animals, in the trees, in the very water we've just been over."
"Maybe that's what we need to think about if there's a sense of what the climate means to us, what does the environment mean to us," he continues. "Maybe we should sort of let go of the hubris that we are the beginning and the end, and just think of ourselves as part of the middle."
This segment aired on October 19, 2020.