From 'Get Out' to 'Lovecraft Country:' Understanding The Resurgence Of Black Horror
12:02
Play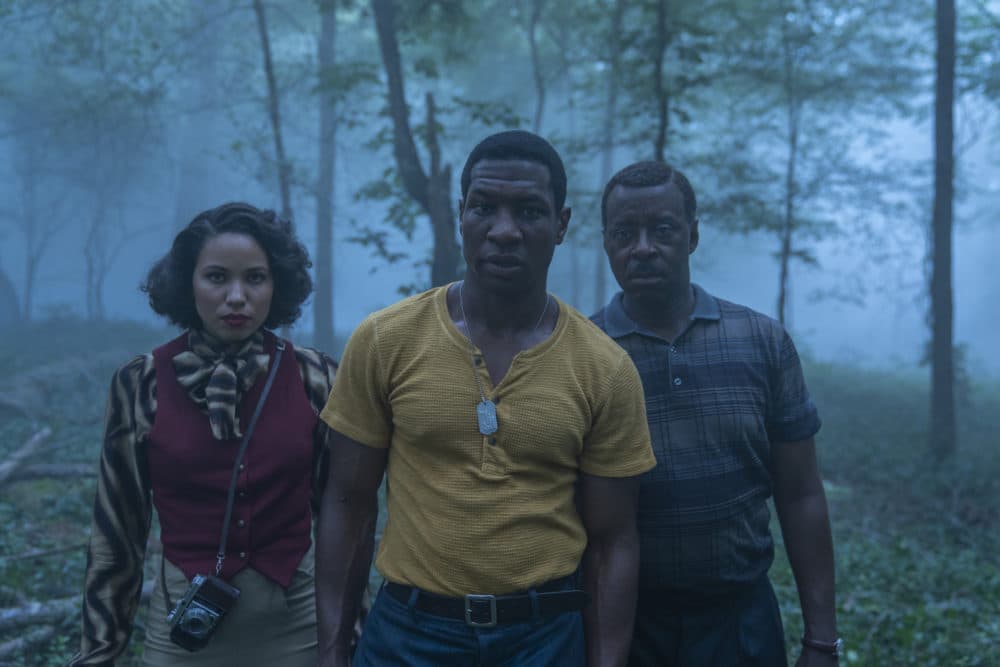 This article is more than 1 year old.
Jordan Peele's 2017 film "Get Out" was a genre-defining moment for horror.
While Black actors have always had roles in horror films, the success of "Get Out" ushered in a new era of Black Horror.
It's continued into the 2020s with the release of the TV show "Lovecraft Country," "Antebellum," and the upcoming "Candyman" sequel.
We talk the art of Black Horror with Kyéra Sterling, an independent academic who is teaching a class on the subject at the Coolidge Corner Theatre.
On why "Get Out" was so important:
Sterling: "Yeah, I think "Get Out" really was able to articulate a Black experience and a Black contemporary experience in a way that we haven't really seen before. The way that "Get Out" centralizes [the] ... paranoia that a lot of Black folks are led to be shamed for having, the way that get out uses the microaggression as a way to understand that the horror in this contemporary society is perhaps the white liberal ... that would have voted for Obama for a third term. I think that 'Get Out' was able to really just ... visualize this idea of the sunken place as this literal sort of embodiment of that paralysis, fear and confusion that a lot of black folks were feeling in a sort of post-racial ... Obama phase."
On the difference between Black horror as a genre and a Black character in a horror movie:
"Black folks have been represented on screen ... since the 1800s. And if we are really to think about that, we're thinking about how they're represented. That gives a different orientation of what horror is, especially for black folks that have been depicted as evil and as the sort of embodiment of monstrosity since the inception of black folks on screen, so there is a reason for us to think about D.W. Griffith's 'Birth of a Nation' as the first Black horror film, which effectively is depicting, you know, the Black man as the evil that must be overcome, and whether we trace that on into Black horror as sort of sci fi and the creature feature, ... whether it be 'King Kong' or whether it be 'Creature from the Black Lagoon,' these films that are depicting or associating the monstrous other with this sort of foreign evil that's very different from the ... white normative individual that we pick to be the status quo."
On why 'Blacula' (1972) was such a big moment for Black filmmaking: 
"The 1970s are a really important part of the heyday, as you said, of Black independent filmmaking and Black filmmaking, period, because it's the first time in a long time that you really get Black folks that have access to big studio money ... As Blacula comes on the scene, it really kind of shifts the balance of the horror genre, because it's able to for the first time really intervene in this idea of who the monster is and shift that paradigm by showing Blacula, who is himself a monster, right? He's a vampire that's kind of wreaking havoc on 1970s L.A. But you also understand Blacula to have been created by Count Dracula, and so in doing so, it is giving us a larger context about the white vampire as a sort of metaphor for the way that whiteness and white imperialism continue to have a vampiric effect on Blackness and the Black community."
On 'Lovecraft Country:'
"It's really trying to get into much like what Peele did and get out the sort of more insidious effects of of the white imagination. I think that a great way, ... especially as the series unfolds, to think about that is ... Christina's character and her relationship with ... most of the other central character in the film. You know, I think that Christina is a great embodiment of our contemporary white feminism and the way that she's unabashedly destructive and the ways that Blackness still kind of operates around her as a character for a need of survival that's often ... chided or subverted at different points, but it really gives us a really could contemplation about how Black folks are interacting with history and how the legacy of Blackness has invariably been connected to a relationship to the horrifying."
On the sense of catharsis Black horror can offer: 
"I always bring up the way that Black folks bring to whatever they're viewing ... an oppositional gaze, and this is something that Bell Hooks talks about. It's the way that Black folks, particularly Black women, are so used to seeing themselves represented on film in a way that's inaccurate that they develop and cultivate a sort of spectorial skepticism and that allows them to ... critically engage, whether they realize it or not, with the way that they're being represented ... I think that this is ... also a very important aspect of Black horror. You're able to finally, whether you're a white spectator or a Black spectator, you're able to ... be resituated when you see a Black cast negotiating Black horrors, and you're forced to contend with how you may or may not sympathize with the white character."
This segment aired on October 27, 2020.