Your New Favorite Holiday Cookie From Culinary Guru Dorie Greenspan
Play
This article is more than 2 years old.
We celebrate a December snow day with an ode to our favorite holiday cookies!
We take listener calls with James Beard award-winning cookbook author Dorie Greenspan, author of "Dorie's Cookies." Radio Boston's Chris Citorik also joins us. Greenspan's recipes for her two favorite holiday cookies this year are below.
---
World Peace Cookies
A chocolate lover's chocolate cookie.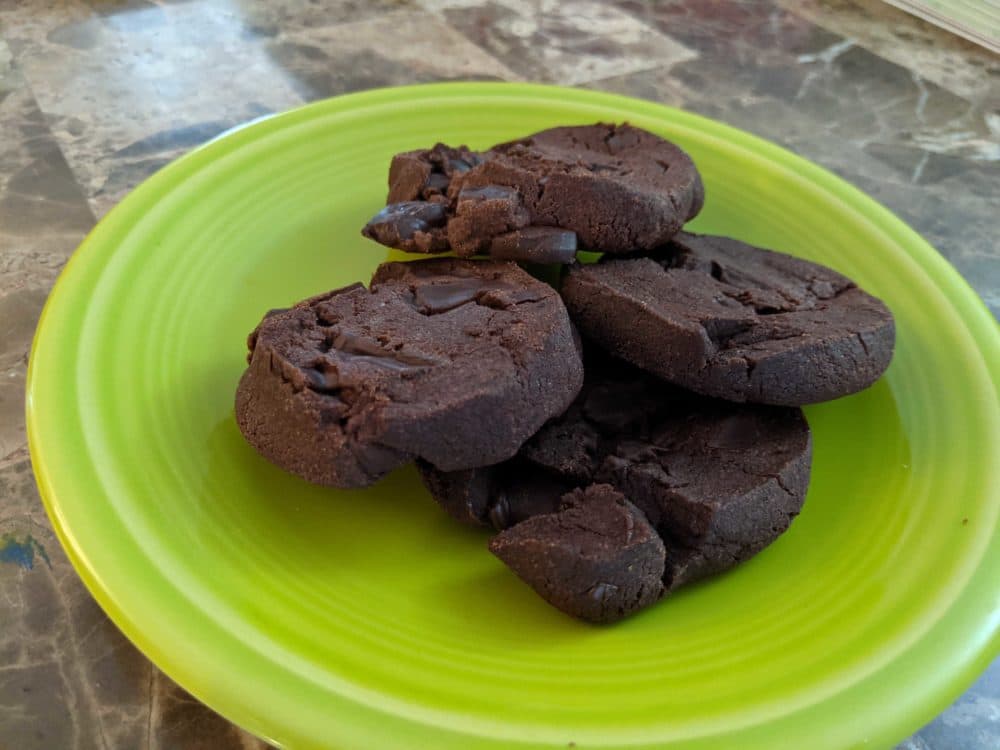 Ingredients
1 1/4 cups all-purpose flour
1/3 cup unsweetened cocoa powder
1/2 teaspoon baking soda
1 stick plus 3 tablespoons unsalted butter, cut into chunks, room temperature.
2/3 cup packed light brown sugar
1/4 cup sugar
1/2 teaspoon fleur de sel OR 1/4 teaspoon fine sea salt
1 teaspoon pure vanilla extract
5 ounces best-quality bittersweet chocolate, chopped into irregular sized bits
Directions: 
Sift flour, cocoa, and baking soda together.
Beat butter and both sugars together until soft, creamy, and homogenous. Beat in salt and vanilla. Add all dry ingredients and mix until dough forms big, moist curds. Toss in chocolate pieces, mix until incorporated.
Knead the dough to bring it together. Divide dough in half, form two logs 1 1/2 inches in diameter. Wrap logs in plastic, freeze for at least two hours or refrigerate for at least three hours.
Center rack in the oven, preheat to 325 degrees. Line two baking sheets with parchment paper. With a long sharp knife, slice dough into 1/2 inch thick rounds (if they fall apart, just form them back into a circle on the baking sheet). Bake for 12 minutes. Transfer baking sheet to a cooling rack
---
Classic Jammers (French Vanilla Sablés + Streusel)
Dorie dreamed up these cookies while in Paris, baking them as soon as she woke up.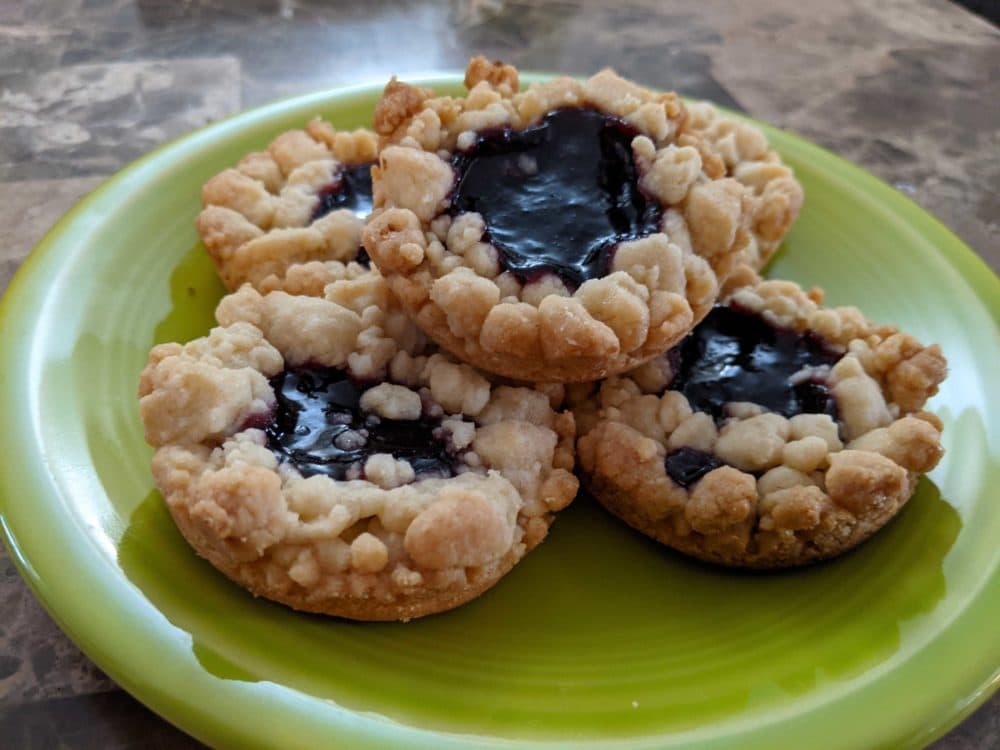 Part 1: The Streusel
Ingredients for the Streusel: 
3/4 cup all-purpose flour
3 tablespoons sugar
1 tablespoon brown sugar
1/4 teaspoon ground cinnamon
1/4 teaspoon fine sea salt
5 1/2 tablespoons cold, unsalted butter, cut into small cubes
1/2 teaspoon pure vanilla extract
 Directions for the Streusel:
Whisk flour, both sugars, and salt together. Drop-in cubes of cold butter and toss together with fingers until butter is coated. Mix until ingredients form moist, clumpy crumbs (usually at least ten minutes).
Squeeze the streusel, it should hold together
Add vanilla, mix until blended.
Pack into a covered container, refrigerate for at least one hour (ideally at least three hours)
Part 2: The French Vanilla Sablé:
Ingredients for the French Vanilla Sablé:
2 sticks unsalted butter, cut into chunks, at room temperature
1/2 cup sugar
1/4 cup confectioner's sugar, sifted
1/2 teaspoon fine sea salt
2 large egg yolks, at room temperature
2 teaspoons pure vanilla extract
2 cups all-purpose flour
Directions for the French Vanilla Sablé:
Beat butter, both sugars and salt together
Beat in yolks one-by-one
Beat in vanilla
Beat in flour carefully, all at once
 Turn dough out onto counter and divide in half
Shape both halves into discs, roll out into 1/4-inch-thick sheets between two sheets of parchment paper
Slide parchment-sandwiched dough onto baking sheets
Freeze for at least one hour or refrigerate for at least two hours
Part 3: Assembling and Baking Classic Jammers

Directions: 
 Center rack in the oven, preheat to 350 degrees.
Butter or spray muffin tin (or two if you have two).
Cut dough into 2-inch diameter circles. Put 2-inch diameter rounds into greased muffin tin(s).  Spoon about 1/2 teaspoon of your choice of jam into the center. Sprinkle or spoon streusel around the edges, covering the surface of the dough but leaving the jam bare.
Bake for 20-22 minutes, rotating the tin after 11 minutes. Leave cookies in the tin for about 15 minutes before transferring to a cooling rack. Repeat with remaining dough
This segment aired on December 17, 2020.