Meeting The Gubernatorial Candidates: Sonia Chang-Díaz
18:11
Play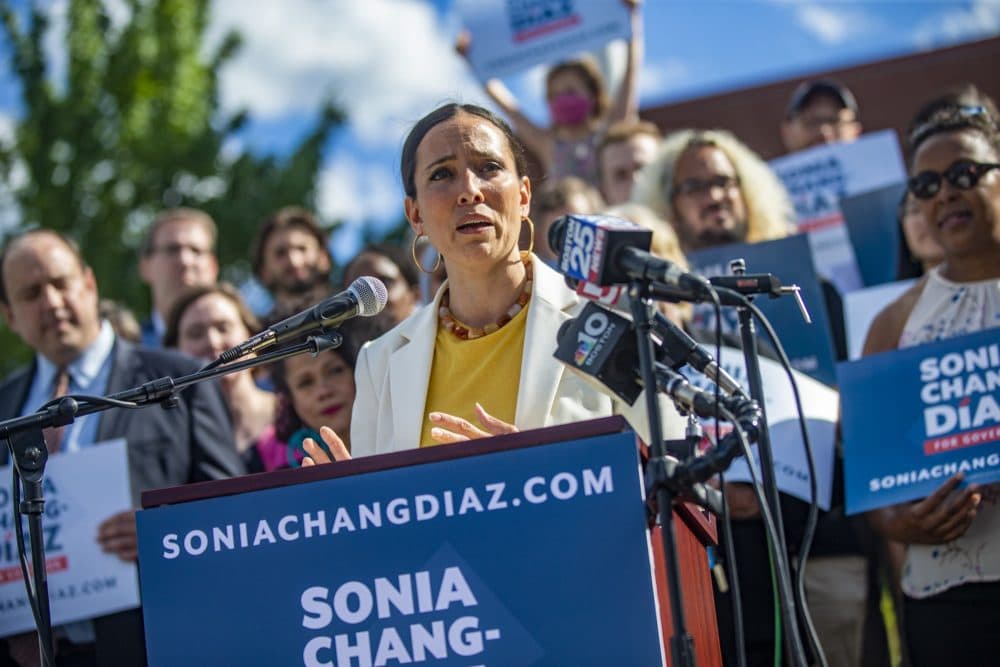 This article is more than 1 year old.
All this summer, Radio Boston will invite the major candidates officially running for governor here in Massachusetts to make their case. State Senator Sonia Chang-Diaz spoke with host Tiziana Dearing to tell us why he thinks he should be the commonwealth's next governor.
Interview Highlights
On what she brings to the race:
"I think it is bringing a strong set of values and convictions to the job. And that's something where voters can see a 12-year-plus record of work in play for me from my time as a state senator on Beacon Hill. I have seen how, for working families, it is getting harder and harder every day to live here, to raise a family here in Massachusetts, and have really gone to work fighting for and accomplishing the systemic change that we need in order to confront those systemic challenges with the same determination and the same urgency [as] working families [that] are living those problems. And that's things ranging from education funding reform, to criminal justice reform, to pushing for twenty first century transportation infrastructure, tackling poverty at its roots, really runs the gamut."
On appealing to a wider audience beyond progressives:
"I think the answer is in the values that underlie the progressive agenda, the things that I'm fighting for as a progressive, and that I think the movement is about. Things like giving every kid a fair and strong chance in life; making it so that we don't all have to sit in traffic for hours on end; making it so that you don't have to worry about going bankrupt if you have a medical emergency in your family; aspiring that young people do not have to carry decades worth of student debt on their backs after working for years to get a degree. These are not radical ideas, Tiziana. These are old ideas, things that people have been wanting for years and that are common denominators across so many demographics and so many regions and so many places where people identify on the political spectrum in our state, and so that's what I'm fighting for."
On her biggest priorities as governor:
"It's always hard to choose one or two because the issues are so intertwined. But just to approach it from the experience of your typical working family here in Massachusetts, housing costs are going up and up, health care costs are going up and up. People are sitting a long time in traffic, and that's time that folks would much rather be at home taking care of their aging parents, helping their kids with their homework, being civically active in their communities. And so those are the issues that are going to be first and foremost on my priority list. And these are issues where, again, I'm interested in tackling them at their roots. It's been too long that Beacon Hill has been saying to families that just nibbling around the edges is enough or that people should need to wait another year or another term for really profound change on these issues."
On what sets her apart from other progressive candidates:
"I am proud that we have so many strong candidates in the field who are proud to profess themselves as progressives. I think that's a positive sign for the movement that we all care about. I am the only person in this field who has the record of delivering those real systemic changes across many issues on Beacon Hill and having the record of telling truth to power. And standing up, whether it is within my own party or criticizing our existing Republican governor. And not just criticizing, but also achieving those results, achieving those wins on police reform, on vaccine equity, on criminal justice reform that translate into real results in families lives."
This article was originally published on July 22, 2021.
This segment aired on July 22, 2021.