Meeting The Gubernatorial Candidates: Geoff Diehl
16:58
Play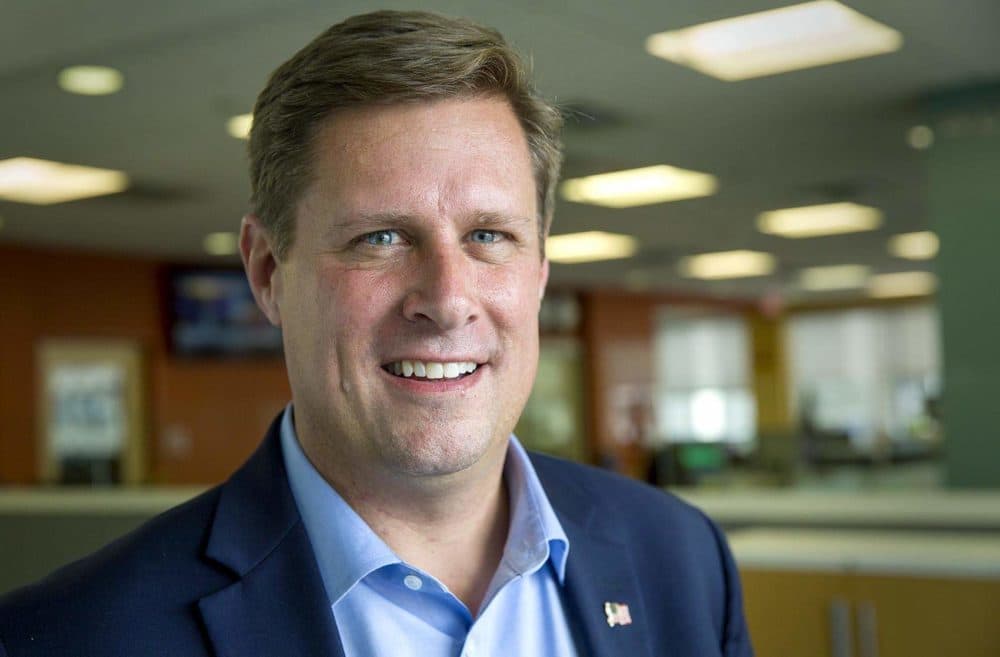 This article is more than 1 year old.
All this summer, Radio Boston will invite the major candidates officially running for governor here in Massachusetts to make their case.
We begin with the latest entrant into the race: former state representative Geoff Diehl, running in the Republican primary. Diehl, who unsuccessfully ran against Sen. Elizabeth Warren in 2018, co-chaired the 2016 Donald Trump campaign here in Massachusetts.
Interview highlights
On why he's running now and what he brings to the race
"I don't want to put it as better than anyone else, just different priorities. And I think some experience that may lend itself better to the position, let's put it that way. I've served in the legislature for eight years. I have the private sector experience. My wife and I own a small business. I work for another company as well. And look, we're like everybody else, too. We've got two daughters, one in college, one in high school, just trying to make ends meet. I was furloughed during the pandemic. And so, we certainly understand what's going on with people in Massachusetts. In 2018, I had the chance to travel around the state and meet a ton of people when I won the Republican primary to run against Elizabeth Warren for the Senate and learn really about what the regional issues were that that I'd like to focus on. In fact, I was hoping at the time, that the Senate seat would be more focused on what was important for Massachusetts, and now running for governor of Massachusetts, I think I have that real chance to talk about the issues that face our state, whether it's regionally or, you know, obviously in Boston ... my campaign right now is set up to be focused on Massachusetts. And I think that's really what's going to be a key factor in November of 2022."
On former President Trump and whether he'd support him in a second potential run for president
"At this point, I don't think he's declared whether he's running or not. If he does decide to run, I'm still open to any other candidate that wants to make their case. I'm looking for the best person for the job at the time that they want to run. So, you know, in 2016, what he spoke about — drawing down troops in the Middle East, becoming energy independent, putting American economy first — those were things that I felt was important right here in Massachusetts to the district I was representing. And I think that that's why he had strong support within the Republican Party here in Massachusetts. I know he didn't have support broadly in the state in general. But 2022 is a race, again, that I think is going to be more focused on what's important for our state, especially with a pandemic recovery. And that's really where I think the focus is going to be as we go forward."
On his decision to enter the race before Gov. Charlie Baker has declared a run and where he thinks Baker's fallen short
"I think the voters in the Republican primary are the ones who decide whether he deserves to have the opportunity to make the case for that third term. But I will say that regardless of whether he was going to run or not, it was my plan to to make the entrance into the race. You know, I was really looking more at just my own ability to run another campaign, and obviously there's personal considerations with family and work. And I think that we came to the conclusion that it was worth doing this.  Governor Baker will certainly have to make the case as to why he deserves a third term. I understand that he gets support across the spectrum. But I think this is going to be an interesting time because the pandemic certainly has pointed out areas of concern with management. And I think that's a case I'll have to make, obviously, within the Republican primary."
On his support for Jim Lyons, chair of the state's Republican party
Well, I do support Jim. And I'll tell you, there's an internal fight within the Mass. GOP, just like, I think you'd admit, there's internal struggles within the Democratic party. I mean, there's factions that seem to be a very progressive versus moderate Democrats. And I think the same thing is happening in the Mass. GOP, only our issues tend to spill out into the press a bit more. So, I think it's truthfully a mirror of what's happening nationally. You see the struggle within the national Democratic party, the national Republican party, as to who's the leader and really what are the issues they want to move forward with ... Jim and I certainly served together from 2010 to 2018, we know each other. And basically, at this point, I think Jim is trying to make sure that the Mass. GOP is focused on supporting all candidates from from lower level races, municipal races, all the way up through the legislature. Whereas the focus in the past has always been just on the top of the ticket, really; the presidential candidate, then the governor's candidate every other two years. So I see what Jim's trying to do and I think there's some resistance to it, but I think he'll get past that."
This article was originally published on July 08, 2021.
This segment aired on July 8, 2021.