The movement to clear an accused 'witch's' name more 300 years after she was convicted
Play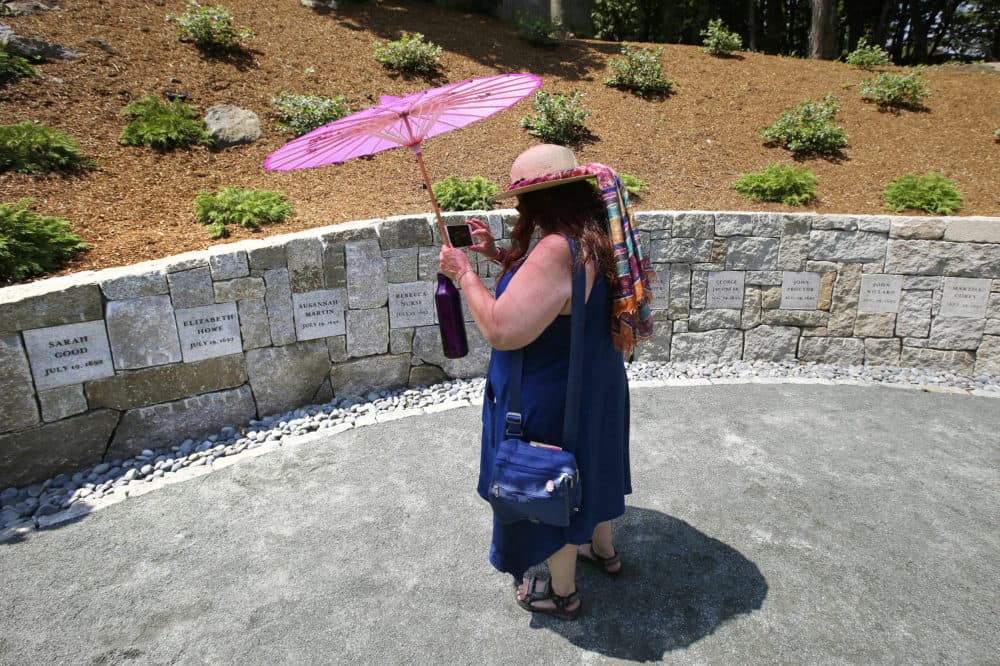 This article is more than 1 year old.
You may know about the Salem Witch Trials, but do you know the name Elizabeth Johnson Jr.?
Back in 1693, Johnson Jr. was one of hundreds accused of witchcraft. She was sentenced to death, but a day before she was set to be hanged, her death was stayed.
She may have survived, but some 300 years later her conviction is still on the books in Massachusetts.
But, maybe not for long.
That's because a group of middle schoolers from North Andover, the area where Elizabeth Johnson Jr. lived, and their civics teacher Carolyn LaPierre are working with State Senator Diana Dizoglio on a bill that would officially clear Johnson Jr.'s conviction and name.
We speak with LaPierre and Dizoglio about the effort.
Interview Highlights
On why Johnson Jr. was never exonerated:
LaPierre: "There are a number of theories we don't totally know. Some say that she just didn't have the family to pursue it in further generations where other families did. She actually did petition for her own exoneration in 1711, but her appeal got ignored by the court. So we don't really know exactly why it was ignored or overlooked, but somehow she was. And here we are today."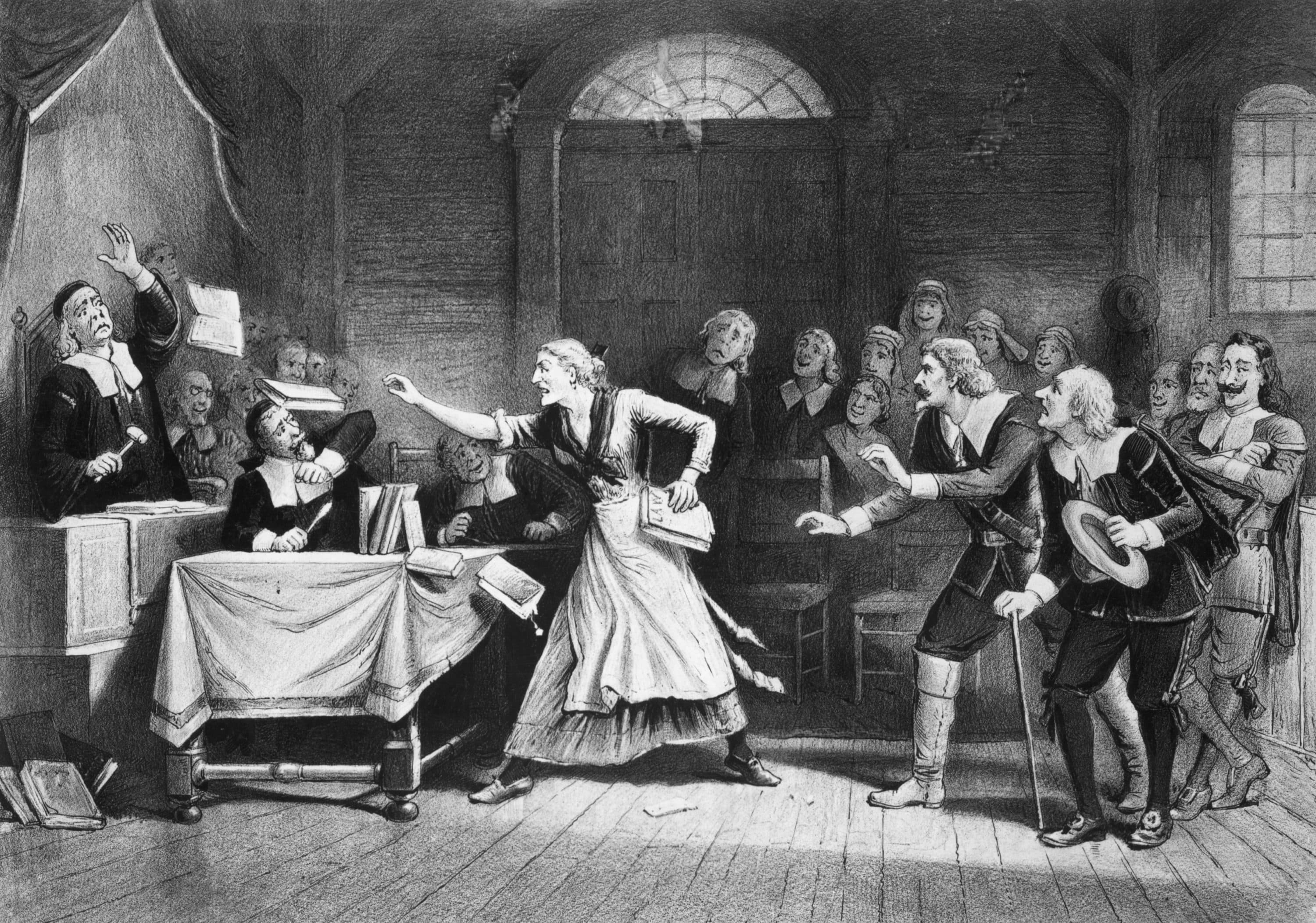 LaPierre: "Partly their teacher telling them they were going to fix it. These students are learning civics - 8th grade in Massachusetts is now a civics class, and they're responsible for what's called a civics action project. And so the author [Richard Heigh] and I had spoken about this and I brought this to them as a possible project last year, and we jumped on it last year, and they worked on doing all the research about her, finding out about the Salem witch trials and her role in it, and actually wrote a bill that was accepted by the Legislature. And they all wrote letters on behalf to different legislators to get them to take action on this case on this bill."
"[I felt connected to her too] because I tried to make that come alive for the kids. And understanding the religious nature of the time and how serious this was taken and the fear that was felt being accused of witchcraft. Trying to bring that alive for the kids has definitely had me thinking a lot about her."
On the new bill to clear Johnson Jr.'s name:
Dizoglio: "Sure, to get technical, Senate Bill 1016 would clear the name of Elizabeth Johnson Jr. in the conviction she received during the Salem witch trials. And to get technical, it adds her name to a resolve in Mass. general laws that acknowledges that while the Salem witch trials may have been lawful at the time, the laws under which they were conducted have long since been abandoned and superseded by our civilized society."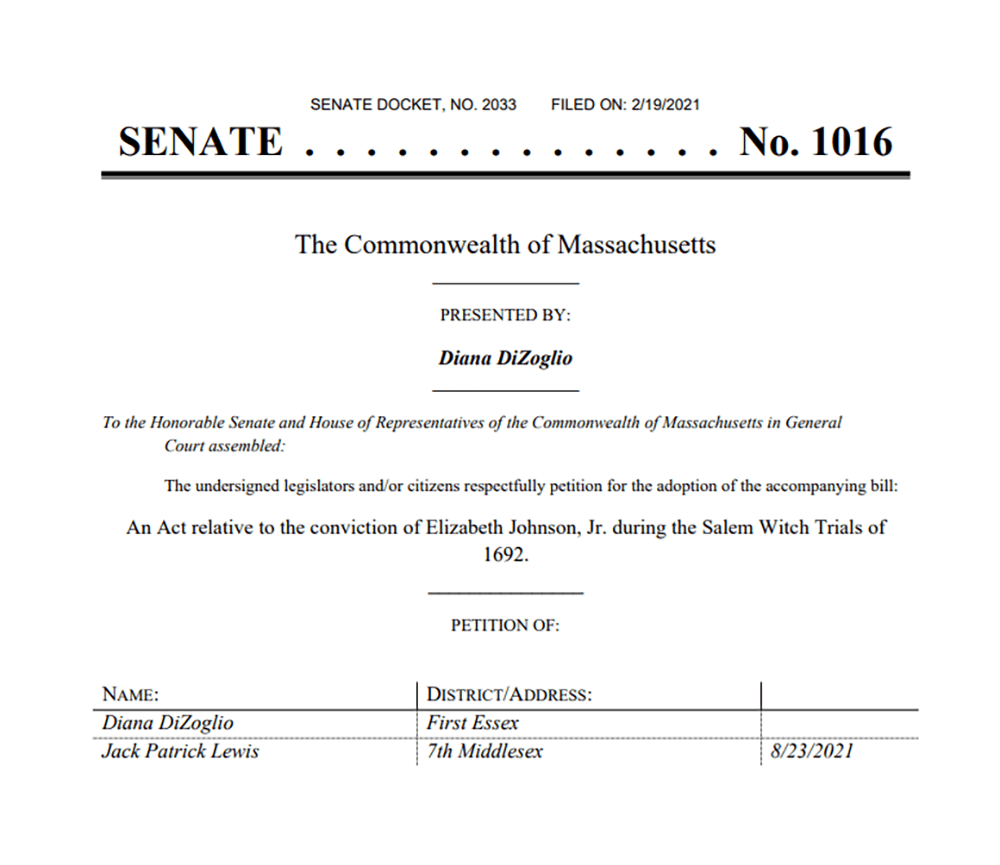 "And you're right, Elizabeth was convicted of witchcraft in early 1693 but never executed. She's the only person who was convicted during that process who has never been fully exonerated, and the reason why the kids thought it was so important and it was relevant to them [was] she lived in the part of Andover that is North Andover today. And I do have some opinions about why she may not have had her name cleared. She was neither a wife nor a mother, and it is commonly thought that because of those two things that, back then, she was not considered worthy of having her name cleared while other women were."
On the lessons learned from this:
Dizoglio: "It's a great lesson in diversity, equity and inclusion. This woman had no children. Therefore, there is no group of descendants acting on her behalf. These children at North Andover middle school picked up that mantle, and they're fighting on her behalf. And it's a great lesson on just all things that we should be doing in society today, right? Standing up for those who don't have a voice and fighting for equality and fighting for justice...I think that this is a great lesson that we've learned from these kids."
This segment aired on October 5, 2021.