These dogs will find your phone so you can call help
Resume
You've definitely seen them out and about, often wearing a red vest and hard at work. And we're not talking about an usher at a theater.
We're talking service dogs.
From seeing-eye dogs who help their people safely navigate the world, to pups who are ready to jump to the aid of an owner in a wheelchair, these canines seem to be limitless when it comes to their intelligence and skills.
As a part of our special full-hour show on man's best friend, we look into the world of service dogs with Cathy Zemaitis, Director of Development at NEADS, an organization dedicated to raising, training, and placing service dogs with people who need them; as well as KateLynne Steinke, former Paralympic rower for team USA, who has a NEADS service dog, Jones.
Plus, for anyone interested in getting involved in NEADS as a Puppy Raiser, there's a virtual info session February, 22 at 6 PM. Sign up here.
Interview Highlights
On the capabilities of service dogs:
Cathy Zemaitis: "Service dogs are pretty darn special. The service dogs that are brought through by NEADS are trained in up to 60 different tasks and commands, so they can do everything from turning on and off the lights in a room to opening a refrigerator door, fetching something from the refrigerator, shutting the door and bringing it to their person. They stand and brace to help if someone's fallen down. They pick things up. I could go on and on about 50 or 60 different tasks and commands."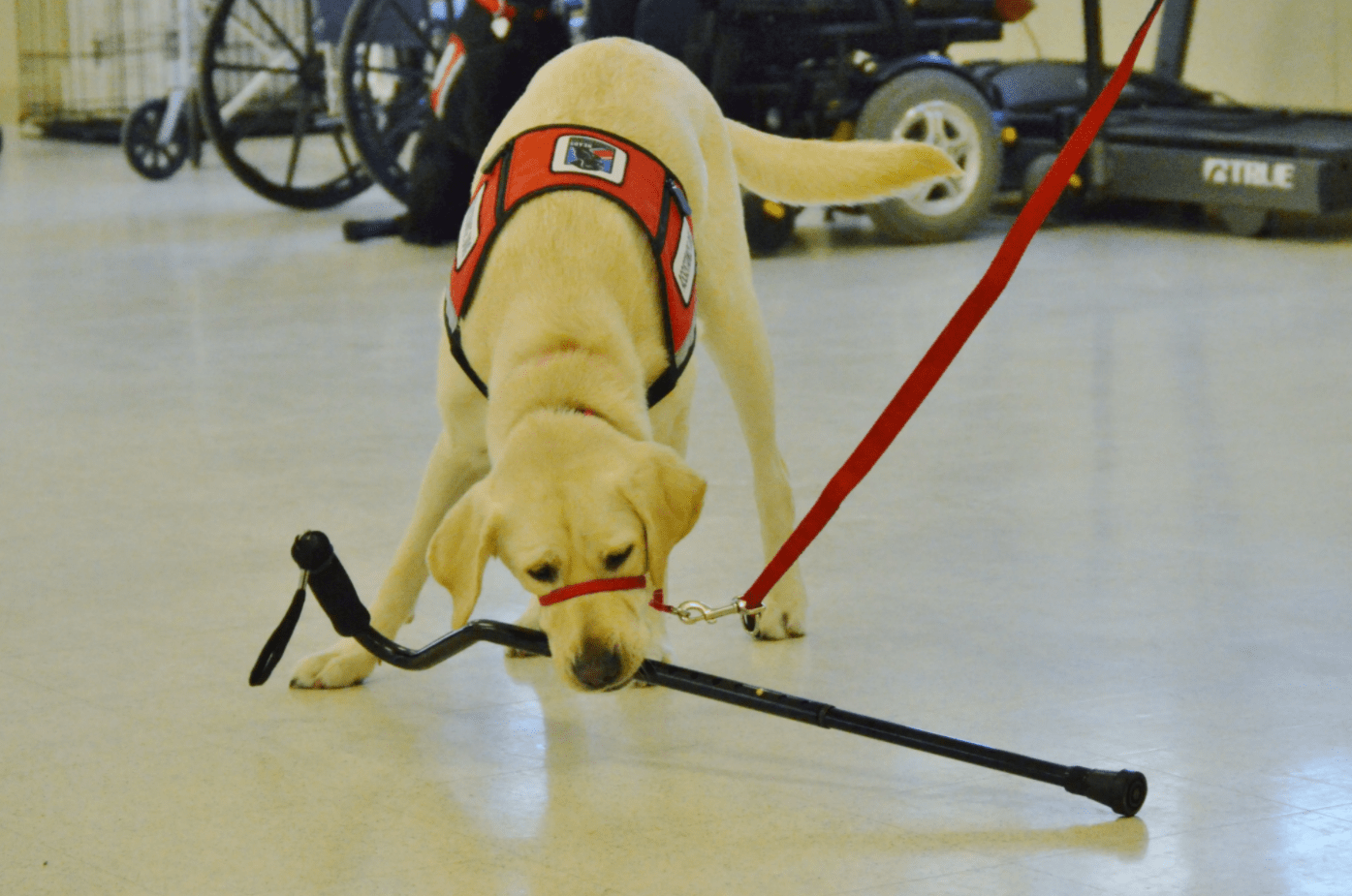 KateLynne Steinke: "So I was matched with [my service dog] Jones just barely five years ago now, and I couldn't live independently without him. He will be turning seven this year. He is a male yellow lab and he is everything you can ask for from a service dog. His obedience — which is incredibly important for us to be able to go out in public and travel the country — is impeccable. He has better manners than most humans. And his task work makes him a medical device."
"His task work keeps me safe every single day. As a full time wheelchair user, he cuts my risk of falling. He can speak on command or find my phone by scent so that I am safe if I do need help. He is just so solid. He does everything I ask the first time I ask, and it makes me feel very confident and independent and having him."
On service dog development and training: 
Cathy Zemaitis: "This is definitely a working dog. It is not a pet. But that's not to say that they don't have some wonderful pet-like qualities, which I'm sure KateLynne and [her service dog] Jones can attest to. You know, we here at NEADS are a team of about 40 people directly at NEADS who work very hard on the breeding, raising, training and matching of our world class service dogs. But equally, if not more important, are the volunteers that surround us, and those volunteers are inmate handlers."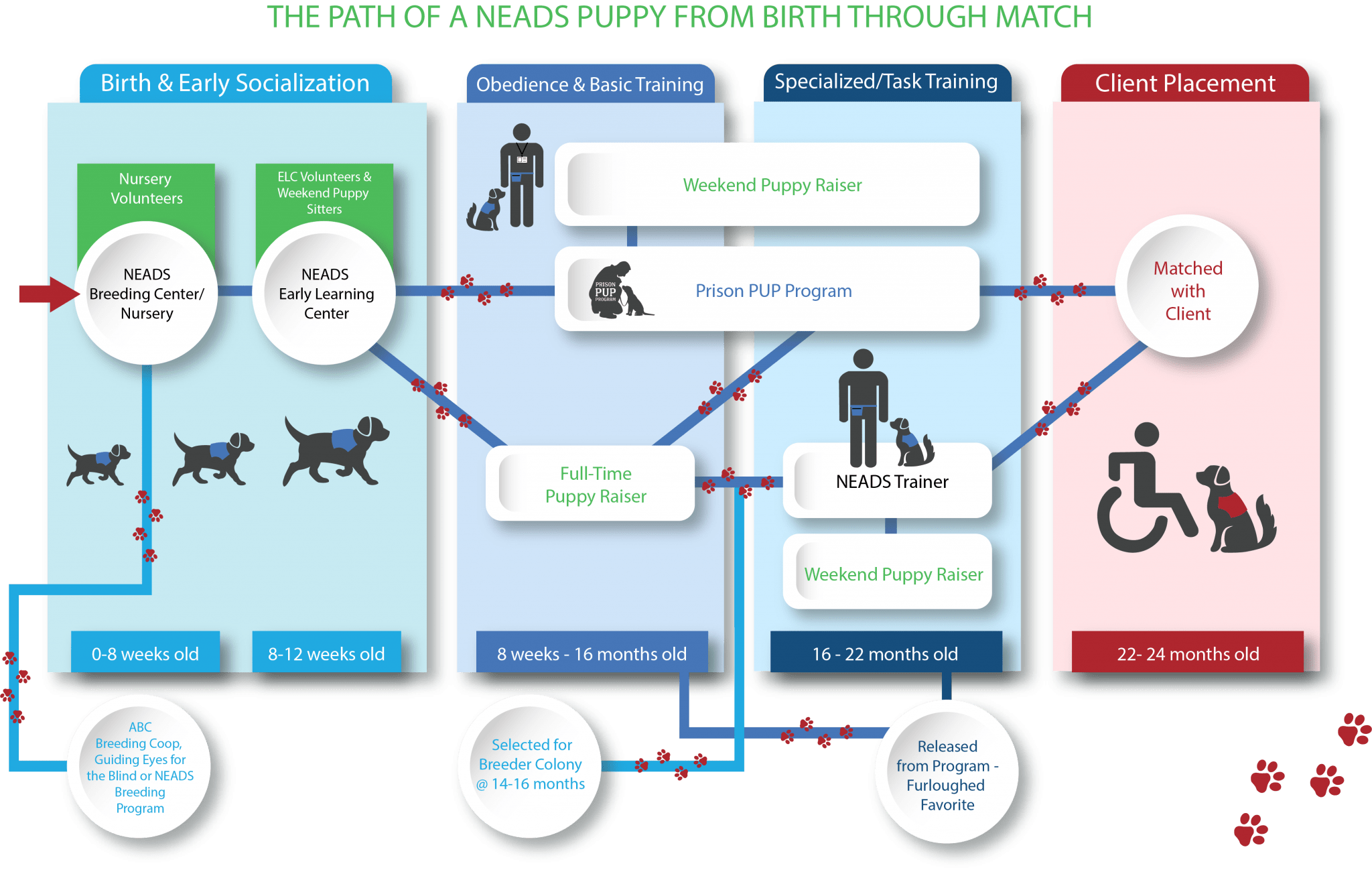 "Six different prisons in Massachusetts and Rhode Island inmates help us raise and train these dogs. And on the weekends, we have wonderful individuals and families who go to the prisons and take the dogs out and help us socialize them — because if they're living in the prison, they're not getting the everyday experiences that they need to have before they go out and work with one of our clients. We also have full time puppy raisers who take the pups when they're about eight to 12 weeks old and they have them for about a year. And then the dogs go into prison. These raisers — we call them our puppy raisers — are so important to us. And if I can just mention that we're always looking for weekend and full-time puppy raisers, they are the backbone of our organization and I think KateLynne will attest to that. Jones had an excellent puppy raiser.
On informal service animals, such as emotional support animals:
KateLynne Steinke: "I know a lot of people think that sounds pretty harsh [when I call Jones a medical device], but I love him dearly. He is sitting on top of my lap at the moment at 65 pounds, listening to every word. He gets chiropractic adjustments, and massages, and has a fenced in yard, and, you know, I love him very, very much. But when he is working here, he is medical equipment and that's very important ... He's expensive. A lot of people went into making him that way."
"Of course, I think a lot of pets could be labeled as emotional support. I think anyone who has had a dog or a cat in their life can say that. But those animals don't get granted public access, and there's a reason for that. They don't require training. They don't require anything and they can be any type of animal. We are protected as a handler team by the ADA to go into public because we are backed that he is trained and he will keep other people out in public safe, he will keep me safe. He will not disturb the order of the business that we're in or the flight that we're on. It's very dangerous for waitresses or children running around if an unsound, untrained dog is out in public, lunging and barking. It can get out of hand very, very quickly. So it's not only dangerous for legitimate means, but it is also dangerous for the general public to have untrained, stressed out dogs in those scenarios."
Cathy Zemaitis: "We do have [bill proposal] — we are hoping that House Bill 1565 does get through. It is a bill brought forth by Representative Kimberly Ferguson in the hopes that we will be able to make the false representation of a pet as a service dog illegal."
This segment aired on February 17, 2022.