How one woman helped restore midwifery to Massachusetts
Resume
Each year, there are nearly 70,000 births in Massachusetts.
Of those, approximately 17% were attended by a midwife. That's according to the latest census data from 2020, as reported by the Centers for Disease Control.
But midwives have a complicated history here.
The practice itself is ancient, and in colonial Massachusetts, midwives were both revered and feared.
In the modern era, however, midwifery was often denigrated by the commonwealth's medical community. And medical midwifery, performed by a certified nurse midwife, didn't become legal in the state until 1977.
That's when then Gov. Michael Dukakis signed a bill updating the state's General Law to allow midwifes to practice under a doctor's supervision. The laws regarding midwifes have since been updated. Now midwives can practice in hospitals without the help of a doctor.
We owe a lot of that to Iris Mulholland.
When she came to Massachusetts from Europe, Mulholland had years of practicing midwifery under her belt. She was shocked to find the field she excelled in wasn't legal in her new home. She then dedicated herself to legitimizing midwifery in Massachusetts, giving women the option of when and who would help them give birth. She was instrumental in updating the law in 1977 and worked tirelessly from then on for her patients.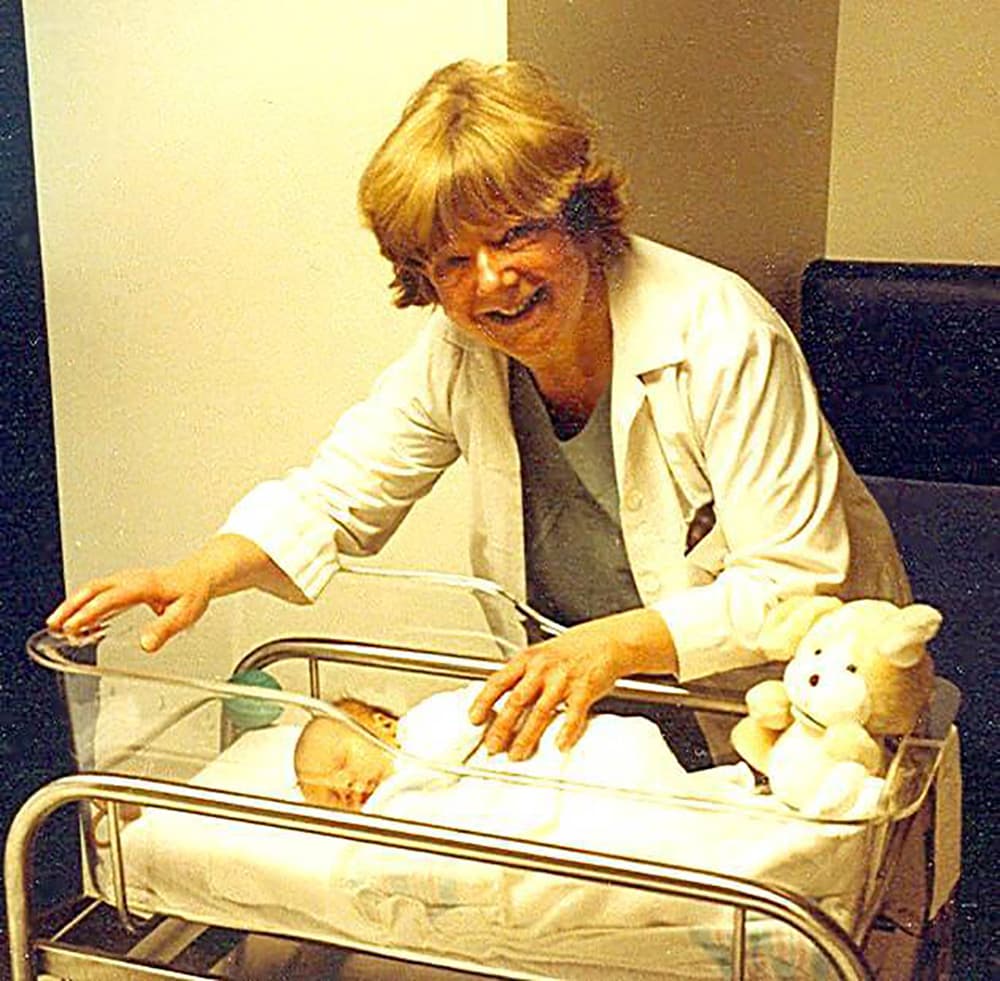 Iris Mulholland died this winter at the age of 93. Her life, and the change it made in Massachusetts, is the first subject of Hidden History, Radio Boston's deep dive into unexplored pieces of our state's history.
We spoke with Max Mulholland, son of Iris Mulholland, about his mom and the work she did for midwives across the state.
Below are highlights from their conversation, which have been lightly edited.
Interview Highlights:
On why she pushed for nurse midwifery to be legalized in Massachusetts:
"In Europe, it's normal that midwife, the nurse midwife, is actually the norm, more so than an obstetrician delivered baby. The nurse midwife really spends much more time and attention instead of hand-holding, but is more than hand-holding. It's really the coaching, the guidance, the counseling in terms of what is going to occur, what is occurring at this point."
On being a single mom and having a career:
"Her divorce was traumatic for her, and as she once said to me, which I didn't realize until she said, that for a decade after her divorce, she cried herself to sleep every night. The next morning, my brother and I, we got up and breakfast was ready and waiting, and she would feed us and then go off to work and hope that we were good enough about getting ourselves packed up and off to school. One of the biggest fears she had was — since she had to leave at seven, she came back at home at usually after five — that two boys growing up, not a father figure in the family on their own, 'Would they be doing the right thing? Would they lead the right kind of life?'
"I'm having my 35th anniversary here in December, and my brother Chris is hitting his 40th anniversary later this month. So the answer is yes. She raised really good boys who became good men and husbands."
On her impact in the field of midwifery:
"She had a life of impact where the course of her 40 years, she delivered thousands of children. Those children had their own children. Those children had their own children. So there's really three generations of babies, grandchildren and great grandchildren that are alive today, because of the work that she put in."
On what Iris Mulholland will be remembered for:
"She was a patient advocate, a woman's advocate person who could give women a choice between the traditional maternity ward delivery and more natural settings. And I think that was really important to her ... she was a nurse's nurse as well. That's my wife's quote. That's what she called her. No one more fiercely advocating for the health and welfare of her patients. And she was.
"And if that meant, you know, going toe to toe with the administration advocating for a decision that she thought was the right one for her patient, she did it. And so that fearlessness and willingness to make sure that the patient care is a priority at all times ... she was the transformative person in terms of giving women options that they didn't have: the rights of women to treat women, the rights of nurses to be respected for their knowledge accumulated over many, many years in terms of understanding what's going on with the patient. That I think was her contribution to history."
Do you have a hidden piece of Massachusetts history that you think would make a good conversation? Let us know!
You can text us. To get started, send us a text at 617-766-0382 or visit radioboston.org/about.
This segment aired on April 19, 2022.