'Two Grannies on the Road' want to visit your Massachusetts hometown
Play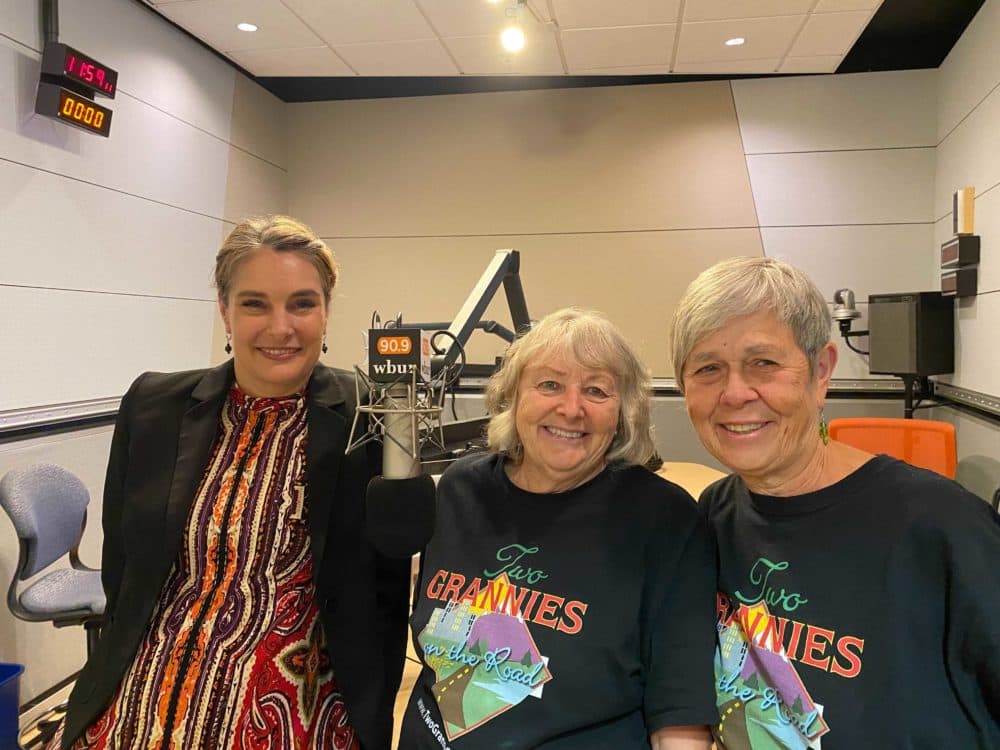 Beth Sobiloff and Marcia Rothwell are on a mission to visit every city and town in Massachusetts under the moniker "Two Grannies on the Road." They joined Radio Boston to talk about their travels, local hidden gems and their next big trip.

Below are highlights from the conversation:
Interview highlights
On how "Two Grannies on the Road" got started:
Sobiloff: "We were starting to see a lot of ageism in the workplace. Friends of ours, baby boomers, who were getting laid off from their corporate jobs of 40 years, and they weren't ready to retire, but they were being replaced by millennials. And then there were also people our age who wanted to retire, had a dream, maybe open a restaurant, but they had no idea how to do it. So we decided to have a TV show and interview baby boomers who had reinvented themselves and tell their stories to inspire other baby boomers and other people to live their dreams no matter what. Think outside the box. It's never too late. And it just evolved into what we have now. A few years ago, I said, 'Let's visit every city in town in Massachusetts,' and we're having a blast doing it."
On how they plan their trips:
Sobiloff: "So we go on Facebook and we'll find a forum for a town. So, for instance, we'll see, does Lenox have a town forum on Facebook? And we get on and introduce ourselves and ask what we should do and what we should see. And we're going to come and film here. Where should we eat? Where should we have breakfast, lunch and dinner? What is your town famous for? We want to get the locals' perspective so we can find the hidden gems. Things you won't find on a travel site."
On how communities receive them:
Sobiloff: "They they love it. They love showing off their towns. They love telling us about the history. You know, a lot of times they'll treat us to breakfast, lunch, you know, whatever, and they'll give us T-shirts ... People have such pride in their communities. It's just wonderful. And we are the beneficiaries of that."
Rothwell: "I find it the most positive thing you can do for a full day and at this time in our nation and everything, to have that kind of excitement and fun. And I would like to say also that people our age can do all these things and they're not far from their own area. If they're handicapped or something, somebody could take them 20 minutes, a half an hour, an hour away. So I think it's great to have that kind of positive experience."
This segment aired on September 14, 2022.