Monica Tibbits-Nutt permanently appointed MassDOT secretary
Resume
The Massachusetts Department of Transportation has a new leader, from inside its ranks. Monica Tibbits-Nutt has officially been appointed to the position, after nearly two months serving as the department's interim secretary and chief executive.
"Monica Tibbits-Nutt is a proven leader who has done important work at MassDOT over the past year as we've worked to make Massachusetts' transportation system more reliable, safe and accessible," Healey said in a statement. "As Acting Secretary, she hit the ground running by working with the MBTA to prepare a first-of-its kind plan to fix the tracks by the end of next year, taking important steps to integrate climate planning across MassDOT, securing federal funding to support infrastructure needs, and stepping up for communities that were devastated by extreme weather."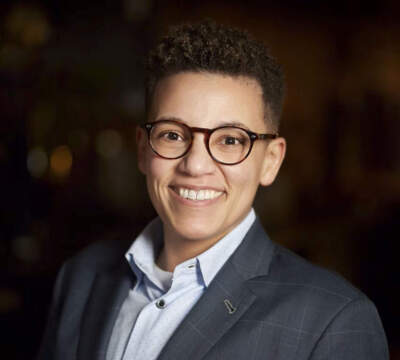 Tibbits-Nutt's appointment, announced Monday, is effective immediately.
Gov. Maura Healey earlier appointed Tibbits-Nutt as MassDOT's interim leader when it was announced that former transportation secretary Gina Fiandaca would step down in September, less than nine months into the job. Tibbits-Nutt served as undersecretary of MassDOT under Fiandaca.
The transportation secretary is responsible for four divisions of MassDOT: highway, rail and transit, registry of motor vehicles and aeronautics. The secretary also serves on the Massachusetts Port Authority and MBTA board of directors.
Tibbits-Nutt told WBUR's Radio Boston that she will prioritize transparency in the role, particularly when it comes to the MBTA.
"It is about setting expectations and being very honest when we are unsure about something. That has not been the way it has been handled over decades at the T," she said. "That's what I'm going to do. I'm not going to hide the ball on something."
When asked how she'd measure success on the job, Tibbits-Nutt said that among her priorities are lifting all speed restrictions on the T and developing and scheduling "a solid plan" for critical repairs for the two aging bridges to Cape Cod.
She also said she hoped to talk "more comprehensively" about how to increase transportation options to better connect residents in central and western Massachusetts to other parts of the state. Tibbits-Nutt said those conversations matter not only as a way to increase economic opportunities for those areas, but also as a potential way to help alleviate some of the state's housing crunch.
Stacy Thompson, executive director of the Cambridge-based nonprofit LivableStreets, said she was "absolutely thrilled" by the appointment of Tibbits-Nutt, describing her as  someone who was "not afraid to speak up" or "challenge the status quo."
Thompson also said Tibbits-Nutt "has a lot of respect from the environmental justice communities, frontline communities and the business community, and that is, really tough to balance."
Other transportation advocates expressed optimism that the institutional knowledge Tibbits-Nutt brings, particularly in regard to how the T operates, could be helpful to the T's CEO and general manager, Phil Eng. Most recently in charge of New York's Long Island Rail Road, Eng began overseeing the embattled agency in April.
Tibbits-Nutt previously served as the vice-chair of the Fiscal Management and Control Board, which oversaw the T from 2015 until 2021. She also earlier served on the MassDOT Board of Directors.
This article was originally published on November 13, 2023.
This segment aired on November 13, 2023.