Celtics Keep Winning, Plus Boston Sports Gossip
18:48
Play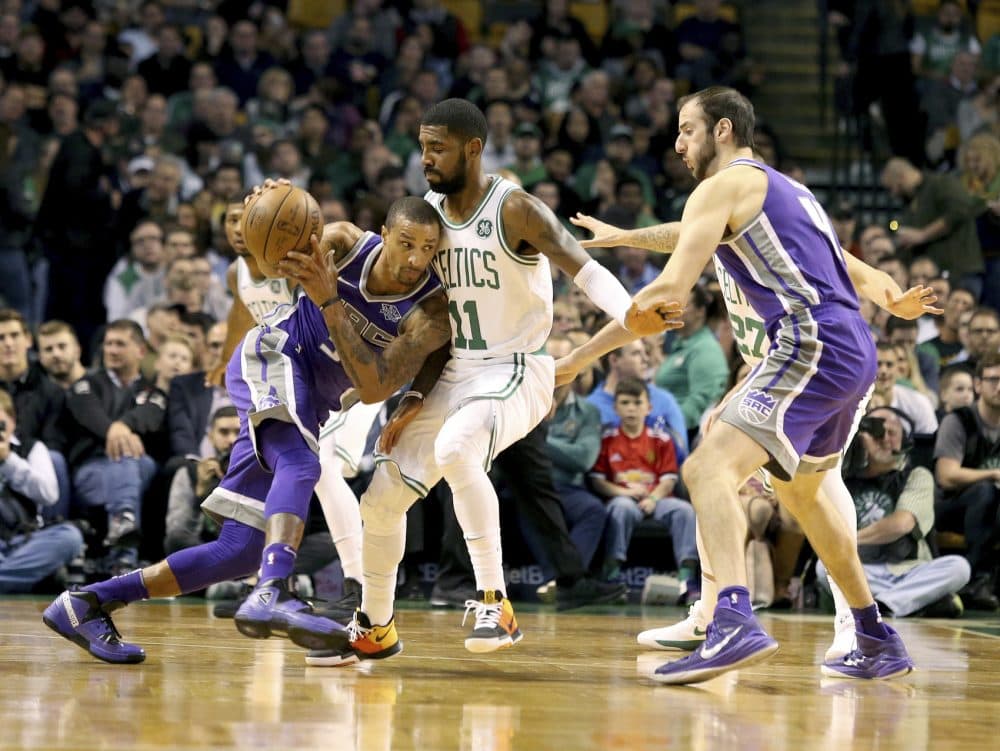 In the latest episode of Season Ticket, guest host Joe Sullivan (@GlobeSullivan) and company discuss a young Celtics team that refuses to lose and they preview the team's upcoming three-game road trip. Then, a conversation about Boston sports gossip and what it's like to cover athletes as celebrities.
Guests
Interview Highlights
On Kyrie Irving's surprisingly strong defensive effort
Chad Finn: The perception that he struggled without LeBron in Cleveland is something that he's trying to disprove here with the Celtics ... and he's manifesting that by putting in more of a defensive effort than he ever has. Maybe [Coach] Stevens has gotten through to him—he probably has—but I think a big part of it is Kyrie just wants to show people that he can do it.
"Kyrie just wants to show people that he can do it."

Chad Finn, on Kyrie's defensive effort
On when the Celtics hired coach Brad Stevens before the 2013 season
Joe Sullivan: I wasn't [a Brad Stevens fan] because college guys coming into the NBA do not work well usually. We've seen many examples of how poorly it ends up—Rick Pitino and John Calipari stick out the most. [Stevens] is going to be the exception to the rule, he's just sensational.
Chad Finn: It's a tribute to how good he is as a coach. And you hear it from pretty much everyone now. Gregg Popovich was talking about it before the game with the Spurs, about how well-respected Stevens is among his peers and how great he is and is going to be.
On where the Celtics stand compared with the rest of the league
Chad Finn: I think they could beat anybody. I really do. It's based, not only on the way Irving is playing, [but] the way Horford is playing ... This is a guy who shot over 50% from three in the playoffs last year, who is the fulcrum of their defense, who, when their offense stagnates, they run it through him ... He's been a terrific player here and he's been really, really good especially lately. They've got all these things clicking at once and if they can do that ... I think they have a chance every night they take the court.
On how the success of the Celtics' depends on the success of their younger players
Chad Finn: So much of it with them depends on the shooting of the younger guys—Marcus Smart is still pretty erratic but does a lot of things that help you win even if his shot isn't falling. [And] when you have nights like Jaylen Brown had last night, where he had 22 points on eight shots, you don't get much more efficient than that. If [Brown] and Jayson Tatum can continue to play the way that they have—and they probably won't, especially Tatum who is only 19-years-old and has no clue what an 82-game schedule feels like—they'll take their lumps. But, right now, they are playing at an extremely high level and it's really encouraging.
"I think they could beat anybody. I really do."

Chad Finn
On which athletes are the most popular in celebrity gossip circles
Mark Shanahan: I think you could probably guess: Tom Brady and Julian Edelman on the football field. The hockey team over time has had occasional [guys]: Tyler Seguin and Brad Marchand ... I would say that the baseball team, of course, David Ortiz and, in his heyday, Jonathan Papelbon made for some good copy ... And the basketball team has kept a relatively low profile, although that may change with Kyrie Irving. He did have a reputation in Cleveland for going out.