'Jayson Tatum Is Going To Be A Superstar,' Plus Patriots Adjust To High Altitude
25:06
Play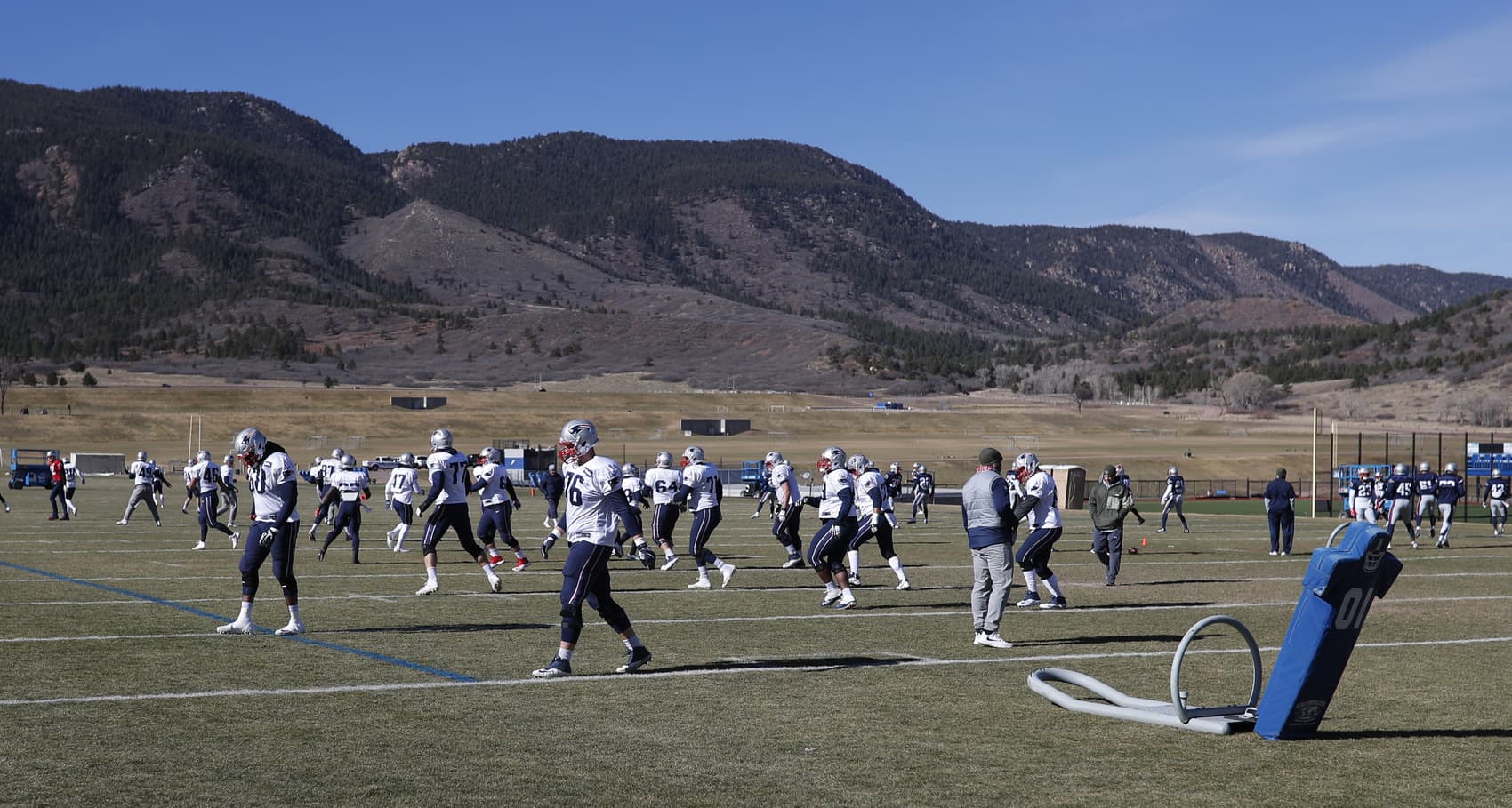 Today on Season Ticket, host Chris Gasper (@cgasper) and Celtics reporter Adam Himmelsbach discuss the keys to the Celtics' success against the Warriors ahead of their first showdown this season, including their ability to play "position-less basketball," their depth, and rookie phenom Jayson Tatum.
Then, Patriots reporter Nora Princiotti calls in from Colorado Springs, Colorado, where the Patriots have been practicing in preparation for their game against the Raiders in Mexico City. She breaks down the upcoming game, how the team is adjusting to high altitude, and the different ways players have enjoyed their free time away from Foxboro.
Guests
Interview Highlights
On whether the Celtics have closed the talent gap with the Warriors
Adam Himmelsbach: I think you have to say they have, if you're basing it off the start of this season. No one envisioned this with the Celtics, particularly after Gordon Hayward's injury. I think they've closed the gap with their defense. I don't remember one person, myself included, who was like, "Hey, this team's going to have an elite defense." The Celtics weren't even saying it and if there's something that's going to slow down the Warriors it's an elite defense because they have an historically good offense.
"It feels like Jayson Tatum is gonna be a superstar ... He's just so poised; he can do things offensively with his length and his shooting that not a lot of players can do."

Adam Himmelsbach
On whether the Celtics can slow down the Warriors
Adam Himmelsbach: I think they'll slow them down a little bit more than some other teams have [but] I don't see them locking them up and looking like the number one defense in the NBA. This Warriors team now—their net rating is the best it's been. They haven't finished a season with a net rating this high in any of their other three seasons, including the 73-win team, including last year's championship team with Kevin Durant. The Celtics' 13-game winning streak has become the story of the NBA because it was unexpected. But [folks] kind of gloss over what Golden State is doing on offense right now; they are running so smoothly and doing things that teams just don't do.
On the Celtics' smaller offseason moves that have paid big dividends
Adam Himmelsbach: I think what's gone overlooked is they've hit on all their offseason moves, and it's been a while since they've done that. Aron Baynes has been huge for their defense; he's like a rock in the post. Daniel Theis, I'll admit when they said they were going to sign him last summer, I had no idea who he was. And nobody had any idea who he was ... And he's been fantastic. Obviously [he was] the Defensive Player of the Year in Germany last year and now you're seeing why ... Shane Larkin comes in as like the fourth quarter ball-hawk. Brad [Stevens] puts him in when he doesn't like what he sees from the defense and he just throws him in in the fourth quarter for the first time and he changes the flow of the game. You saw it the other night. He held [Brooklyn] scoreless for four minutes right after he came in, just changing the tone of the defense. These guys that you wouldn't expect have just made big impacts in addition to everything else they're doing.
On Al Horford's stellar start to the season
Chris Gasper: There are some fans that just look at the box score. And when you just look at the box score, you're probably not going to be blown away by Al Horford—although you should be blown away by the fact that, in the last two games, he shot 16-19 from the field. But, to me, Al Horford has been huge for this team and the way he is playing right now is at an All-Star level and at a level that justifies that max contract.
Adam Himmelsbach: They've been so much better with him on the court than when he's off. I think they're outscoring teams by 13 points per 100 possessions when he's on the court and by a little less than one point when he's off, and that's a huge, huge gap. And his shooting has been absolutely incredible. Look, he's not gonna finish the season shooting 50% from three, but right now he's making shots that people didn't see coming and teams are changing the way they defend the Celtics because of it.
Chris Gasper: Al's one of those guys that just makes the guys around him better. You have to appreciate basketball; you have to watch the games to see how he creates space ... Just the little, really subtle points and how smart [he] is in terms of anticipating what's going to happen and putting [himself] in position to make a play. Al does that all the time. Now, he's not Kevin Garnett, you're not going to get him out there dunking on people and screaming and being emotional. He has a different type of personality and a different type of game. But ... you watch Al Horford, you can see why his teammates love playing with him.
On the growth of Jaylen Brown and Jayson Tatum
Chris Gasper: When you look at [Brown and Tatum], those are the guys that had the most pressure on them after Gordon Hayward got hurt. Tatum has come into this league fully-formed offensively, which you don't see a lot of times. His offensive game—he looks like a 6 or 7-year veteran—he just knows how to score the basketball. And then, Jaylen Brown has taken, to me, a big leap. He's more confident, he gets in attack mode and he has confidence in that jumper and he's just great in transition with his athleticism.
Adam Himmelsbach: You almost have to remind yourself of their age. Like, Jaylen just turned 21 and Tatum is legitimately 19 years old. Jaylen Brown, it feels like is gonna be a really good player for a long time. It feels like Jayson Tatum is gonna be a superstar. You hate to put these labels on a guy after 15 games of his career, but he's just so poised, he can do things offensively with his length and his shooting that not a lot of players can do. You see him now, attacking close outs. I've been impressed with how quickly he's already adjusted. You saw the first few games of the season, he was passing up threes and he was missing them. He started 1-9 [from 3-pt range] this season and Brad Stevens had to go to him and say, "Hey, when you're open for a three, we want you to take it." ... And he started taking them and now he's shooting 50% from three just like Al Horford. Even these small adjustments, this quickly; when you see a guy doing that at 19, you have to just wonder, like, the sky's just gonna be the limit for him.
On the Patriots adjusting to higher altitudes
Nora Princiotti: We're at about 6,700 feet, at least, according to my snapchat filter, so we're not quite at the same height as Estadio Azteca, where we will be in Mexico City, but you can feel it. You can feel that the air is thinner ... So, the Air Force Academy, where they're practicing Wednesday, Thursday, Friday is at a particularly high point in Colorado Springs so they'll have a chance to be sweating and breathing heavily at close to the same altitude—not quite as high as well be in Mexico City but they'll be getting up there.
On the biggest concerns facing the Oakland Raiders
Chris Gasper: The Raiders are certainly not an easy opponent. I know it's been a disappointing season for the Raiders ... but when you look at Derek Carr, he's an upper-echelon quarterback. They certainly have weapons in Michael Crabtree and Amari Cooper and the Patriots are still giving up some big plays; they've allowed 35 pass plays of 20 yards or more, which is the second most in the NFL.
On what the Patriots players are doing during down time in Colorado Springs
Nora Princiotti: It's funny to see the different life stages of the various members of the Patriots ... the difference between some of the younger offensive lineman—Joe Thuney at one point said, "Oh, I'm just gonna go get some pizza, we're gonna hangout"—And then, later in the evening, you see Tom Brady hopping into a white Aston Martin with [personal trainer] Alex Guerrero and zipping off to wherever they were going. A lot of guys have gone hiking. I know Brandin Cooks went to the zoo—he really liked the giraffes ... Some guys went to a café and hung out and took some down time, some really wanted to explore and go get up in the mountains. Some of the running backs went up to Pike's Peak, which is the tallest point around here—it's the tallest point of the Southern half of the Rockies. That was an active day, but then some of them just hung out.