Patriots Roll Over Raiders In Mexico City
23:00
Play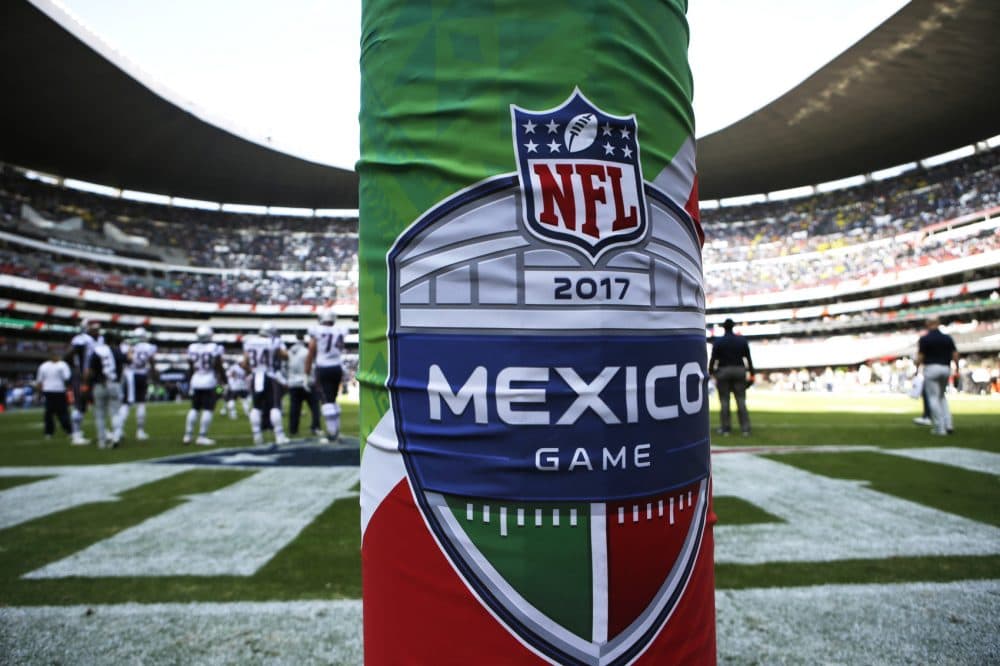 Today on Season Ticket, host Chris Gasper (@cgasper) and Patriots reporter Nora Princiotti break down the Patriots' victory over the Oakland Raiders at Estadio Azteca in Mexico City. Topics include the strong play from Patriots' safeties, Tom Brady and Brandin Cooks' deep ball game, and Stephen Gostkowski's record day.
Guests
Interview Highlights
On the Patriots beating the Raiders and extending their win streak to six games
Nora Princiotti: I think we need to put a new rule in where, if the Patriots have an early bad loss to the Chiefs, there's got to be a "No Freakout" rule because it just seems like everything is rounding into form and this should have been predictable.
"This defense isn't dominant, but it's disciplined."

Chris Gasper
On Patrick Chung and the Patriots' safeties
Nora Princiotti: It has been a while since anyone besides Kyle Van Noy has been the Patriots' leading tackler [but] Patrick Chung was just everywhere. He had a big stop on fourth down. He also had the fumble recovery ... And [the team] still didn't have much of a pass rush and they still didn't have a great run defense up front, and so those guys—Chung, McCourty, Duron Harmon—[have been] stepping up big lately.
On the Patriots' defense
Chris Gasper: It's not a dominant defense. It's never going to be a dominant defense. [But] points allowed, that's the number one stat. And you're now in a situation during this win streak where no opponent has scored more than 17 points in a game, which is really good. This defense isn't dominant, but it's disciplined. They're back to being a defense where they're not going to beat themselves with busted coverages and miscommunications. You're going to have to beat them. You're going to have to execute against them ... And, obviously, Oakland couldn't do that.
On why deep passes like Brandin Cooks' 64-yard TD catch don't happen more often
Nora Princiotti: A lot of things have to go right to get those 64 yard touchdowns. First of all, the line has to hold up. Brady has to have time to make that throw. It's not just on Cooks. Sometimes all of the things that have to feed into the deep passing game get put on the receiver ... [Deep throws are] also just not what the Patriots do—just chuck it for the sake of chucking it.
On Gostkowski's 62-yard field goal
Nora Princiotti: This was part of their plan here. Gostkowski booted one from 70 [in practice] last week. And when they were having their game planning meeting, Bill Belichick said they were going to let him try it from close to 70 yards. [Gostkowski] was just excited. Foxboro is not the easiest place to kick and he's done that for so long that getting that chance I think was really cool for him.
"This is really the story of their run in the AFC East, their ability to capitalize on these other teams' self-inflicted wounds."

Chris Gasper, on the Patriots' divisional domination
On the atmosphere at Estadio Azteca for the game
Nora Princiotti: The atmosphere was crazy. There's more than 70,000 fans in the stands and they were just loud ... The Raiders didn't score until the fourth quarter and, still, the place just erupted ... I think people were just having a lot of fun. Every single statue or banner that was outside the stadium [had] lines of people for what seemed like miles wanting their friends to take their pictures. It just seemed like people were really really into it.
On the race for another AFC East division title
Chris Gasper: It feels like that ninth consecutive AFC East title is pretty much all but locked up ... I think it's just amazing on a year in and year out basis that these other teams falter the way that they do. And, really, it's not just faltering—it's self-inflicted wounds, whether it's a bad decision by a rookie head coach in Sean McDermott in Buffalo or the Dolphins committing 17 penalties in a game ... This is really the story of their run in the AFC East, their ability to capitalize on these other teams' self-inflicted wounds.