How Bill Belichick And Other NFL Coaches Deal With The Media
20:50
Play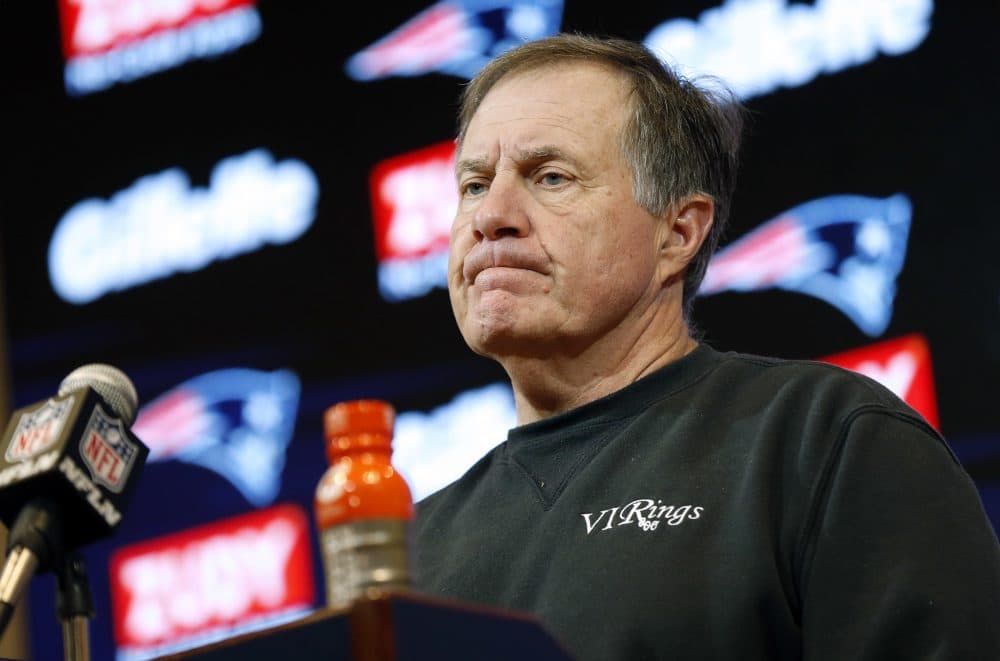 In today's episode of Season Ticket, Joe Sullivan joins host Chris Gasper (@cgasper) for a discussion on recent NFL media moments. They tackle Bill Belichick's condescending response to a press conference question about resting Tom Brady, and why certain "Belichick-isms" have been banned from the Globe. Plus, how Steelers coach Mike Tomlin is already looking ahead to a Week 15 matchup with the Pats, and if his promise of "fireworks" for the game went too far.
Guest
Interview Highlights
On Steelers head coach Mike Tomlin looking ahead three weeks to the Patriots game
Chris Gasper: To me, Tomlin was just acknowledging the obvious, the Pittsburgh Steelers and any team in the AFC that ultimately wants to go to the Super Bowl has to go through the Patriots. They know that; the other teams know that.
Joe Sullivan: Here's what I know: an athletic contest, a football game, has never been decided by what was said before it. And it drives me nuts that people think this is true! It has no effect on the result. It's how the players play in the game.
Chris Gasper: I think a lot of Patriots fans look at this like, "Well, this is why we always beat the Steelers." ... The most overrated part [of this Patriots' dynasty] is how they deal with the media because Bill was the same way in Cleveland. He was tight-lipped, he was guarded, the players didn't say a lot—and they made the playoffs one time ... In Bill's mind, it minimizes distractions and there may be a small, small thing to that but I don't think they win games because they don't say anything and because they don't acknowledge the obvious.
"The media is the one thing in Foxboro he can't control because the media members don't work for him."

Chris Gasper, on Bill Belichick
On Belichick's relationship with the media
Chris Gasper: The media is the one thing in Foxboro he can't control because the media members don't work for him. He has, basically, total control down there—the players are under his control, the trainers, the front office staff because he has final say on player personnel. A lot of times, his approach to the media has to do with trying to control something he can't control, even if that means not acknowledging the obvious ... He wants to control the narrative.
Joe Sullivan: Let me speak to this as an editor: A lot of times I feel we should ignore what he says because it's meaningless and we know that he's not being, how can I say this, forthcoming. ... I don't even know if we should use a lot of Belichick quotes because they're not genuine and they are misleading.
Chris Gasper: You're a big proponent of us not using a particular Bill Belichick phrase.
Joe Sullivan: Yes, and I've banned it recently. 'It is what it is' should not be used in the Globe because it means nothing. And, as a journalist, we should know that things aren't always as they appear to be—that's what's true. Things are never what they are necessarily and as skeptical journalists we should think that way.
On Karen Guregian of the Boston Herald asking Belichick about pulling Tom Brady at the end of Sunday's game
Chris Gasper: Tom Brady took a lot of hits against the Miami Dolphins, he was hit eight times, the game was in hand, why not take him out? ... I didn't really understand why Bill's response to that particular question required that level of condescension and vitriol.
Joe Sullivan: You're right. We all have a lot of respect for Karen and she deserves the respect, she's earned it. I don't know why he decided not to give it to her. Where was his patent answer, "We do what's best for the team?" That would have sufficed ... I agree with Belichick—he doesn't have to take him out of the game, but it is a question that needs to be asked.
"I didn't really understand why Bill's response to that particular question required that level of condescension and vitriol."

Chris Gasper
Chris Gasper: Karen's a really smart reporter. I don't think she would have asked that question if the game had not gone the way it went. What I mean by that is the Dolphins were getting a lot of hits on Brady but it was also a very chippy game. And the Dolphins have a reputation as a dirty team. They have two players, Kiko Alonso and Ndamukong Suh, who have been fined a number of times for questionable hits or questionable actions on the field. Before the game Ndamukong Suh made it very clear, not in a nefarious way, that their intention was to touch and hit Brady as much as they could ... [Her question] was saying, this specific game, this specific situation, was the best thing for the team to get Tom Brady out of there before a frustrated Dolphins team took a cheap shot? I thought that was a totally legitimate question.
On Jimmy Garoppolo making his first start for the San Francisco 49ers this Sunday
Chris Gasper: One of the reasons, the rationale, given by the 49ers for not putting Garoppolo in [sooner] is trying to protect him, to make sure he doesn't get hurt ... [But] there's only so much you can learn [in practice] and he'll be able to learn more out on the field. Get him the five games of experience that are remaining here and I think that will allow him to take more of a leap next year instead of next year being the first full-speed action he sees for the 49ers in that offense.