Kyle Draper On What The Cavs Shakeup Means For The Celtics
Play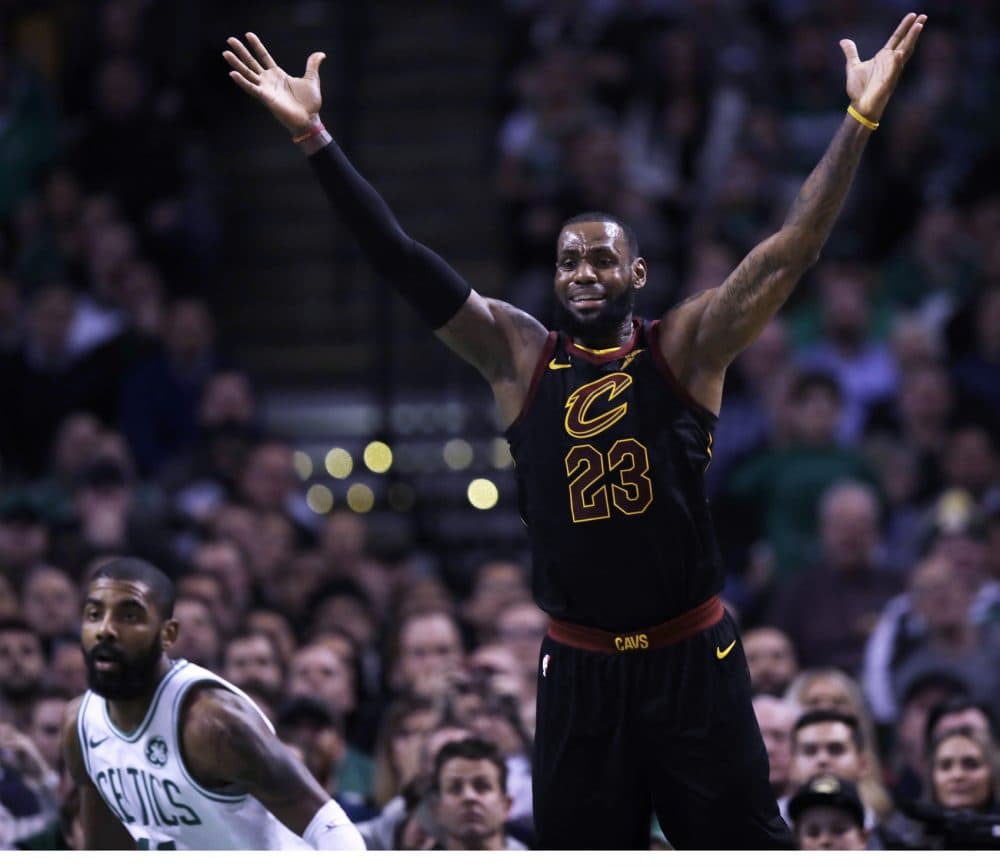 Story continues below
Subscribe to the podcast
Today on Season Ticket, host Chris Gasper (@cgasper) and Celtics analyst Kyle Draper debate whether the Celtics made the right move by standing pat at the NBA trade deadline and what the Cavaliers roster overhaul means for Boston. Then, Joe Sullivan joins to offer his thoughts on a "desperate" Cleveland team and an under-the-radar name for Celtics general manager Danny Ainge to consider.
Note: This is the final installment of season one of Season Ticket. We started the podcast with the goal of covering the Patriots' football season. Now that it's over, we're going to take a break and look at doing a second season when the Red Sox start in April. Enormous thanks to all the listeners for making this such a success.
Guest
Interview Highlights
On the Celtics standing pat at the trade deadline
Kyle Draper: I'm not surprised at all. When you look at what Memphis wanted for that Tyreke Evans deal (a first round pick) — nobody was offering that ... I'm not surprised the deal didn't get done. And if you're the Celtics, you don't need to make a move. Marcus Smart is going to be a restricted free agent. Even though he's dealing with some off-the-court stuff right now, he does help you win when he does play. So you could play this out with Marcus Smart. He's a valuable asset to have on your team. And then at the end of the season you could tell him to go out there, see what kind of offer he can get, and then you can match it if you want. So, the Celtics weren't one of these desperate teams out there that needed to make a move. I'm not surprised at all.
"I think they got infinitely better ... When you look at what they had to give up, let's keep it real: not much. They got rid of a bunch of parts that didn't fit."

Kyle Draper, on the Cavaliers
On the Celtics bench
Kyle Draper: They scored 39 points last night in the win down there in Washington. You don't always need a Lou Williams or a Tyreke Evans or somebody like that. If you look at the Golden State Warriors, I could argue that they don't really have that guy that could come off the bench and give you 25, 30 points. Andre Iguodala is not that guy anymore. What they do have and, when Marcus Smart comes back, [the Celtics] will have, is three guys, maybe even four — Marcus Smart, Terry Rozier, Greg Monroe — that can give you 10 to 12 points per game off the bench. One thing we've seen from this Celtics team is, outside of Kyrie Irving, you never know where your scoring is going to come each night. And that could be either a gift or a curse for the Celtics. That's one of the issues this season, consistency. But once you get everybody healthy, I could argue the Celtics have a pretty solid bench there with those guys I mentioned.
On the value of first round picks and the buyout market
Kyle Draper: The only first round pick that I saw moved yesterday was from the Cleveland Cavaliers and they were super desperate to get something done. Nobody else wanted to come off of first round picks. I think we're seeing a shift in that. Before, those first round picks didn't hold much value, especially those late [first round ones]. But now, based on what I saw yesterday, I feel like teams may be overvaluing and holding onto those first round picks. So, you know, if you're Danny Ainge, you've done a pretty good job building this roster and there's still the buyout market. If they go out here and get a guy like Joe Johnson for nothing on the buyout market and you still keep your own first round pick, that's a win-win in my opinion.
On why the Cavaliers were the biggest winners of the trade deadline
Kyle Draper: I think they got infinitely better. Did they close the gap with the Celtics? Of course they did. When you look at what they had to give up, let's keep it real: not much. They got rid of a bunch of parts that didn't fit. Isaiah Thomas is not the same Isaiah Thomas we saw last year here in Boston. He and LeBron didn't mesh well. Dwyane Wade was a shell of himself, they even mentioned he was going to have a reduced role. Derrick Rose was in and out of the lineup and Jay Crowder was disappointing. So, Cleveland won the trade deadline day yesterday by getting four players who can come in and help them immediately. Larry Nance Jr. can come in and be a booster of energy off the bench, a high flyer, a high energy guy, a guy that can rebound also. And I really love the pickups of George Hill, a proven NBA postseason veteran, [and] Rodney Hood, shooting close to 40% from three point land. Then you look at Jordan Clarkson, one of the top scorers off the bench in our league. So [Cavs general manager] Koby Altman, you got to give him and LeBron and the Cavs a lot of credit. I was shocked that they were able to remake the roster like they did. I didn't think anybody would want any of their spare parts but they were able to pull it off.