In Dudley, Debate Continues Over Proposed Muslim Cemetery
04:38
Play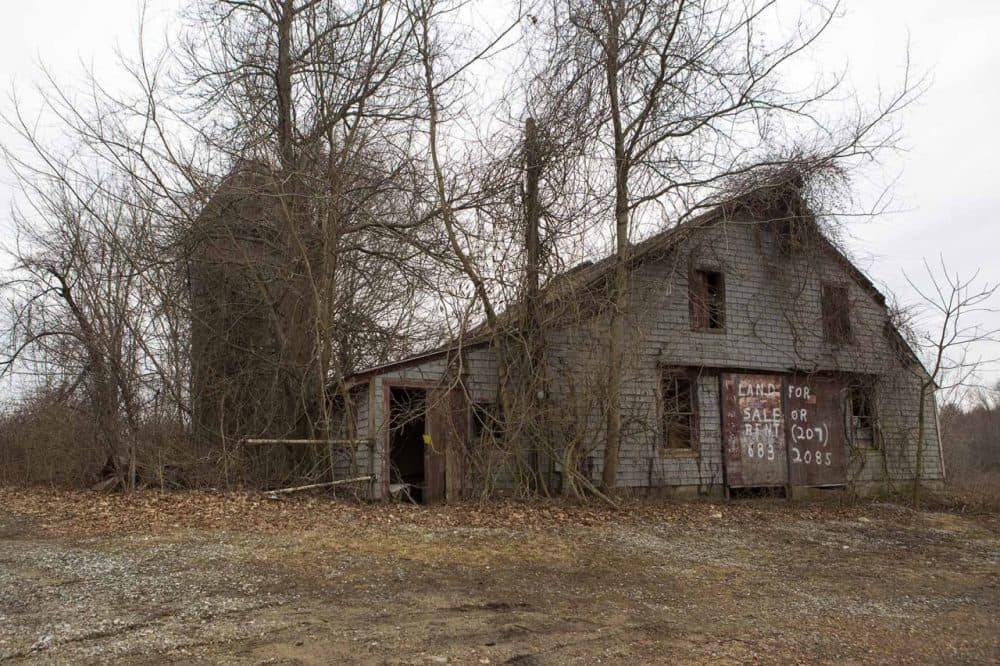 This article is more than 6 years old.
The proposal for a Muslim cemetery in the rural central Massachusetts town of Dudley has set off heated opposition and often angry questioning from townspeople.
Thursday night's final hearing on the issue was no different, except for the emotional reaction from one of the Muslim applicants.
Every faith has a right bury its people, a selectman declared. But whether the town's zoning board will issue the Islamic Center of Greater Worcester a permit to turn 55 acres of old farmland into a burial ground has gone unanswered.
'Crusade To Paint Dudley As A Bigoted Town'
The issue hit boiling point once more in the first minutes of Thursday night's meeting as Selectman Paul Joseph accused the Islamic center's attorney of waging a crusade.
"The deceitful and inappropriate crusade to paint Dudley as a bigoted town," he said at the meeting.
To loud support, Joseph called Dudley residents and cemetery opponents the victims of injustice — falsely accused and ridiculed in the media. Joseph accused the Islamic center's attorney, Jay Talerman, of slander.

Joseph defended what he called legitimate concerns of townspeople about traffic, the safety of their drinking water and other potential impacts from the cemetery.
The Islamic center says the cemetery would be far closer than the only currently available — but nearly full — cemetery in Enfield, Connecticut.
"One of the reasons that people are so concerned about property values is they are worried that this cemetery is going to look like Enfield, which was a pig sty," Joseph said.
Pigs and crusades are considered offensive to Muslims, but the applicants did not object until Joseph said the numbers they were presenting did not add up, suggesting the issue of trust. The selectman claimed the Islamic Society was already selling plots in the yet to be approved cemetery.
Burying Family Close To Home
Next, Dr. Amjad Bahnassi, a member of the Islamic Society and a psychiatrist, spoke.
"My son died. If you have lost a son -- it's the most difficult experience anyone can imagine," Bahnassi said. "We didn't know where to bury him."
He buried his 18-year-old son in Enfield, Bahnassi said, an hour and a half away. Too far, just as it will be too far for his wife when he dies.
"We want to bury our dead people here. We don't want to bring people from Afghanistan as someone said before," Bahnassi said. "I deserve to bury here. I deserve to die in the town where I work hard. I don't want my family to go far away."
 "We want to bury our dead people here. ... I deserve to bury here. I deserve to die in the town where I work hard. I don't want my family to go far away."

Dr. Amjad Bahnassi
The original proposal stated the cemetery would have the capacity for 16,000 plots, which opponents call outrageous. But the applicants say that is just the capacity and they have no intention of making Dudley a regional cemetery or burying more than an average of 10 to 15 Muslims a year.
"Believe me you can trust us," Bahnassi said. "We've been in Worcester for more than 30, 35 years. Never a neighbor complained about us. Never. Never a neighbor said that these are bad people."
As the public hearings and the evidentiary phase ended, this was the appeal presented not by the lawyer who had become a lightning rod, but by a member of the mosque who might someday end up in a stretch of old farmland whose current neighbors seem overwhelmingly against it.
"Work with us. Those you are afraid of are our enemies too," Bahnassi said.
Religious Use And Zoning Laws
Attorney Jay Talerman continues to insist the town has little leeway to stop the cemetery from being developed. One big reason he cites is an amendment to state law, which exempts religious uses from zoning laws. But Dudley's town counsel, Gary Brackett, argues that it's not at all clear the Muslim cemetery is a religious use.
"I don't think you have heard any representative, any member of the clergy, of the Islamic Church explain exactly what happens with the burial," Brackett said. "Whether or not the Islamic burial itself, whether the religious ceremony takes place at the mosque and nothing takes place at the cemetery. The cemetery, all they have is a burial."
If the zoning board should adopt that argument — that a cemetery developed by a religious group is not a religious use — the issue of the Muslim cemetery in Dudley may likely boil over into the courts. The Muslim applicants' attorney says they will not hesitate to pursue their rights in state or federal court.
This article was originally published on April 08, 2016.
This segment aired on April 8, 2016.