2 Hailed As Heroes After Deadly Taunton Rampage
04:19
Play
This article is more than 4 years old.
Facts about what happened Tuesday evening at a home in Taunton and at a nearby shopping mall have come to light, but one nagging question remains: Why would a man allegedly go on a violent spree, attacking seven complete strangers?
"This appears to be a series of irrational actions," Bristol County District Attorney Thomas Quinn told reporters during a briefing Wednesday.
Quinn held off speculating what might have lead the suspect, 28-year-old Arthur DaRosa, to go on a rampage that left two victims dead and five others injured, two of them seriously.
What is known, Quinn said, was that DaRosa had checked himself into Morton Hospital Monday night and was released early Tuesday morning.
"His sister has indicated that he was acting in a disturbed manner, and making irrational statements earlier on Monday, and she suggested to him that he needed to seek help," Quinn said. "We are in the process of following up on that information, as part of the investigation."
Quinn said that Tuesday night around 6 p.m., DaRosa was watching his daughter's soccer practice when he abruptly left the field in a car belonging to his child's mother. He hit some parked cars in a neighborhood, and began going door to door trying to gain access to homes in the area. Somehow, DeRosa managed to enter the home of 80-year-old Patricia Slavin and her 48-year-old daughter, Kathleen Slavin.
"Once inside," Quinn said, "DaRosa stabbed both women, and then ran from the residence. Both women were transported to Morton Hospital in Taunton, where Patricia Slavin was pronounced dead at 7:52 p.m."
The younger woman was eventually taken to Brigham and Women's Hospital, where she's currently listed in stable condition in the ICU.
After unsuccessfully trying to steal a car from passing motorists, DaRosa got back into the vehicle he had taken, and drove to the Silver City Galleria mall, slamming the car into the front door of a Macy's store. He physically assaulted three women in the store, DA Quinn said, and made his way to a Bertucci's restaurant located in the mall.
Rosemary Heath told WCVB-TV she and her husband George were having dinner when they saw the suspect stab a waitress.
"He had the back of her shirt and kept stabbing her," Rosemary Heath told WCVB. "And by the time she got to me, she was screaming, 'Help me, help me, help me,' and I pushed her out of the way and swung a chair around, so it was between he and I, and my husband was struggling with him, trying to get the knife away and like I said, I think he went down low, to get him around the elbows so he couldn't raise his arm up and he pulled his arm back, and stabbed my husband in the head."
George Heath, 56, died from that wound.
DA Quinn said at that point, James Creed, an off-duty Plymouth County deputy sheriff who was also having dinner at the restaurant, intervened.
"He displayed his badge, identified himself as a law enforcement officer, and gave multiple commands for DaRosa to drop the knife," he said. "When he refused to comply, Deputy Creed shot him once in the abdomen."
DaRosa was taken to Charlton Hospital in Fall River where he died.
The waitress, 26-year-old Sheenah Savoy, is listed in serious condition at Rhode Island Hospital.
Taunton Mayor Thomas Hoye says the city is picking up the pieces. He called George Heath, who was a popular visual design teacher at the Greater New Bedford Regional Vocational Technical High School, a hero.
"He stepped up," Hoye said. "He prevented a tragic situation from getting worse. He should be commended, and he'll always be remembered for his heroic actions."
The DA's office will continue to look into the events that led to the attack, including what might have caused DaRosa to seek treatment on Monday night and what, if anything, could have been done to prevent this tragedy.
This post was updated with the All Things Considered feature version.
This article was originally published on May 11, 2016.
This segment aired on May 11, 2016.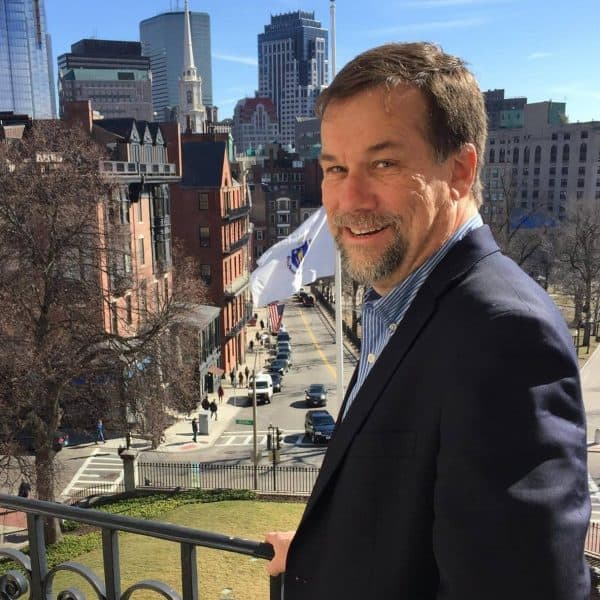 Steve Brown Senior Reporter/Anchor
Steve Brown is a veteran broadcast journalist who serves as WBUR's senior State House reporter.