Becoming 'The Elephant Man'
This article is more than 7 years old.
John Hurt's portrayal of the Elephant Man in David Lynch's 1980 film is horrifying, heartbreaking and indelible.
One look at the Elephant Man's disfigured face and hunched, lumpy torso makes people recoil. Hurt's costume is intense and was actually fashioned from a cast of the body of Joseph Merrick, the real Elephant Man. It makes you wonder how actor Tim Spears will transform himself into this tragic, gruesome character for the New Repertory Theatre's production without the help of makeup or prosthetics.
"I'm blessed with a rubber-like face to begin with," Spears said. "Some of it isn't as hard as it may be for others, but by the end of having one eye closed and your jaw half shut — after doing that for two hours — I'm ready for a nap and a drink."
The New Repertory Theatre's decision not to alter Spears' face or body would please playwright Bernard Pomerance, because he suggested it in his 1977 script.
Spears is a good-looking guy with shaggy brown hair. As he speaks, his right hand starts curling up into his rib cage. The actor says it just happens when he reads lines from "The Elephant Man."
"My mouth is slurred and I talk out of the right side of my mouth and the right arm is very large so the shoulder goes very high and the fin hand kind of stays to my chest all the time," Spears said. "And because of the hip displacement there's kind of this awkward kind of twist and crunch."
Watching Spears contort practically hurts, and he says he stretches a lot. Pomerance predicted playing Merrick would be grueling and even issued a warning that actors with back problems should not attempt the role.
Spears is relishing the challenge and is totally behind playing by the author's rules.
"If we were to go after as realistic a deformity as we could with makeup and prosthetics, it becomes distracting," Spears said. "And we will never do service to the kind of horrificness that's been created."
Other actors who have played Merrick on stage (in the play, he's "John") without makeup include David Schofield in the production's 1979 Broadway debut, Mark Hamill, Bradley Cooper and David Bowie.
The New Repertory Theatre's artistic director, Jim Petosa, has produced "The Elephant Man" four times in the past 22 years and always abides by the playwright's wishes to keep productions makeup-free.
"I guess you could defy that wish, but I think the invitation here is so provocative, who would want to do it any other way?" Petosa said.
The play's words give the audience everything it needs to paint a vivid picture of the Elephant Man, Petosa says. The monologue delivered in the third scene by Dr. Frederick Treves — the character who takes Merrick out of the carnival freak show — is what Petosa says really turns healthy-bodied actors into monstrous, sympathetic characters.
When Petosa and the cast started exploring that critical scene, he says they turned to autopsy tapes, "where a medical examiner or coroner will go through a dissection of the corpse and speak in extremely dispassionate terms, but with incredible accuracy about exactly what the body is revealing using words," Petosa explained.
The most striking feature about him was his enormous head. Its circumference was about that of a man's waist. From the brow there projected a huge bony mass like a loaf, while from the back of his head hung a bag of spongy fungous-looking skin, the surface of which was comparable to brown cauliflower. From the upper jaw there projected another mass of bone. It protruded from the mouth like a pink stump, turning the upper lip inside out and making the mouth a wide, slobbering aperture.
Those words incite the audience to imagine — almost design — their own version of Merrick, and the director thinks the play's power to evoke the Elephant Man's deformities makes it unique.
"The minute we see it, the minute it has definitions, becomes the minute that we limit what its potentials are," he explained. "When we don't limit it, it can be as horrific as we need it to be in our mind's eye, or that we can even imagine that it goes beyond the imaginable."
"It's really celebrating what's possible in the theater," explained actor Michael Kaye, who plays Dr. Treves.
"It's much more about the metaphor of John [the character] Merrick and less about the history of it," Kaye added. "And more about the essential struggle of, 'What does it mean to be normal? What does it mean to be a person?' "
In other words, what it means to be a human being.
The Elephant Man kicks off the New Repertory Theatre's 30th season Saturday and runs through Sept. 29. There's also a health care symposium related to the play this Sunday at the theater in Watertown.
Listen to this story here:
This program aired on September 6, 2013. The audio for this program is not available.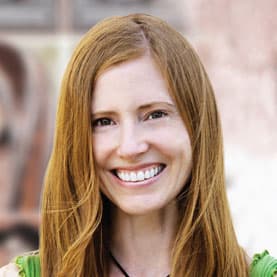 Andrea Shea Senior Arts Reporter
Andrea Shea is WBUR's arts reporter.