Hey, Wagner, Get Up And Dance To 'Tristan Y Yseult' At ArtsEmerson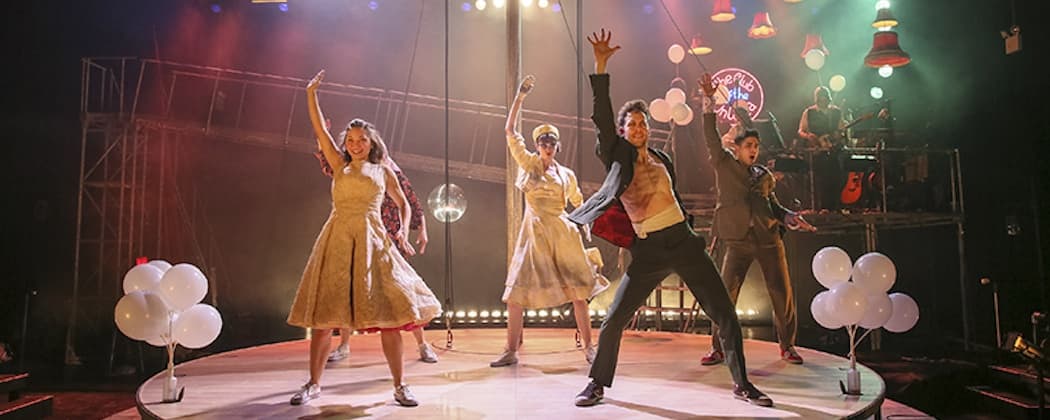 This article is more than 5 years old.
Roll over Richard Wagner, and tell Brunhilde the news. You don't have a say anymore in how Tristan and Yseult go about their business, that business being the art of love. Which is no longer high romantic art, but contemporary pop art. The great arias will not be yours but Nick Cave's "Sweetheart Come" and Roy Orbison's "Only the Lonely" and "Love Hurts."
No chords in search of a major, but an iPod shuffle of Roy, Nick, Yma Sumac, Stu Barker's original music and even a snippet of your "Liebestod." These lovers aren't in search of eternal love, though. Passion is no ordinary word, but it ain't forever, no matter what you say.
So are you ready to get your freak on, Mr. W? Then come on in to the Cutler Majestic Theatre (through March 15) and meet Kneehigh, an English theatrical ensemble in Cornwall where "Tristan y Yseult" — "Tristan und Isolde" to you — is set. We'll stop first in the Club of the Unloved where we'll be serenaded by an army of horn-rimmed nerds in knit caps that fully surround their faces. What's a nerd? Let's just call them Love Spotters, those looking in on the grandees of the tale. They're not playahs.
It's pretty much the same Medieval story you put to music, but with more of the backstory and a bit of crossdressing. The French knight, Tristan, comes to Cornwall. Saves King Mark's life. Mark decides to wed Yseult, the sister of the man he killed. Tristan and Yseult fall for each other. Really, really fall. You know what I mean, Wagner, you of all people know what I mean.
Pretty hot stuff, aren't they, Dominic Marsh and Hannah Vassallo as the lovers. She's a dancer, too, you know, and the dancing is one of the most enjoyable parts of the show. I bet you never saw anyone bust a move like Damon Daunno dancing up a disco-ish storm as the vile Frocin. That might be a bit much for you but I bet you can twist to a ska version of "Every Breath You Take," can't you? Come on, move those hips, Mr. W.
It's a small band, not one of your mega-orchestras, but that's part of the charm of the piece, as is the narrator, Whitehands (Kirsty Woodward), who looks like a cross between Jackie Kennedy and Emma Peel. Good cast all around, doncha think?
I'm not crazy about those couplets, either. "Fatherly love is all very well / But too much of it is a ticket to Hell." Hmmm. But I like the way Carl Grose and Anna Maria Murphy explore the highs and lows of love — we're all a little but unloved at times in our life aren't we, Mr. W? Come on, admit it, even you. Stop giving me that face.
And Emma Rice's direction makes me want to see more of her work. ArtsEmerson sure brings in some great theater from around the world. Here's a different cast, but you get the picture.
Not your cup of tea, Mr. W? Would you mind if I called you Dick? Personally, I would have liked Kneehigh to be even more subversive. Maybe even a little nudity? Yeah, I knew that would get your attention.
Well, I'll give you this. I wasn't nearly as moved by what might happen to this version of Tristan and Yseult as I was listening to yours. That's the problem with irony, it can undercut real emotional connection. You probably don't have an ironic bone in your anti-Semitic body.
Whoops, I wasn't going to go there, but there it is. I still like you, me and Larry David both. If your "Tristan und Isolde" ever comes to town I'd love to see it, but you're not big in Boston, you know.
Until then, "Tristan y Yseult" will show folks a good time.
Come on, Dickie, get up and dance. That's it. Shake that thing, Mr. W.
Ed Siegel is the editor and critic at large for The ARTery. Follow him on Twitter @siegeled.