'Too Small To Fail': Boston Still A Training Ground For Budding Comedians
05:47
Play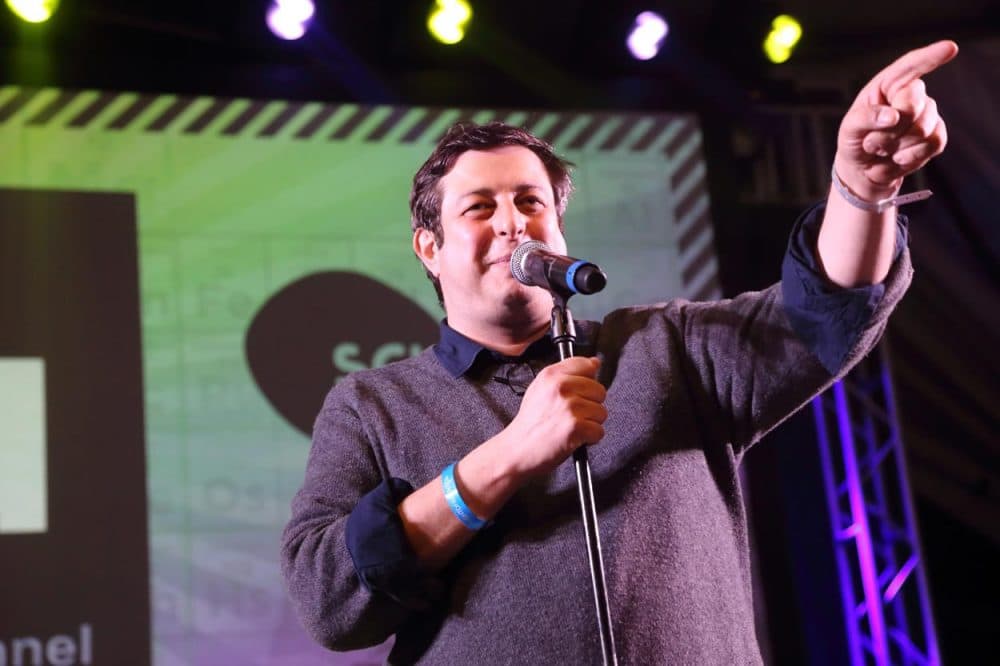 This article is more than 6 years old.
A number of comedians with Boston roots are returning this weekend for the Eugene Mirman Comedy Festival.
Mirman is known for his roles on TV shows like "Flight of the Concords" and "Bob's Burgers," where his distinct voice flows from the mouth of Bob's son, Gene.
Mirman grew up in Lexington and, like so many comedians before him, he started out doing standup in a Boston-area club. This made us wonder why Boston's been such a fertile breeding ground for comics.
'Too Small To Fail'
For 19 years, Rick Jenkins has passed through the kitchen at the Hong Kong Chinese restaurant in Harvard Square to climb two flights of stairs to his club on the third floor.
"So that's an old picture of Louis C.K. playing here," he says, pointing to a shot pinned up on the door leading to the room where it all happens. "And this is the Comedy Studio," Jenkins proclaims, adding, "the comedy club too small to fail."
Hanging on the wall between an ornate, rounded archway and a dragon carved of wood, there's a poster signed by comedian and Shrewsbury native Mike Birbiglia.
Taken together Jenkins sees the Comedy Studio and other local clubs as something of a comedy college with a pretty impressive graduation rate.
"You see waves in Boston comedy of new generations start hitting their head against that ceiling leaving Boston and moving on to bigger commercial, better-known success," Jenkins said. "And Eugene was one of those waves."
Finding A Group, A Club And A Voice
One of the biggest waves Jenkins says hit in the late 1980s, with people like Bobcat Goldthwait and Steven Wright. Then came Marc Maron, Janeane Garofalo, David Cross and Louis C.K. Even after the boom, aspiring comedians kept making a go of it, including Dane Cook, Patrice O'Neal and Eugene Mirman.
"When I started doing standup it was basically around the time it crashed," Mirman recalled. "Like sort of in the early '90s was when you couldn't be mediocre and keep doing standup and living."
There are a bunch of theories about why Boston appears to breed comedians — everything from the number of colleges to ethnicity to our soul-crushing winters.
"I think some combination of aggressive smarty pants who are either Jewish, Irish — or neither," Mirman said with his signature deep, dry tone.
Mirman returned to Boston after graduating from Hampshire College (where he created his own major in comedy) as Jon Benjamin was gearing up to leave.
'The Crest' Of Boston's Comedy Wave
"When I came to Boston I think it was the crest of the wave," Benjamin reflected.
Benjamin (of Worcester, like Denis Leary before him) experimented in David Cross' group Cross Comedy at the chain comedy club Catch A Rising Star. He also played the voice of Ben on the animated TV show "Dr. Katz, Professional Therapist," which was produced in Watertown from 1995 to 1999.
These days Benjamin is the voice of secret agent Archer and Bob Belcher on "Bob's Burgers," where he works with Mirman. The two met over a pork chop at Chez Henri (ask them to tell you the story sometime).
Benjamin says the emergence of television channels and shows featuring comedians made doing what they do much more economically viable. It's boosted himself, as well as many of his Boston-connected peers.
"That's not the entire reason, but you could make money — which I think is a novel idea for a lot of comedians. Certainly for me," he added.
Boston As A Training Ground
"Boston doesn't really put up with a lot of people stealing jokes and things like that, so it was really a great lesson to learn very early," Mike Bent told me. And he would know. He took the stage at the Ding Ho comedy club much earlier than most — at the age of 16.
"I went in with a lot of old, bad jokes, and Barry Crimmins, who ran it, basically chewed me out, said never come back, but then allowed me to come back," Bent recalled.
Bent went to Emerson College, where he (like Benjamin) collaborated with David Cross. He says Boston's high standards have kept it a solid proving ground that can serve as a critical place to hone your chops.
"If you're in Los Angeles or you're in New York, you could be seen too soon by somebody — somebody important — and they could make a decision on your career when you're just not ready to have that decision be made," Bent explained. "But Boston is a place to screw up."
'A Place To Screw Up'
Bent's been teaching sketch comedy and writing for the past 25 years to the next wave of comedians coming out of Emerson, including 20-year-old comedy minor (yes, the school has a comedy minor) Wes Hauptman.
"It's such a great city to start in, because if you go in and you bomb it sucks, people won't laugh, but then off stage they'll say, 'Hey man, that was a good joke,' " Hauptman said. "They'll find something in your set to like and to help you with and to work on."
Hauptman says he can't imagine himself doing comedy as a young person anywhere but Boston, even if some people look down on him because he's a college student. He also says the open mic comedy scene is still kicking. Eugene Mirman has observed the same.
"There are still a ton of people here who are funny — I just don't know any of their names," Mirman said. "But I have seen them and gone like, 'you're going to totally succeed,' — in my head — quietly."
Mirman has not built his career on being quiet, though. And now that I've reached the end of my story I know I should probably try to end with a joke — but hey, I'm a stiff. I work for public radio.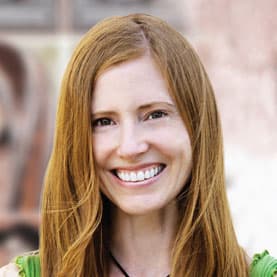 Andrea Shea Senior Arts Reporter
Andrea Shea is WBUR's arts reporter.