What To Listen For At Tanglewood's Festival Of Contemporary Music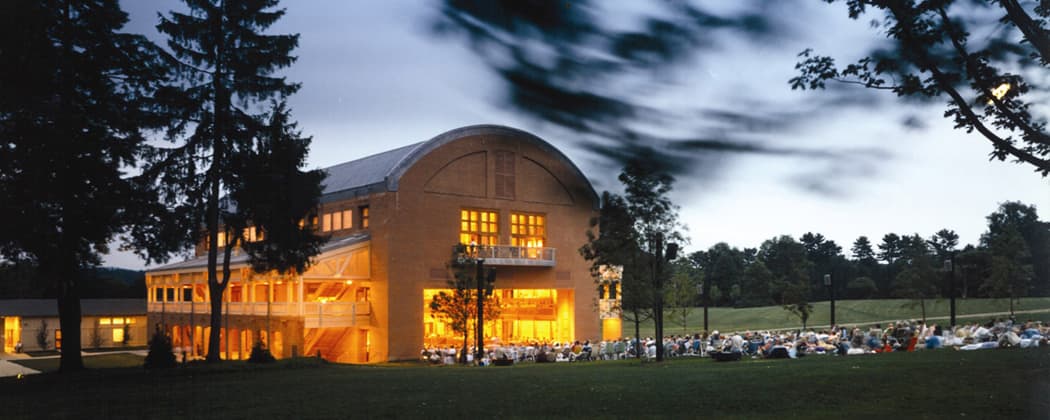 This article is more than 5 years old.
Any contemporary music festival is inevitably going to be a crapshoot. Even with living composers one admires, you never know how the new piece is going to work out.
But the annual Festival of Contemporary Music (FCM) at Tanglewood has a pretty good record, and I've found spending a week or even a few days of listening only to new pieces can be extremely palate cleansing — and often (as it was last year) great fun.
This year's FCM is once again being co-directed by two of Boston's best liked composers: John Harbison and Michael Gandolfi (both of whom have premieres in this year's festival), a compatible team, even though their musical styles are quite different. And the week's events, concentrating on music by Tanglewood Music Center faculty and alums, include the premieres of 15 new commissions in honor of the 75th anniversary of the TMC, still unrivaled as the top summer music-education program in the country.
There are seven different programs at Ozawa Hall (with no concerts scheduled for Tuesday the 21st or Wednesday the 22nd).
On opening night — Monday the 20th — Stefan Asbury, a FCM regular, and Tanglewood conducting fellows lead the TMC Orchestra in four world premieres, with guest, pianist Emanuel Ax. One of only two composers familiar to me is Einojuhani Rautavaara, the 86-year-old Finnish master, whose newly commissioned piece for solo violin and strings is called "Lost Landscapes: Tanglewood."
The Thursday concert (July 23) seems especially compelling. There'll be two pieces, including a new commission, by the late Gunther Schuller, former head of TMC and the New England Conservatory, who was being phenomenally productive until his recent death at the age of 89. "Magical Trumpets," his world premiere, joins his "Concerto da Camera" (2002) and a late piece by Elliott Carter: "A Sunbeam's Architecture," which had its premiere on Dec. 8, 2011, his 103rd birthday. Tenor Nicholas Phan will be singing Carter's settings of poems by e.e. cummings. The other celebrated modernists on this program include Bruno Maderna, George Perle and Charles Wuorinen. Pianist Peter Serkin also puts in an appearance.
Friday (July 23), the concert is in the afternoon, and features Harbison conducting three more world premiere TMC commissions, his own "Seven Poems of Lorine Niedecker," Israeli-American composer Shulamit Ran's "Birkat Haderekh" ("Blessings for the Road") and a new piece by one of my favorite young British composers, Helen Grime's "Embrace." Pianist Ursula Oppens is the special guest.
Saturday afternoon's concert stars the beloved soprano and teacher Dawn Upshaw, and the starry roster of composers with world premieres includes Augusta Read Thomas, Steven Mackey, Bright Sheng and Michael Gandolfi, with additional pieces by Marti Epstein and one of the most compelling Boston-based composers, Andy Vores.
The 6 p.m. Saturday evening concert is actually a prelude to that night's BSO performance, but it features one of the week's highlights, the new piece by Yehudi Wyner, who just celebrated his 86th birthday (as we all did!), with soprano Lucy Shelton singing Wyner's newly commissioned "Sonnet: In the Arms of Sleep," his setting of a 1928 poem by the 17-year-old Elizabeth Bishop.
Sunday morning at 10, Stefan Asbury is back, conducting one newly commissioned work by Oscar Bettison (who likes to invent his own instruments), and old (or not-so-old) stuff by Knussen, Perle, Julian Anderson, Hans Werner Henze and Mark-Anthony Turnage.
Which brings us around to Monday (July 27), when Michael Tilson Thomas joins Tanglewood's conducting fellows and the TMC Orchestra, with Ann Howard Jones leading the BU Tanglewood Institute Chorus. The all-American music, chosen by Tilson Thomas, is by Aaron Copland, Lukas Foss, Leonard Bernstein and Charles Ives — the complete "New England Holidays."
Single tickets for all but the last concert are $12. Prices for the Tilson Thomas program range from $12-$55. The Saturday Prelude concert is free to BSO ticketholders or anyone with a season lawn pass ($190 for eleven passes).  See the Festival of Contemporary Music's website for more details.
Lloyd Schwartz is a music critic for NPR's Fresh Air and Senior Editor of Classical Music for New York Arts. Longtime Classical Music Editor of The Boston Phoenix, he was awarded the Pulitzer Prize for criticism in 1994. He is the Frederick S. Troy Professor of English at the University of Massachusetts Boston. Follow him on Twitter at @LloydSchwartz. 
Editor's Note: An earlier post indicated that Oliver Knussen would conduct Thursday's program. Due to visa problems, he will not be conducting at the concert.