Woods Hole Film Fest Brings 'Infinitely Polar Bear' And Other Local Films To Cape Cod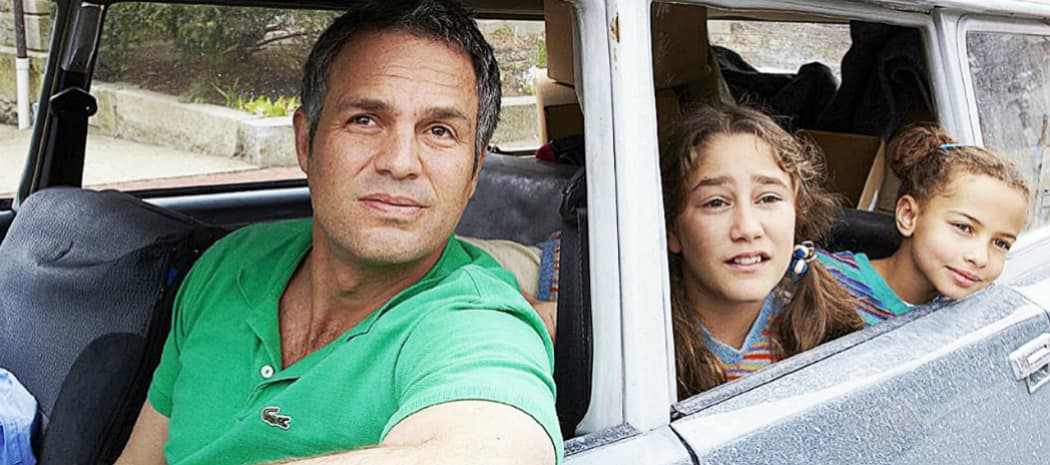 This article is more than 5 years old.
I know — it's summer at the movies, but fear not — there is a way to block those brainless blockbusters with more satisfying alternatives: The 24th annual Woods Hole Film Festival, the oldest on Cape Cod, is set to roll for eight days (July 25 to Aug. 1).
We're talking more than 100 films showcasing the work of new and independent filmmakers from around the world including east coast and world premieres, with a special emphasis on movies with connections to New England. Opening night features include "Infinitely Polar Bear" starring Mark Ruffalo and Zoe Saldana, which was a hit at Sundance and marks the directorial debut of Cambridge-bred writer/director Maya Forbes.
I see an Oscar nomination ahead for Ruffalo who stars in this funny, touching, but unblinking real life story about a father struggling with bipolar disorder while trying to raise two daughters and save his marriage. Ruffalo is Cameron Forbes, exiled from a wealthy waspy Boston family, married to Maggie (an excellent Saldana) and living in Cambridge in the '70s. He's just out of rehab after a breakdown when Maggie leaves him to raise daughters Amelia and Faith while she pursues an advanced degree in NYC hoping it will lead to a better life for them all.
Ruffalo's drinking and manic-depressive episodes as he fights the demons of mental illness keep the girls teetering on the edge of fear and fun — he's kooky good company when he's not accosting the neighbors, hoarding dirty sponges and oversharing. Ruffalo's performance is a masterwork of detailed understatement, from the slightly effete gait and mannerisms, to his way with a bow tie and an upper crust accent when in the company of his dotty parents and his great and supremely parsimonious aunt; she casually tosses him a Bentley one night after dinner, when the family can barely afford food or tuition for the precocious girls.
The daughters, played by Imogene Wolodarsky and Ashley Aufderheide, are remarkably affecting as they manage to blossom in the wreckage. Wolodarsky, by the way, is the real life daughter of writer/director Maya Forbes — whose childhood story this is. She has convincingly made a case, based on her own history, for creativity and resilience as a function of hardship; a loving, hot mess of a parent who's not quite "all there," was there in the ways that apparently mattered most. Look for local actors Georgia Lyman and Patrick Shea in hilarious "Boston" cameos.
Forbes is one of five New England filmmakers in residence at the festival who'll be available at screenings, in master classes and Q&A sessions. These resident filmmakers include Martha's Vineyard-bred singer-songwriter Sally Taylor (Carly Simon and James Taylor's daughter) who screens her documentary "Consenses," in which she asked 150 artists from around the world to interpret each other's work, which results in a fascinating interchange about the nature of truth and the human experience.
Harvard grad Rick Perez will screen "Cesar's Last Fast" which documents Cesar Chavez's historic grape boycott to outlaw the spraying of pesticides on farm workers — among whom was Perez's own father.
Other films with New England connections include:
"Bereave" -- by Rhode Island brothers Evangelos and George Giovanis starring Malcolm McDowell, Jane Seymour and Keith Carradine
"Love Between the Covers" -- by Brandeis University professor Laurie Kahn-Leavitt ("Tupperware") who returns to the festival with her documentary about the rarefied and remarkably powerful community of women who consume and create romance novels
"Archie's Betty" -- a documentary by Suffolk University professor Gerry Peary ("For the Love of Movies: The Story of American Film Criticism") about his 25-year-search to uncover the real life people who inspired the iconic Archie comic book characters (Clue: They live in Haverhill.)
"Angkor's Children" -- a documentary by Emerson College professor Lauren Shaw about three young female artists in Cambodia working to heal a country brutalized by the Khmer Rouge regime that murdered most of that nation's intellectuals and artists
There are also rarely shown or premiere screenings I can't wait to see including:
"Second Mother" — Anna Muylaert's Sundance multi-award winner about a live-in housekeeper in Brazil, screening for only its second time in the U.S.
"Jack of the Red Hearts" — starring Famke Janssen in a tale about a teenage con artist who tricks the mother of an autistic daughter into hiring her as a live-in companion
"Open Tables" — an exploration of love lost and found, and the significance of a good main course. The film was shot in some of Chicago and Paris's hottest restaurants, and features Bill Murray's brother Joel ("Mad Men," "Monsters University") plus Massachusetts natives T.J. Jagodowski and Kate Duffy
"Thank You for Playing" — an acclaimed documentary by Malika Zouhali-Worall and Connecticut native David Osit about a video game designer who creates an unusual and touching, soon-to-be-released video game about his terminally ill one-year-old son
In addition to 34 narrative and documentary feature-length films in competition, and eight shorts programs, the festival will feature panel discussions and workshops including "The Finest Hours" author Casey Sherman (and my former WBZ-TV colleague) who'll tell you how he got from "From Page to Screen" and turned his book into a major studio film shot in Massachusetts. Of course there will be the usual parties, live music and cinematic hi-jinks all in this beautiful little town by the sea.
For all info and tickets visit the Woods Hole Film Festival website.
Joyce Kulhawik Contributor, The ARTery
Joyce Kulhawik, best known as the Emmy Award-winning arts and entertainment critic for CBS-Boston, is the president of the Boston Theater Critics Association.