What To See On The Classical And Dance Scene This Fall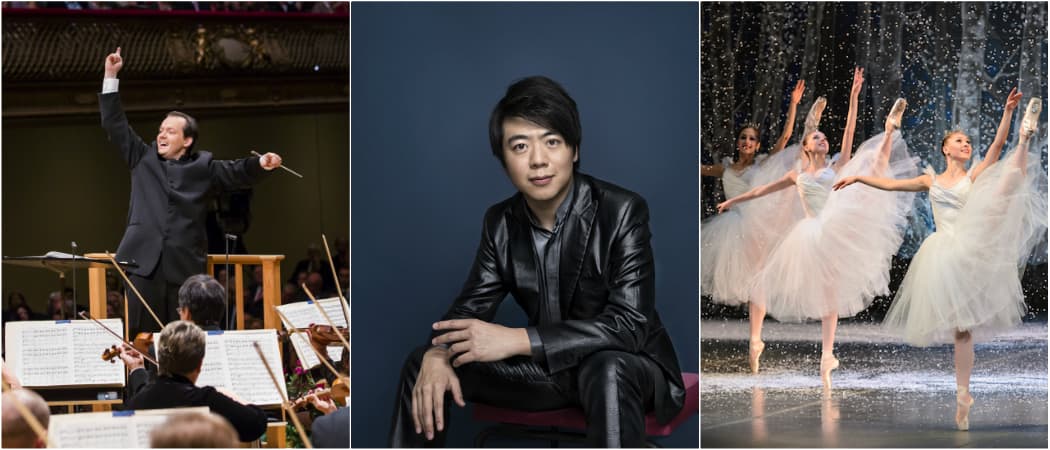 This article is more than 5 years old.
Looking forward, and looking back. It would be impossible to categorize all the music and dance offerings this fall, but if we tried, that might be it.
Every organization looks forward to a new season, re-engaging its supporters and exploring its established repertory. But many groups had personal connections to the late Gunther Schuller, who passed away in June, and multiple remembrances of his music pop up on the fall calendar.
Remembering Gunther
At New England Conservatory, where Schuller served as president and singlehandedly created the jazz department, pianists Ran Blake and Veronica Jochum headline a memorial concert Nov. 19. Separate concert tributes will be also hosted by Collage New Music Nov. 1 and the Boston Modern Orchestra Project Nov. 22, a program that includes Schuller's opera "The Fisherman and His Wife."
Orchestras
The Boston Symphony Orchestra has scheduled a strong dose of director Andris Nelsons this fall. His summer got busy, with a recently extended contract, his first of five Shostakovich recordings released, a European tour, rumors of him going to the Berlin Philharmonic (not happening) and rumors of him taking over the Gewandhaus Orchestra (happening).
Now Nelsons settles down to "just" conducting, leading seven different programs at Symphony Hall, and taking three of them to Carnegie Hall in October as well.
Fall highlights for the BSO include the season opening program with Evgeny Kissin (Oct. 1 - 3); premieres from Unsuk Chin (Nov. 5 - 10) and Jean-Frédéric Neuburger (Nov. 12 - 14); and a staged version of Strauss' "Elektra," with Christine Goerke singing the title role. Lots of Russian music too, including Shostakovich symphonies 9 and 5.
The South Coast celebrates the New Bedford Symphony Orchestra's centennial this season, its final year under departing maestro David MacKenzie, performing a half-dozen concerts, beginning Sept. 19 with Los Angeles Philharmonic's concertmaster Martin Chalifour performing the Sibelius concerto. Pianists Anne-Marie McDermott and Jean-Efflam Bavouzet and cellist Carter Brey, also solo during the 100th anniversary season.
Opera
The opera season opens with a rarity — Massenet's "Le Cid," in a one-night only performance Sept. 18 by Odyssey Opera. Boston Lyric kicks off its season Oct. 2 - 11 with "La Bohème," and smaller companies present "Troubled Water" (a world premiere by Mischa Salkind-Pearl, staged by Guerilla Opera Sept. 18 - 25); Jonathan Dove's "Flight" (Nov. 19 - 22 at Boston Conservatory); and Gluck's "Iphigénie en Tauride" Oct. 7 at NEC. Philip Glass's "In the Penal Colony" is being staged by the Boston Lyric Opera in November. Paolo Prestini's "Gilgamesh" gets rehearsed Nov. 22; Scott Wheeler's "Naga" on Nov. 1, both at NEC's Brown Hall.
Early Music
Handel and Haydn Society blasts off its 200th season with an extended calendar of events. Its Symphony Hall subscription series opens with Mozart's "Requiem" Oct. 2; dozens of other public events and chamber performances are planned. Other early music highlights include Boston Baroque's staging of Vivaldi's oratorio "Juditha Triumphans" Oct. 23; the tradition "Messiah" performances by both groups (H&H, Dec. 27 - 29; Boston Baroque, Dec. 11 - 12); and a rich season from the Boston Early Music Festival, beginning Oct. 2 with soprano Emma Kirkby.
Chamber Settings
The Celebrity Series always books an impressive lineup, and this fall is no different. At the top of the star chart, Lang Lang (Oct. 25) and Yo-Yo Ma (Nov. 17) shine the brightest. Less starry events, but no less artistic, include Dawn Upshaw (Oct. 17), Bach Collegium Japan (Nov. 8) and violinist Jennifer Koh (Nov. 18 at Longy, premiering a work by Vijay Iyer with pianist Shai Wosner). David Sedaris starts the season Oct. 14 at Symphony Hall.
The Gardner Museum may not have found its missing Rembrandts, but its terrific music programs — thanks to longtime director Scott Nickrenz — have never disappeared. With various series running Mondays, Thursdays and Sundays, there's plenty of music in the Fenway palace. Of particular note, Sarah Kirkland Snider's song cycle "Penelope" (Dec. 3). Gardner favorites the Claremont Trio, Callithumpian Consort and resident ensemble A Far Cry all make multiple fall appearances.
The Rockport Chamber Music Festival celebrated 20 years this summer under the directorship of David Deveau, but the eminent pianist has never taken the stage in a solo recital during that time. This fall Deveau does just that, performing a selection of works from a recent CD release, at the Shalin Liu Performance Center Oct. 24.
Contemporary Music
The Boston University Center for New Music initiative continues this year, with residencies by the JACK Quartet (Nov. 16 - 18, a concert featuring works by John Zorn), and flutist Dal Niente (Dec. 8 - 9). Sound Icon also performs works by Ken Ueno and others Nov. 12, and in the spring Paris-based sound pioneers IRCAM and Austrian composer Beat Furrer come to town.
Ballet
Boston Ballet has only one performance this fall (John Neumeier's setting of Mahler's Third Symphony, Oct. 22 - Nov. 1) before its "Nutcracker" run Nov. 27 - Dec. 31. José Mateo Ballet Theatre begins its 30th season (Oct. 9) with "Rumblings," a program with three of the choreographer's most intriguing works, including his mysterious "Isle of the Dead." Mateo's own "Nutcracker" productions return to the Emerson Majestic Nov. 27 - Dec. 6, and to Dorchester's Strand Theatre Dec. 11 - 20.
---
Keith Powers, former music critic at the Boston Herald, now freelances for a number of newspapers and magazines. Follow him on Twitter at @PowersKeith.