Got Two Left Feet? Take Free Dance Lessons On The Greenway
05:41
Play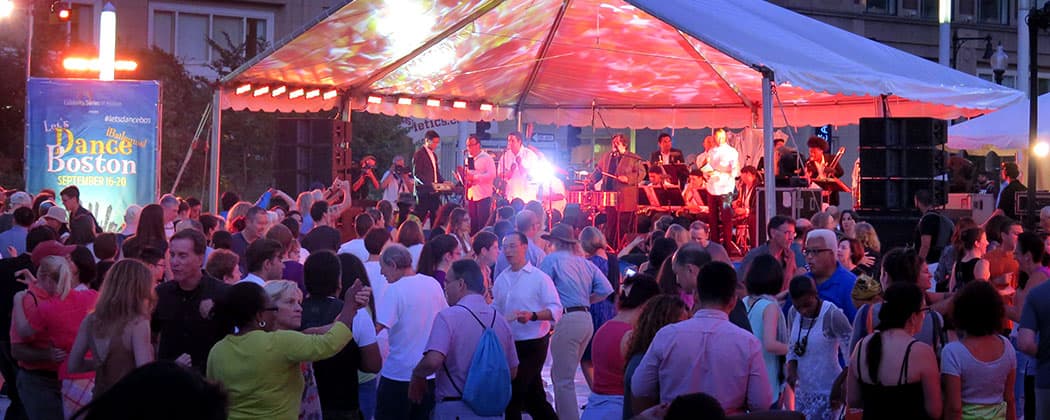 This article is more than 5 years old.
Dancing can be awkward and intimidating. But fret no longer: Celebrity Series of Boston has dreamed up a solution to help dancers of all levels loosen up and shake their booties.
It's called "Let's Dance Boston," and it's a series of free group dance lessons followed by a huge dance party on the Rose Kennedy Greenway.
Put On Your Dancing Shoes, People
During rush hour earlier this week, a white, specially designed 60-by-60-foot dance floor attracted the eyeballs of people passing by. It covers a swath of the Rose Kennedy Greenway at the corner of High Street and Atlantic Avenue. Before Wednesday evening's free, mass lesson — the first over the course of five days — began, instructors Raul Nieves and Eileen Herman-Haase assessed the stage, adjusted their micro-phone headsets, and told me their goal has long been to make social dance accessible to everyone.
"So many people come to us and say, 'I have two left feet," Herman-Haase said, and then shared her supportive reply, "as long as you don't have three [feet] we can do something about it."
"And it's really cool, because we're in our 60s now and this is great," Nieves continued, "dancing like crazy and sharing what we love best."
They've been dance partners for 17 years and teach through their company Dance Caliente in Medford and Arlington. Nieves says, Let's Dance Boston dovetails nicely with their mission because the public performance promotes the power of dance.
"It's great for relationship building," he reflected, "as part of the culture in Boston, that we're having dance in this type of environment, that everyone can participate — from all ages, all cultures."
That's the hope, according to Celebrity Series of Boston head Gary Dunning. This is the second large-scale, outdoor public dance event his performing arts non-profit has produced (they also put on the popular Street Pianos Boston event in 2013, as well as Le Grand Continental last year). Dunning said Celebrity Series is partnering with the Rose Kennedy Greenway Conservancy because the park's mission is to activate space with people, and his organization's mission is to activate people with performance.
"The real purpose of this is to remind people that the performing arts are an important part of daily life," Dunning added, "our vision is that Boston will be a community where the arts are a life-long, shared, valued, appreciated experience wherever it happens, on the street, in theatres, stages, in homes."
And now on the Greenway.
Dunning admitted he's never been much a dancer himself, but he's excited to try out the different styles being offered Friday, Saturday and Sunday, including swing and disco.
"For some of us of a certain age, the disco night will either bring back embarrassing or even fun memories of a certain time in our life," he mused, then confessed: "And I think I even owned a Nehru jacket somewhere along the line, but I don't think I can fit into it anymore."
On Wednesday night, it was Latin moves. The instructors are teaching Merengue, Cha Cha, Salsa and La Bamba, which is close to Raul Nieves' heart. It's the style that made him fall in love with dancing. But he and Herman-Haase acknowledged that some dance teachers rule through intimidation.
"It's a painful experience to learn how to dance under those conditions," he said, then Herman-Haase followed with, "And a lot of people give up."
Nieves and Herman-Haase always strive to keep things fun. And they have a rule against counting, because they say it can be confusing and scary.
"Instead what we do is we make these silly sounds: Oonka Ah! And we use that to really teach the rhythm of the dance, how to change your weight by using it."
More than 100 people followed their lead, chanting "Oonka Ah," doing circles, and reaching their hands up into the sky. Everyone was giggling or smiling.
The group's makeup was multi-ethnic and multi-aged. Herman-Haase encouraged people to find a partner if they didn't come with their own. Strangers tried to avoid stepping on each other's toes.
From the stage Herman-Haase shared some advice, "Ok here's something I'm going to demystify about partner dancing. You never ever look at each other's feet."
One of the Let's Dance Boston students, Wen He, lives with her husband in the neighborhood and says she was pumped to put on her dancing shoes.
"I didn't know this thing was here until yesterday when I was walking by," she said, "I saw they were setting up the place for Dance Boston. I said, 'wow it's so exciting. I love it!'"
Her husband, Chris Cao, doesn't dance much, but he was able to pick up a few steps. And he told me he thinks this concept is pretty cool.
"Normally, especially in a big city, everybody is rushing to work. And it's good to have an environment to relax and meet new people," he said.
Wen He said they even ran into their neighbors.
"Even though we live next to each other we don't see each other that often — but we met here and we talked. So it's a great way to meet people," she said laughing.
Then the energized couple headed back to the dance floor to cut some rug under the darkening summer sky.
---
You can unleash your inner disco-maniac Friday night at Celebrity Series' Let's Dance Boston on the Rose Kennedy Greenway. Salsa lessons are on Saturday, and Swing on Sunday.
This article was originally published on September 18, 2015.