The Lyric Stage Company Is On Point With 'Sondheim On Sondheim'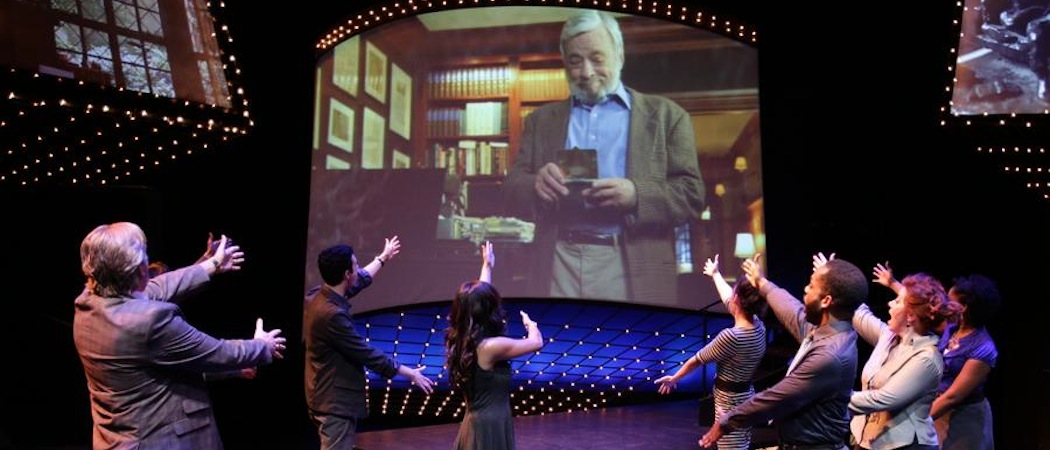 This article is more than 5 years old.
"Sondheim on Sondheim" is not your average revue. For one thing, this one has Stephen Sondheim, himself, as the star. Don't get your hopes up. The composer-lyricist is not actually present at the Lyric Stage Company of Boston, where the latest nicely turned incarnation of this production is taking place (through Feb. 21). It's his prerecorded narration of the piece, which is part tribute, part biography and — the best part — part musical in its own right.
All of which is to the good, because the other Sondheim revues I've seen, like "Side by Side by Sondheim," don't really work. Sondheim's songs often don't travel well without the structure of his shows. Most of them are not the one-act plays he says that songs should be, but instead scenes from a marriage, or a divorce, or in the case of "Sweeney Todd," a murder.
So rearranging them to tell a different story, or no story at all, is often a fool's errand. For the most part he didn't write songs like "Ol Man River" or "Hello Young Lovers," nuggets that can easily be extracted from their shows. Sondheim's songs usually don't breathe well without more narrative air and even ones that should, like "Take Me to the World," can seem like pallid shadows of their former selves, even when it's sung as richly as it is here by Mala Bhattacharya.
But the Lyric show does work, ultimately, mostly because it does tell a great story or two. Most of all, it tells the story of the greatest lyricist in the history of musical theater who also carved out his own stylish musical accompaniment for those lyrics.
It also tells the story of the rise of Boston midsize theater, which to an extent signaled that something great was coming, to coin a phrase, by using Sondheim musicals to strut their stuff beginning in the late 1990s.
In his narration, Sondheim talks about how audiences couldn't wrap their heads around his strange musical, "Passion," a costume drama about a man's relationship with two women, until the introduction of the song, "Loving You," in which the until-then unlikable and physically unappealing Fosca sings,
Loving you is not a choice
And not much reason to rejoice,
But it gives me purpose
Gives me voice to say to the world:
This is why I live
You are why I live.
And that's the precise moment, late in the first half of this production, that "Sondheim on Sondheim" took off for me, changing from a cheery little homage into a full-bodied piece of theater. It's a transcendent moment in both "Passion," and "SOS," in which the man Fosca is stalking realizes there's more to love than is dreamed of in many people's philosophies.
There are a couple of other things worth noting about this song about the strange choices that love forces on us, sometimes making us incapable of choice. First, Leigh Barrett kills it and, second, Spiro Veloudos, the director, decided to do it as a costumed scene from "Passion."
It was a production of Sondheim's "Assassins" in 1998 at which Veloudos announced that the Lyric Stage Company of Boston was going in a bold new direction and it was a 2002 SpeakEasy Stage Company production of "Passion" in which Barrett made everyone sit up and take notice that Boston had this phenomenal vocal talent in its midst.
Sondheim, then, is inextricably linked to Boston's growth as a theater city – the New Repertory Theatre is also part of that link – and this production reminds us of that. Veloudos is the best director of Sondheim in the city, certainly in a chamber setting. (Jonathan Goldberg is again his musical director.) Barrett is joined by Aimee Doherty, another superb singer, Christopher Chew (Veloudos' leading leading man in musicals) and other members of both the Lyric's "Into the Woods" (Doherty, Martitza Bostic, Sam Simahk) and the Huntington Theatre Company's "A Little Night Music" (Doherty, Simahk, Patrick Varner).
Barrett has also made Sondheim's red-hot "Follies" torch song, "Losing My Mind," something of her signature song, in two different productions directed by Veloudos. When she and Doherty team up here for a duet of that and "Not a Day Goes By" from "Merrily We Roll Along," well, life just doesn't get much better. " Davron S. Monroe's "Being Alive" from "Company" and Barrett's "Send in the Clowns" are two other scorchers.
Some of the narration works beautifully with the songs — Sondheim talking about the artistic process, leading into a section from "Sunday in the Park with George," about Seurat's artistic process. "Children Will Listen," after Sondheim talks about his crazy mother wishing she hadn't given birth to him, seems a little cheesy.
Other numbers feel like they're dragged out of place, too. The show begins with songs that didn't make it, not exactly getting the 2:40 off to a bang. When the cast breaks out into "Comedy Tonight," you think that "SOS" is finally going to take off, but it's earthbound, just as another ensemble number, "Something's Coming," reaches for too much. Tony, in "West Side Story," is breaking away from the pack, not joining a chorus.
Enough grumpiness. There's more to like – love — than there is to complain about. When Veloudos begins next season with "Company," the Lyric's Sondheim processional will continue. At it's best, "Sondheim on Sondheim" reminds us why it's been such a treat to watch the parade go by.
Ed Siegel is editor and critic at large for The ARTery.
More Sondheim at the Lyric