New WHAT Musical, 'Unexpected Joy,' Finds Common Ground — It's A Bit Mushy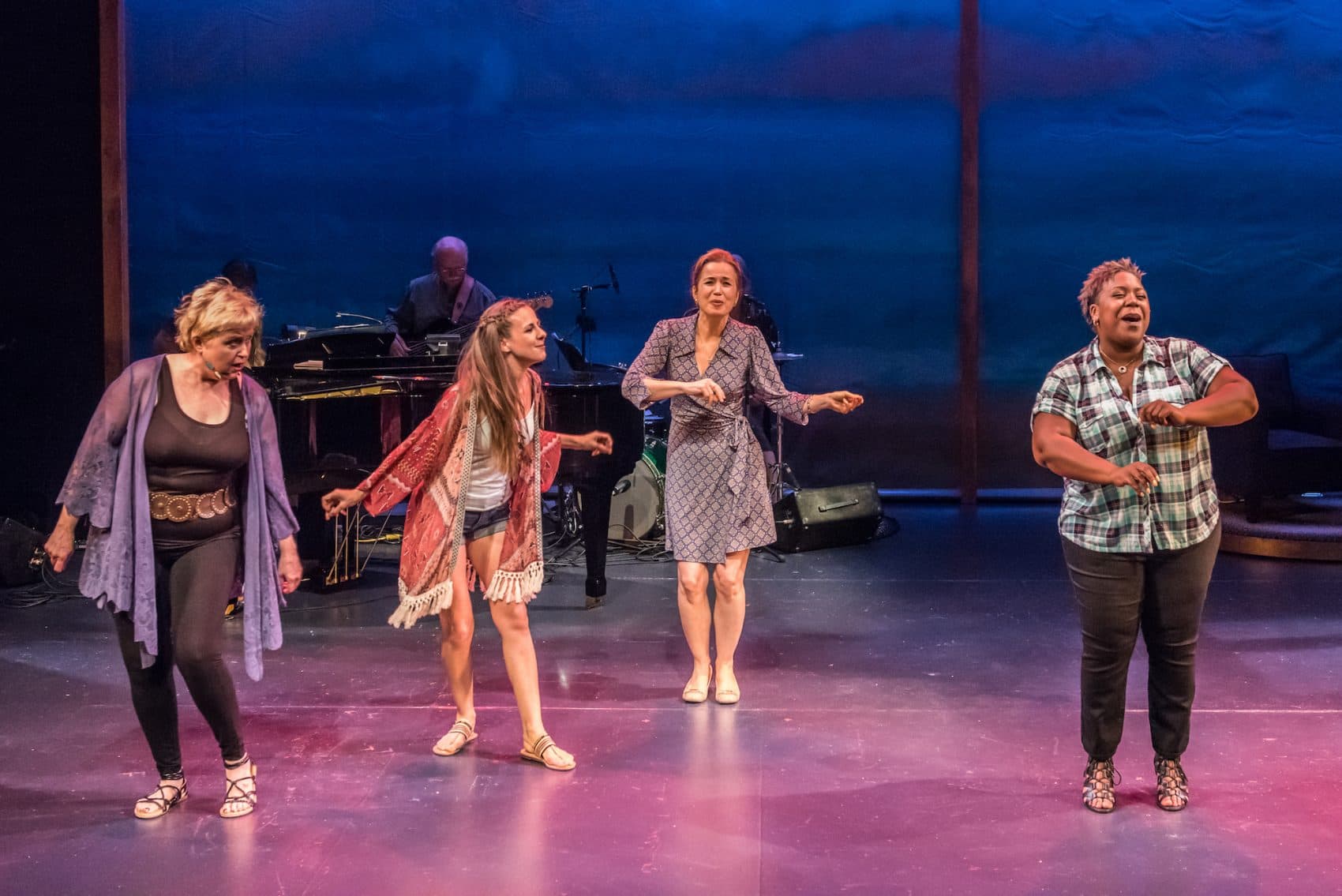 This article is more than 4 years old.
WELLFLEET, Mass. -- "Unexpected Joy" is one of those musicals whose heart is in the right place, whose notes are in the right place and whose singing is in the right place. But the Wellfleet Harbor Actors Theater (WHAT) world premiere of the Bill Russell-Janet Hood celebration of tolerance just can't find the words to make it  come fully alive.
Bill Russell — not the one who's the greatest basketball player of all time — is the widely acclaimed co-writer (with Henry Krieger) of the wildly overrated "Side Show," which was also a celebration of people who were thought of as outside the mainstream — conjoined twins in that case.
Here the music is composed by Janet Hood who, unlike Krieger, writes strong melodies. If they tend to be largely generic, middle of the road country, R&B and even quasi-punk, that's OK. They get the toe-tapping job done.
What doesn't get the job done at WHAT (through Aug. 20) is Russell's writing, neither his book nor his lyrics. The plotting is simultaneously predictable and far-fetched while his songwriting, particularly the rhyming, couldn't be more distant from that of Oscar Hammerstein and Stephen Sondheim.
On child-rearing:
"Daughters with mothers
Become moms themselves
We tell the old stories of fairies and elves
And try to impart what wisdom we can
Like 'Keep hands away from the fan.' "
On gay marriage:
"Just because it's legal?
Just because it's cool?
Because it offends the old school?
We don't need their approval
Their rituals and rites
We just need to share
Our nights."
The story centers on Joy, a singer who's putting together a remembrance of her former professional and personal partner — Jump — on Cape Cod (nicely evoked by Christopher Ostrom's set design). They lived a profligate '60s life, which drove their daughter, Rainbow, to near-despair. She changed her name to Rachel and ran off with a right-wing preacher. Cut to the present and he's a bigoted televangelist.
And Rachel, a right-of-Trump evangelical herself, returns for the benefit with her granddaughter, who revels in Grandma's still left-of-Clinton lifestyle, even (especially?) when Joy tells her she's about to get married to Lou. A woman.
You could write the story from here and it would probably be less predictable than Russell's. Way too much time is spent on "When is Rachel going to find out that Mom is going to marry a black lesbian" with the attendant horror-stricken reactions. Rachel, to be fair, is given a couple of lines to show that she's more than a stick-figure born-again footstool for her husband. But not much more.
The plea-for-tolerance preaching-to-the-choir predictability — it ends with "Common Ground" — undercuts what is otherwise a solid WHAT production under Lynne Taylor-Corbett's direction that fits the Julie Harris Stage on Route 6 quite well. The acoustics are particularly impressive, which highlight the terrific singing from Sally Mayes (Joy), Michelle Duffy (Rachel), Charity Farrell (granddaughter Tamara) and Lacretta (Lou) – along with the strong instrumental work led by pianist Gillian Berkowitz. Duffy's vocals are particularly impressive, since they humanize Rachel in ways that Russell doesn't.
Despite the criticisms, the two quartets make "Unexpected Joy" a pleasant enough night on the Cape. The show could have legs if Russell gave the actors more to work with. And if he spent a week or two studying at the Sondheim School for Wayward Rhymers.