Intelligent Mischief's 'Fête Forward' Celebrates Afrofuturist Imagination And 'The Black Renaissance'
This article is more than 4 years old.
"Free up yuh' self."
At once a mantra and a rallying cry, it is this philosophy that drives Fête Forward, an annual jubilee put on by artist-activist collective Intelligent Mischief, now in its second year.
The multi-day celebration, brought to life with "Caribbean vibes," creates what its architects imagine as the future of Caribbean sound — meshing traditional calypso, soca, reggae, merengue and dancehall with urgent electronic beats into a pumping lifeblood that encapsulates the culture of what Intelligent Mischief calls the "Black Renaissance."
"'Black Renaissance' is our frame for describing the current resurgence of African diasporic art that is accompanying this new period of black social activism. Everyone pays attention to the direct actions and protests, but the cultural aspect of the struggle is key," says Terry Marshall, Intelligent Mischief's founder and strategy architect and a Boston native who has been involved in community organizing for over 20 years.
In many ways, he views the uprising of contemporary modes of expression as vehicles for the black diaspora — generations of people who can trace their origins to African ancestry, scattered across the globe by European colonization — to create a world that not only views people of color as equals, but as revolutionaries. "It's what allows people to imagine a new world in order to build it," he says. "It's what shifts minds into new thought that allows for a new world to begin. We see the indie music festivals, the documentaries, the Afrofuturist art, the new fashion, the podcasts and so much more as a part of the Black Renaissance."
To the Intelligent Mischief team, celebration isn't just for fun. It is a necessary release, a vital aspect of not just survival, but thriving.
There are too many gatekeepers preventing black and brown people to build arts and cultural scenes.

Chrislene DeJean
"We often ask, why is it so hard for people of color to have space in Boston? We see that it is economically and politically inaccessible. There are too many gatekeepers preventing black and brown people to build arts and cultural scenes. This is why we have Fête Forward," says Chrislene DeJean, Intelligent Mischief's creative organizer. In 2015, she served as Boston's Cultural Agent for the U.S. Department of Arts and Culture. "Our overall vision for Fête Forward is to show that Carnival and other cultural events that embrace black joy are necessary for the cultural vibrancy of the city. It is important for us to claim space in this city and build more cultural infrastructure for people of color. Out of this process, we can also create more revenue and opportunities for black and brown people to stay in Boston."
To this effect, on the itinerary for Saturday and Sunday are two distinct events titled "Navigating the Transatlantic: A Caribbean Film Screening" and "Pineapples & Palm Trees: A Day Fête" — a day-long dance party and arts festival where primarily people of color are free to enjoy "complete ecstatic abandon."
"Navigating the Transatlantic" seeks to create a space for conversation while casting a critical eye on art that speaks to the Caribbean identity. For the black diaspora, Marshall explains, the Atlantic Ocean represents an intersection of centuries' worth of shared experiences between Caribbean and African-Americans. "Most people in the Western Hemisphere of African descent were brought over here in chains across the Atlantic; it's part of what connects us," he says. "The constant cultural exchange and flow of information between the diaspora — from the Caribbean to the Americas to Europe — is us constantly navigating through our histories and struggles, which transcends this particular ocean. We wanted to use that title for the films that we showed to expand the sense of the Caribbean identity, to show how the subject matter in these films connects throughout the diaspora."
For DeJean, "Navigating the Transatlantic" represents an effort of self-revelation that is deeply personal. Through films, short-form episodes and documentaries, she hopes to examine a shared history rife with trauma and emerge with answers that will help her better understand the legacy she has inherited.
We literally embody so much mystery as black people and it can make us feel lost.

Chrislene DeJean
"We still hold the trauma of our ancestors that were forcefully brought to the Americas on a gruesome journey, who survived only to be forced into enslavement for hundreds of years," she says. "We have no idea what our ancestors went through because our stories were forcefully silenced for hundreds of years. I have so many questions, about how my ancestors lived and what their resistance and survival looked like, that can never be answered. We literally embody so much mystery as black people and it can make us feel lost."
The film festival will show a variety of projects from both local and visiting filmmakers, including episodes from Boston native Paloma Valenzuela's webseries "The Pineapple Diaries," which follows an Afro-Latina woman living in Jamaica Plain. Additional screenings include the Afrofuturist music video series "Diasporadical Trilogia," and the African superhero short film "Oya: Rise of the Orishas." Afterwards, a panel comprised of community artists and leaders will lead a thought-provoking discussion on the diversity of identity among Caribbean people and how art can help to express this diversity.
Beneath the veneer of glitter and sweat, the joyful noise of dancing feet and homespun beats, Fête Forward 2016 signifies something much deeper. Its very existence is in itself a resistance — an insistence that Boston is comprised of a rich multiplicity that goes beyond the notoriously white prevalence that's most often seen in popular media.
"People of color, women, immigrants, genderqueer folk — people at the margins must have space to celebrate in order to 'free up yuh' self.' To feel free, to experience freedom even in a tiny instance," Marshall says. "Celebration acts as an internal healing factor, while at the same time loudly states to everyone else that you exist."
"Navigating the Transatlantic: A Caribbean Film Screening" will take place Saturday, Aug. 20, from 12 p.m. to 5 p.m. and "Pineapples & Palm Trees: A Day Fête" will take place Sunday, Aug. 21, from 2 p.m. to 5 p.m. at Make Shift Boston.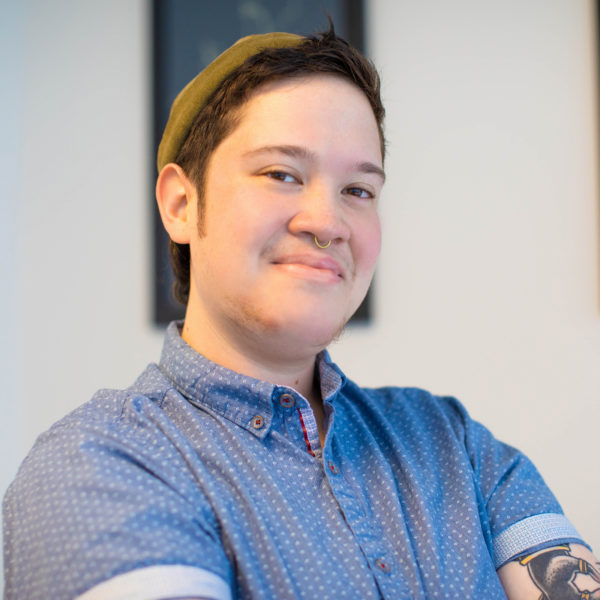 Spencer Icasiano Arts Writer
Spencer Icasiano reports on artists and culture-makers for The ARTery, with an emphasis on amplifying marginalized voices.