Deep In The Ordinariness Of Daily Life, Elizabeth Strout Shows 'Anything Is Possible'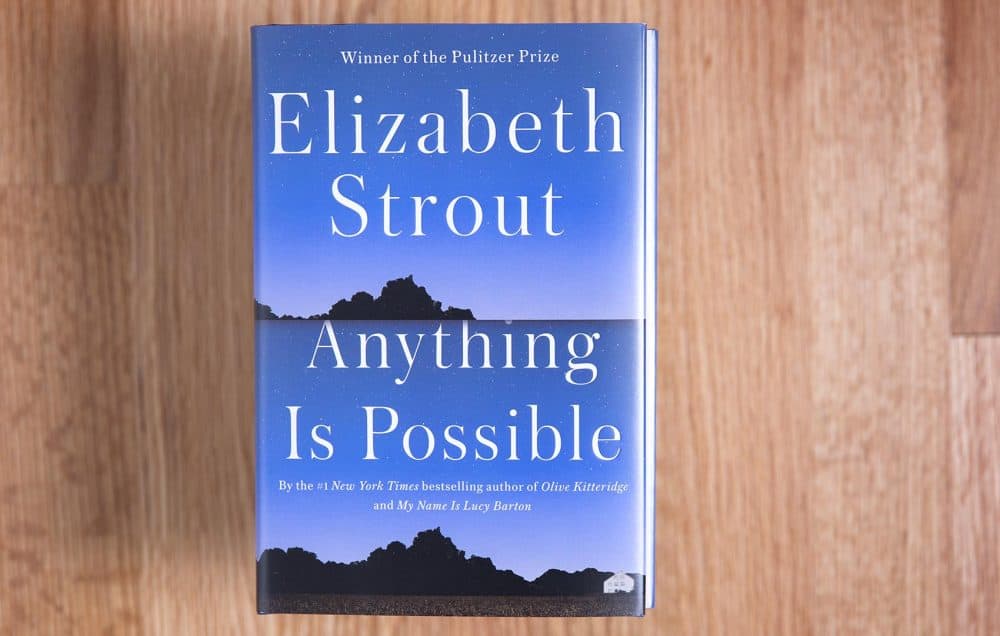 This article is more than 3 years old.
Of the many reasons to read fiction, one of the strongest is to be more engaged with the world. Done well, a book can offer prized moments of connection and insight. Feelings and perceptions — gossamer elements that can carry rock-solid force.
In five previous novels, including the Pulitzer Prize-winning "Olive Kitteridge," Elizabeth Strout has shown a matchless ability to intricately render the interior life of a character, and at the same time clearly show how others see that person. The two views only sometimes mesh, and it is this fundamental incomprehensibility that Strout captures, again and again, with great humanity.
With "Anything Is Possible," a collection of connected short stories, Strout gives some of the townspeople of Amgash, Illinois who were minor characters in the 2016 novel "My Name is Lucy Barton" (mentioned but never seen) their own moments as central characters. The storylines are loosely linked; what happens in an earlier story is sometimes referenced or built on in a later one. Although each story can be read on its own, give yourself the complete gift of Strout's writing and read all of these, and in order. There is a beautiful interplay within the broad expanse of these nine tales. It's not just that the storylines are connected; what emerges is how so many of these lives overlap in ways large and small.
Lucy is now a famous writer, doing book tours and being interviewed on morning TV shows. Her parents are long dead, and Lucy's younger, emotionally fragile brother Peter lives alone in the family home. Older sister Vicky lives nearby, struggling to make ends meet for her own family, sourly requesting and accepting money from Lucy as often as the need arises. But Lucy is not the only former townie who's flourished in the wider world. Their cousin Abel, so poor he used to forage for food in the dumpster behind Chatwin's Cake Shoppe, has become the wealthy executive of an air conditioning company outside of Chicago.
In "Windmills," Patty Nicely, now the high school guidance counselor, quietly mourns the death of the husband who'd been a unique soulmate to her, musing that marriage "was the skin that protected you from the world — this loving of another person you shared your life with."  In "The Hit-Thumb Theory," Charlie Macauley, a Vietnam vet, struggles to hold on to any emotion, even if it's only pain.
"Dottie's Bed & Breakfast" is a deceptively layered story, initially almost comfortably conventional, then lit with a tension that grows hotter as the paragraphs glide by. Dottie (Abel's sister) "appeared — to herself and to others — to do just fine." She is successful in part because she knows that to "listen to a person is not passive. To really listen is active." When Dottie firmly draws the line on a tiresome guest's loathsome behavior, she does so because she can clearly see her for what she is — "a woman who suffered only from the most common complaint of all: Life had simply not been what she thought it would be."
Only "Cracked," an effectively creepy tale, seems cut from a different bolt of cloth than the others. You would not want to be a houseguest of Linda (Patty's sister) and her voyeuristic husband Jay, no matter how gorgeous their home, set in an upscale town that has "almost a fairy-tale quality to it."
Throughout "Anything Is Possible," unsaid thoughts and half-felt feelings can be so powerful they almost become separate entities. For example, in "Gift," a "thought came to Abel like a bat that swooped from the eaves … The thought became a dark shape in his lap, as though he was required to hold it there."
Always, there is the impenetrable puzzle of memory. In "Mississippi Mary," Angelina travels to Italy to visit her mother (who's built a life about as far from Amgash as she could get) to try to come to terms with the events that broke apart their family decades before — and with their starkly different memories of those events. At one point Mary poignantly concludes "How did you ever know? You never knew anything, and anyone who thought they knew anything — well, they were in for a great surprise." In "Snow-Blind," a grown daughter comes to doubt her childhood memories, thinking but not saying to her sister, "there were many ways of not knowing things."
True as that can be, the title for this collection fits the larger narrative of these stories. Even steeped in the ordinariness of daily life, here anything does seem possible: revelations that hurt or heal, and sometimes, miraculously, a tentative word spoken out loud that can alter the shape of someone's world.
Elizabeth Strout is speaking with Andre Dubus III at the Coolidge Corner Theatre, via Brookline Booksmith, on Monday, May 8.
Carol Iaciofano Book Critic
Carol Iaciofano has contributed book reviews, essays and poetry to publications including The ARTery, the Boston Globe and Calyx.