If You Like It, They Have It: What Not To Miss At The Boston Book Festival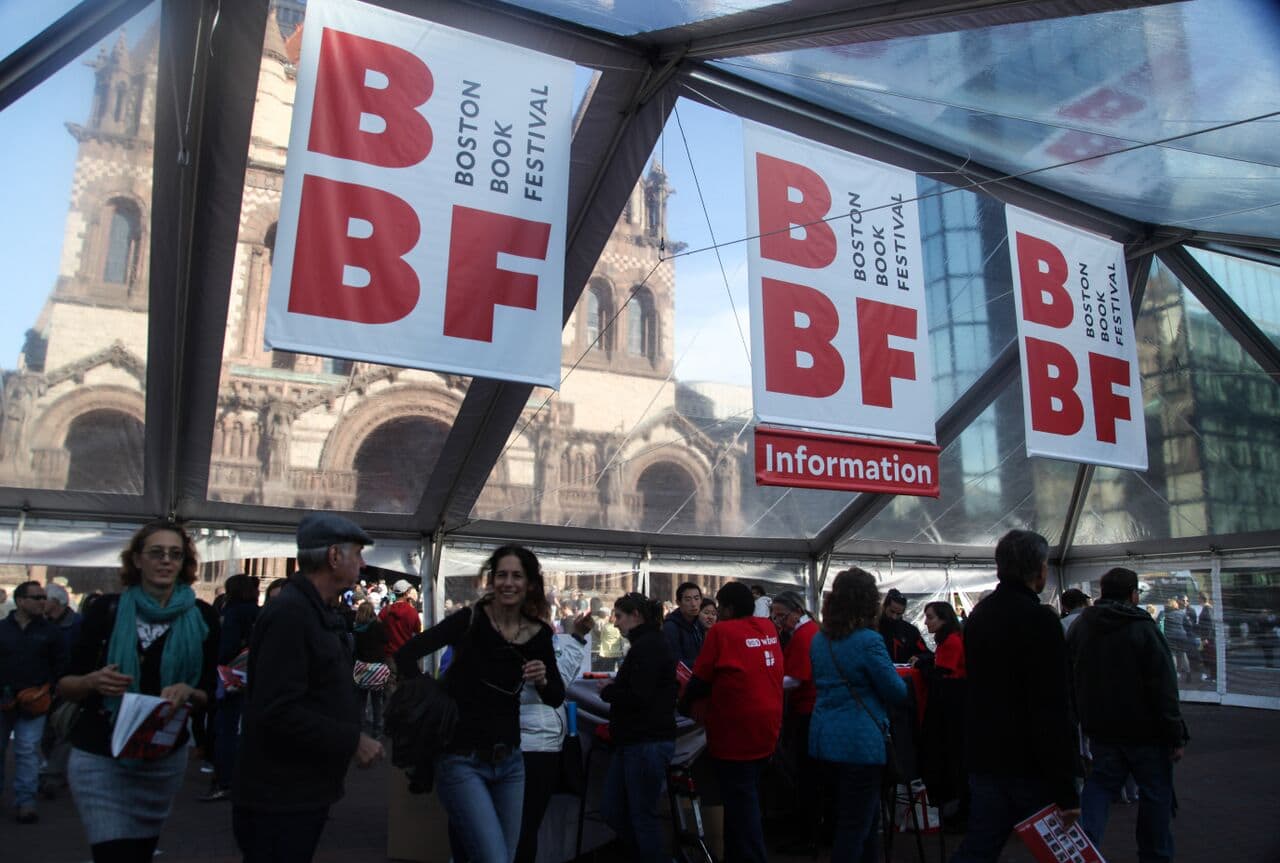 This article is more than 3 years old.
Bookworms of every kind, get excited. It's that time of year — the flannel is out, everything is pumpkin and the annual Boston Book Festival has arrived. The free festival, presented in partnership with WBUR, offers panel discussions, interactive workshops and readings for nearly everyone's literary taste.
There are too many events for one person to get to them all, so here are a few highlights to help guide your way:
If you like poetry:
Lit Crawl: 'City of Notions' | Thursday, Oct. 26, 6-7:30 p.m. | Urban Media Gallery at Emerson College
One of Thursday's Lit Crawl events pays tribute to the City of Notions (aka Boston's epic 19th century nickname).
The session features readings from the poetry anthology of the same name, which salutes the many dimensions of daily life in Boston. Curated by Boston Poet Laureate Danielle Legros Georges, nearly 60 poets contributed to the collection — Ed Barrett, Nick Flynn, Regie Gibson, Fred Marchant, Anna Ross and Erick Verran will read their work at the event.
Registration for this event is required.
The Shakespeare Time-Traveling Speakeasy | Saturday, Oct. 28, 11-11:45 a.m. | Berklee Stage, Copley Square
Marlon Carey and Regie Gibson present a new poetry mash-up that takes your classic Bard and adds song, storytelling, rap, hip-hop and a variety of American musical styles, including jazz, country and funk. The result celebrates Shakespeare and explores his life, influence and lasting mystery.
---
If you like politics:
Politics: Where We Find Ourselves | Saturday, Oct. 28, 1-2 p.m. | Trinity Sanctuary, Copley Square
Will this session be cheery and upbeat? Likely not. But it will offer insight to the 2016 election and the shock waves it continues to produce. In conversation with WBUR's Tom Ashbrook, The New York Times' Maureen Dowd and political correspondent Jared Yates Sexton (author of "The People Are Going to Rise Like the Waters Upon Your Shore") draw on professional and personal experience to analyze our disintegrating political culture.
---
If you like to travel:
Atlas Obscura | Saturday Oct. 28, 12:30-1:30 p.m.| Boston Public Library's Rabb Hall
I am personally excited for this one — I am an avid traveler, and for those who are unfamiliar, Atlas Obscura is an online project/illustrated book/organization/overall-cool guide to "the world's wondrous and curious places."
Ella Morton, senior editor for Atlas Obscura, walks this session through her favorite, quirky places, including some in our own city.
This session will be introduced by WBUR's Zeninjor Enwemeka and is sponsored by the Boston Public Library.
Memoir: Strange Journey | Saturday, Oct. 28, 2:30-3:30 p.m. | Emmanuel Church's Parish Hall
Some people have the most incredible -- and incredibly crazy -- life stories. BBF has packed four of them onto a panel to discuss their lives and resulting memoirs, including:
"Ruthless River": How Holly FitzGerald's honeymoon disintegrated into scenes from "Cast Away," complete with a plane crash and homemade raft.
"Chasing Space": How Leland Melvin went quite literally above and beyond a career in the NFL to become an astronaut.
"Walking to Listen": How Andrew Forsthoefel walked -- really, walked -- across the United States, listening along the way.
"A Really Good Day: How Microdosing Made a Mega Difference in My Mood, My Marriage, and My Life": Ayelet Waldman's complicated and hilarious experience microdosing LSD when other therapies failed.
This session is moderated by WBUR's ARTery reporter Maria Garcia.
---
If you have kids:
Kids' Keynote: Lemony Snicket | Saturday, Oct. 28, 10:45-11:30 a.m. | Old South Church Sanctuary
Lemony Snicket, I remember your snarky humor well -- those poor Baudelaire children took up much of the space on my childhood bookshelf. This year, however, Snicket presents his new picture book, "The Bad Mood and the Stick."
---
If you like history:
'The Rise and Fall of Adam and Eve' | Saturday, Oct. 28, 11:15 a.m.-12:15 p.m. | Trinity Sanctuary, Copley Square
Adam and Eve, one of the most famous couples, are the subject of professor, scholar and Pulitzer Prize-winner Stephen Greenblatt's "The Rise and Fall of Adam and Eve," analyzing and tracing the story and its influence from Augustine to Darwin. Former dean of Harvard Law School Martha Minow will interview Greenblatt following his presentation.
'The Kingdom of Olives and Ash' | Saturday, Oct. 28, 11:45 a.m.-12:45 p.m. | Old South Church's Guild Room
Offering a more intimate perspective of the consequences of global conflict, the essays in "The Kingdom of Olives and Ash" detail Palestinian life in the Israeli occupied territories, and the hatred and distrust felt on both sides. Contributors Geraldine Brooks and Jacqueline Woodson and editor Ayelet Waldman discuss their observations in the territories with Libby Lenkinski, vice president for public engagement of the New Israel Fund.
---
If you like social justice:
Racism in America: It's a Crime | Saturday, Oct. 28, 2:45-4 p.m. | Trinity Sanctuary, Copley Square
In a conversation about racial inequality in the criminal justice system, MSNBC's Chris Hayes, author of "White Rage: The Unspoken Truth of Our Racial Divide" Carol Anderson, Yale law professor and author of "Locking Up Our Own: Crime and Punishment in Black America" James Forman Jr. and moderator Kim McLarin discuss the structural issues at play, from the application of law to the Supreme Court.
Muhammad Ali: Conscience of a Fighter | Saturday, Oct. 28, 4-5 p.m. | Emmanuel Church's Parish Hall
Especially timely in the wake of Colin Kaepernick and the NFL protests, two writers discuss another black man known as much for his protest as his athleticism — Muhammad Ali. Jonathan Eig, best-selling author of books on Jackie Robinson and Lou Gehrig, dives into the life behind the celebrity through conversations with Ali's former wives, FBI files and recently discovered interviews. Leigh Montville, senior writer at Sports Illustrated, focuses specifically on Ali's protest and refusal to serve in the U.S. military during the Vietnam War in "Sting Like a Bee: Muhammad Ali vs. the United States of America, 1966-1971."
This session is moderated by WBUR and NPR's Bill Littlefield, host of Only A Game, and author of "Take Me Out."
---
If you like mystery:
Gumshoes to Cyber Sleuths | Saturday, Oct. 28, 1:15-2:15 p.m. | Old South Church's Guild Room
In a mystery novel, anyone can become a detective, including a wounded veteran, a Quaker midwife, a hiker, a small town cop and an officer with a corrupt past. All are characters in stories written by the authors on this interactive panel: Peter Abrahams ("The Right Side"), Edith Maxwell ("Called to Justice"), Ray Anderson ("Sierra"), Joanna Schaffhausen ("The Vanishing Season"), Dave Zeltserman ("Small Crimes") and Hallie Ephron ("You'll Never Know, Dear"). In addition to hearing about their work, attendees have the opportunity to help the panelists create new characters on the spot.
---
If you like coming-of-age stories:
BBF Unbound: Defining Diversity | Saturday, Oct. 28, 12:30-1:30 p.m. | Boston Public Library's Orientation Room
To write "Defining Diversity," 24 Lowell High School students set out to understand diversity and equity among young Americans while simultaneously tracing a history of connected ideas, laws, amendments and court decisions in our society. In this BBF Unbound event, six of those students join their teacher Jessica Lander and documentary filmmaker Teja Arboleda, discussing their essays, their experience and their hopes moving forward.
Fiction Keynote | Saturday, Oct. 28, 2:15-3:15 p.m. | Church of the Covenant
In this year's fiction keynote, Claire Messud and Jacqueline Woodson discuss their latest works on the female coming-of-age experience, including the messy and at times complicated process of growing up, the volatility of friendship and navigating growing apart.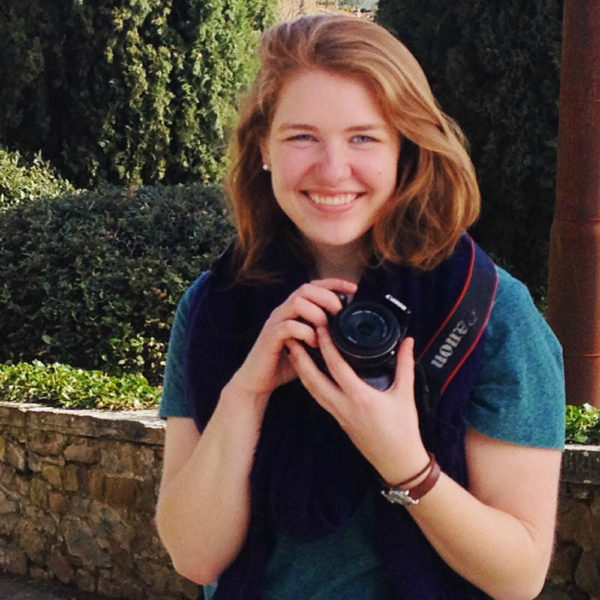 Hannah Chanatry All Things Considered Senior News Writer
Hannah Chanatry is WBUR's senior All Things Considered newswriter.