How A Boston Beat Battle Creates A Community For Music Producers
06:47
Play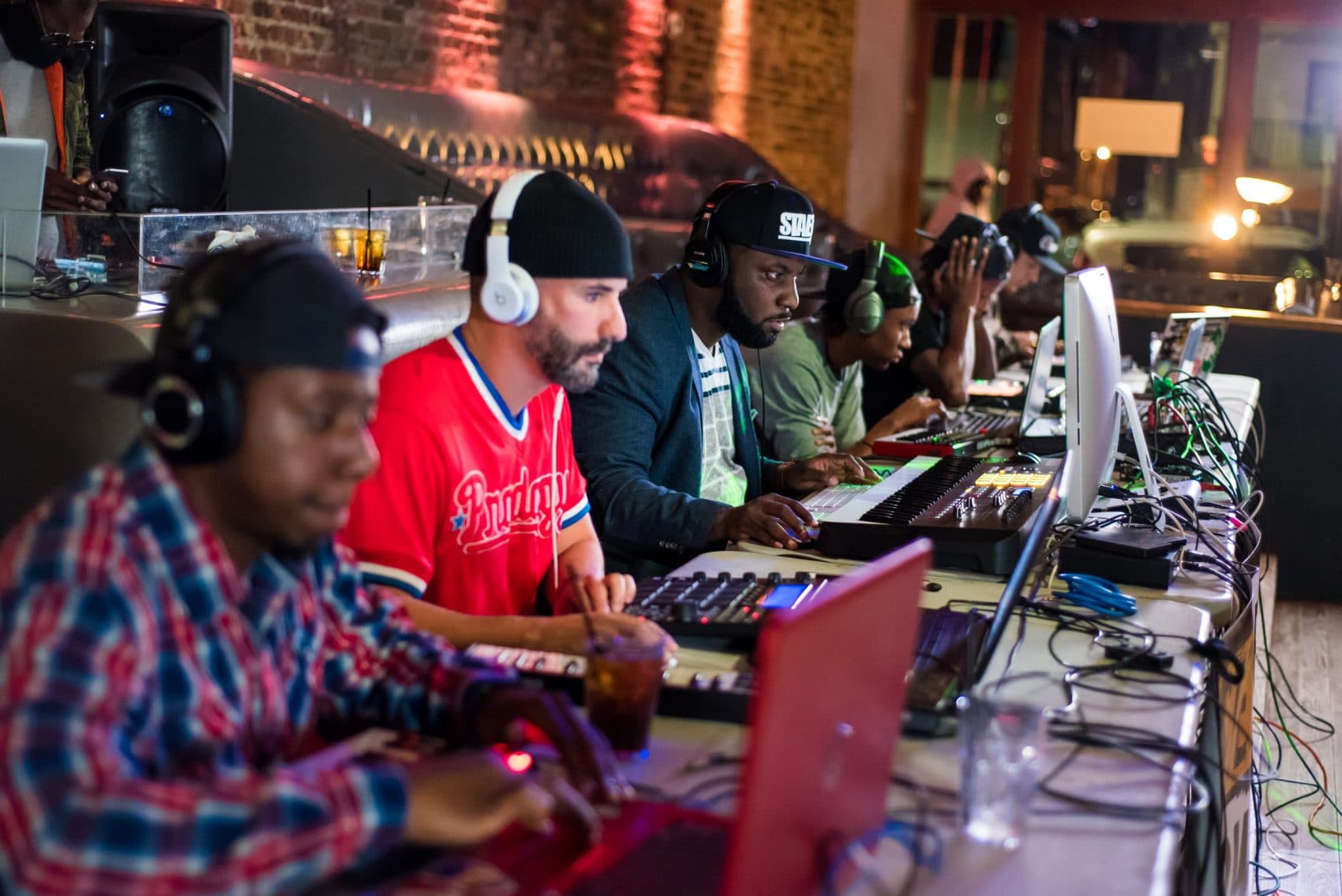 This article is more than 3 years old.
It's late at night on a Sunday at Wonder Bar in Allston, a neighborhood watering hole with exposed brick walls and a clubby vibe. The bar's low mezzanine has been turned into a makeshift stage, where six guys sit behind a row of tables, faces aglow in the light from their laptops, feet tucked behind a tangle of cable on the floor. Mark Merren, a compact man with a puffy beard, strides back and forth with a mic in his hand.
"Drums and bass only," he says sternly. "That's the only thing you can grab from your own arsenal."
Merren is the host of the Stew Beat Showcase, a semi-monthly beat battle where local producers compete for a grand prize. "Stew" is a play on "studio," but it's also a reference to the producer's process — chopping and flipping, cooking up beats in their bedroom. And right now, these producers have 20 minutes to remix the theme music from an old Nintendo classic: "Super Mario Bros. 3."
It's not an easy task. And the results, predictably, are mixed. But a few are downright inspired. One producer, who goes by the name of International Show, transforms the frenetic melody into a trippy, downtempo groove, dropping in a devilish bass line that has the crowd hollering. "That's what the f--- I'm talking about!" Merren exclaims. "Have fun."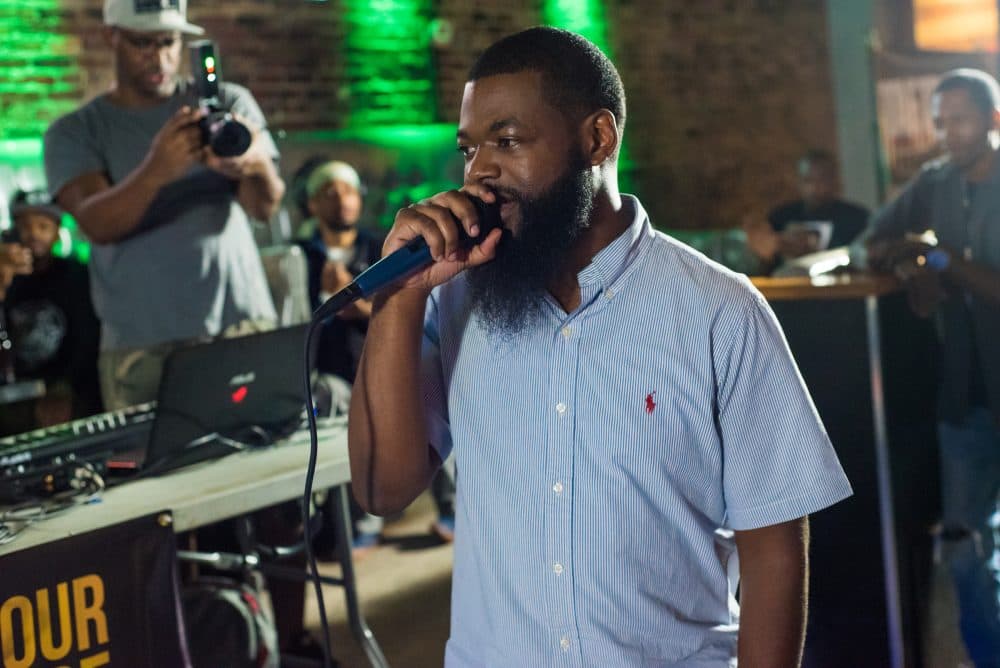 "Fun" is the ethos the creators of the Stew say they're going for. Unlike a typical beat battle, where producers are judged on finished tracks, the Stew operates more like a game show, with timed challenges built around whimsical concepts — a structure that helps foster an atmosphere of camaraderie and friendly one-upsmanship.
The Stew was founded back in 2012 by Merren and two fellow producers named Bryan Trench and Devon Guillery. At the time, Merren produced a regular hip-hop showcase and Guillery and Trench ran a local talent night. They had noticed that a lot of performers were using canned beats that they'd found online. "We're like, that doesn't make any sense," Merren says. "You went to SoundClick or you went to YouTube and you downloaded a beat, when this guy down the street makes beats."
Local producers, they realized, needed a place to be seen and heard.
"We just want to congregate because we love it, just like anything else," Merren says. "You go to a rock show, you go to a hip-hop show, it's because you're around like-minded people. And we felt like there wasn't anything like that for producers, where it was just a real community."
In some ways it's never been easier for producers to get their music out there — you can upload your beats to the internet, gain a following on social media and even make a decent living selling your music online. But Guillery says that not everyone thrives in that environment, which he believes is geared more toward commercial success than creativity or collaboration.
"This is all that's marketed to us, is 'Get a placement, get a placement, get a placement,' " Guillery says. "But if the internet's not working for you, then what? And that's when we want to come in and really take charge and say, 'Hey, there's this whole other world that you're not familiar with. Step out, and get out of your house and come to a place where they're welcoming beats — original beats at that — where we're not going to say, "Oh yeah, you know what, Rihanna can't be on that so for that reason, we're not going to keep that beat." ' "
Still, the internet is where producers live these days, so Merren, Guillery and Trench have expanded their community to the web. Most Sunday afternoons find the guys crammed into a little studio in Norwood, where they record a weekly podcast. They begin each episode by pulling up a list of original tracks that have been submitted online by listeners. The hosts work their way through the list, critiquing each track. "Keep it or cut it" is their mantra, and the tracks they decide to keep get added to a SoundCloud mix that is published at the end of each month.
The Beat Club Podcast, as the show is called, airs live on Facebook and is archived on SoundCloud. It's long — two hours — but even a listener unfamiliar with the language of beat-making is likely to find moments of interest. The hosts talk absorbingly about the ins-and-outs of producing — what makes a beat pop, how to get a good mix and, perhaps most crucially, what the producers whose submissions don't make the cut could do to improve their work.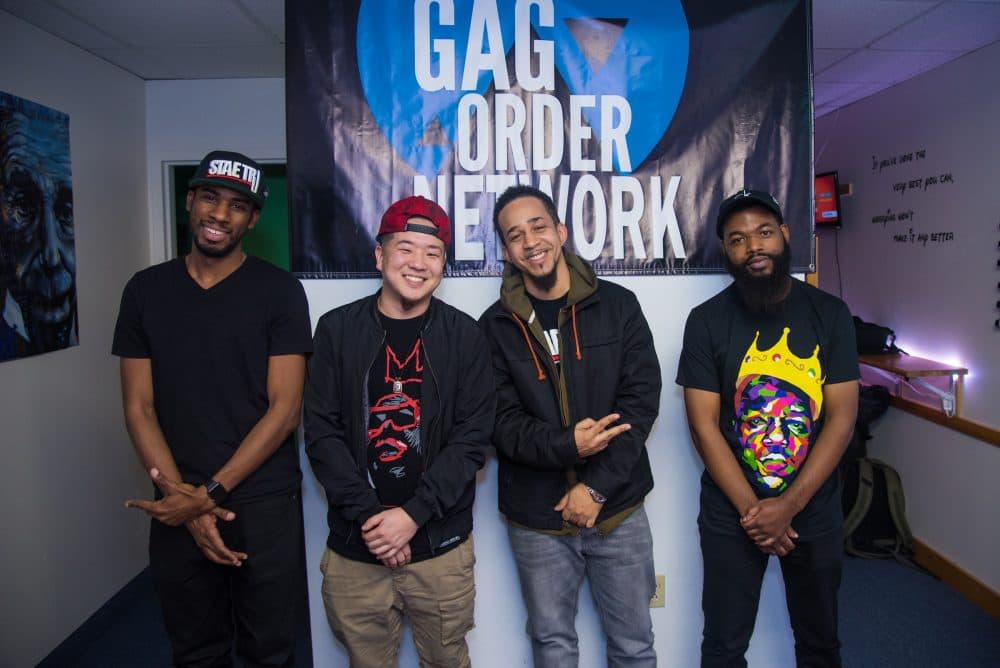 The podcast provides new producers with exposure, but Trench says their ultimate goal is to offer guidance and support. He remembers how important his own mentor was, back when he was a teenager in Dorchester and just getting into music production. The young beat-maker liked to spend his afternoons hanging out at the community center up the street from his house, where a producer who went by the name Ted Top Cat ran a studio. "He actually used to give feedback to me and my production partner," Trench says. "So for us to be doing this type of thing [now] brought back that same feeling."
Beneficiaries of the Beat Club's mentorship include Ariah Dawson, who produces under the handle Seoul. Nine months ago he quit his job as a sushi chef to take the leap into making music full time -- at which point he had only played his beats for a few close friends. His first public outing was at a live recording of the Beat Club Podcast at P.A.'s Lounge in Somerville.
"I was real nervous. I had no idea what I was doing," Dawson recalls. "But it was dope just to be able to play [my beats] and have their heads nodding and being like, 'Oh, alright, this kid got something going on.' "
Feeling emboldened, Dawson entered a Stew beat battle. The experience has already begun to pay off — it was through the Stew that Dawson hooked up with his producing partner and started a collaboration with a local rapper. This weekend, he'll compete in the Stew Beat Showcase season finale. The payoff? A $1,000 check and another step on the road to realizing his dream.
---
The next Stew Beat Showcase is on Sunday, Dec. 3 at Wonder Bar in Allston.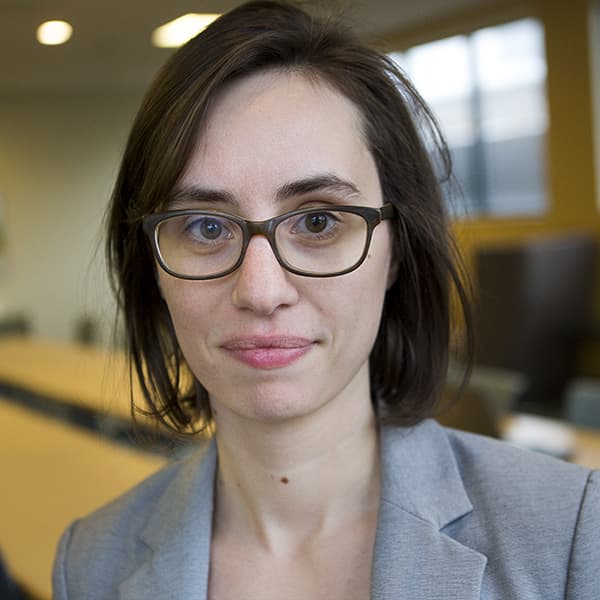 Amelia Mason Arts And Culture Reporter
Amelia Mason is an arts and culture reporter and critic for The ARTery, WBUR's arts and culture team. She covers everything from fine art to television to the inner workings of the Boston music scene.