Liars & Believers' 'IRRESISTIBLE' Flips The Script To Give A Diverse Cast Creative Control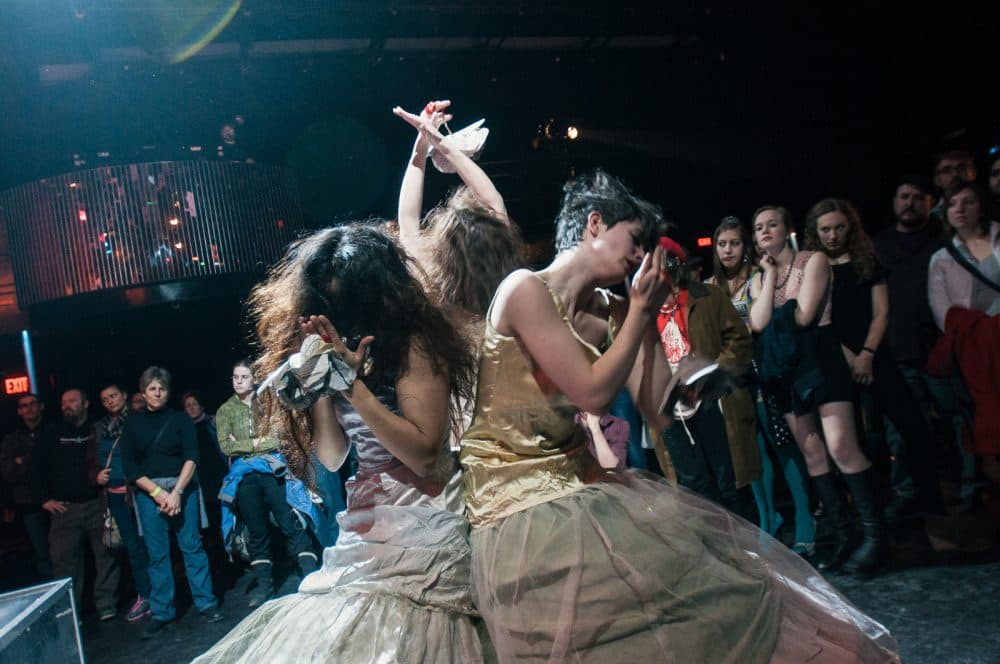 This article is more than 3 years old.
For the past few months, the cast of the new Liars & Believers' show, "IRRESISTIBLE," haven't been rehearsing for their new show, per se. They've been bouncing ideas off of each other and creating vignettes around the theme of two opposing forces: resistance, and what is irresistible.
That rehearsal process gives the cast — as opposed to the director — artistic authority over the show's content, a unique characteristic of what Liars & Believers (LAB) artistic director Jason Slavick calls a coLAB — a collaborative LAB performance. "IRRESISTIBLE" is the fourth such production.
"It should feel like an artistic conversation as opposed to a narrative experience," Slavick says about coLAB shows' distinct structure, likening the final product to Alice in Wonderland as she falls down the rabbit hole. "I usually work in a super intentional fashion over a long period of time, but with the coLAB I let all that go and trust my collaborators. I tell them, 'Here's the idea, run with it. I trust you as an artist to bring your work.' "
The structure and collaborative nature of "IRRESISTIBLE" and LAB's other coLAB productions suits its larger goal of bridging the gaps that exist among artists and audiences, particularly along lines of race and economic status, as well as personal history and artistic medium. ("IRRESISTIBLE" artists include dancers, actors, a video jockey and a rapper.)
The goal of diversity and reaching across divides is an intentional decision by Slavick, who has consistently leveraged the coLAB productions to bring together artists who may not otherwise work together.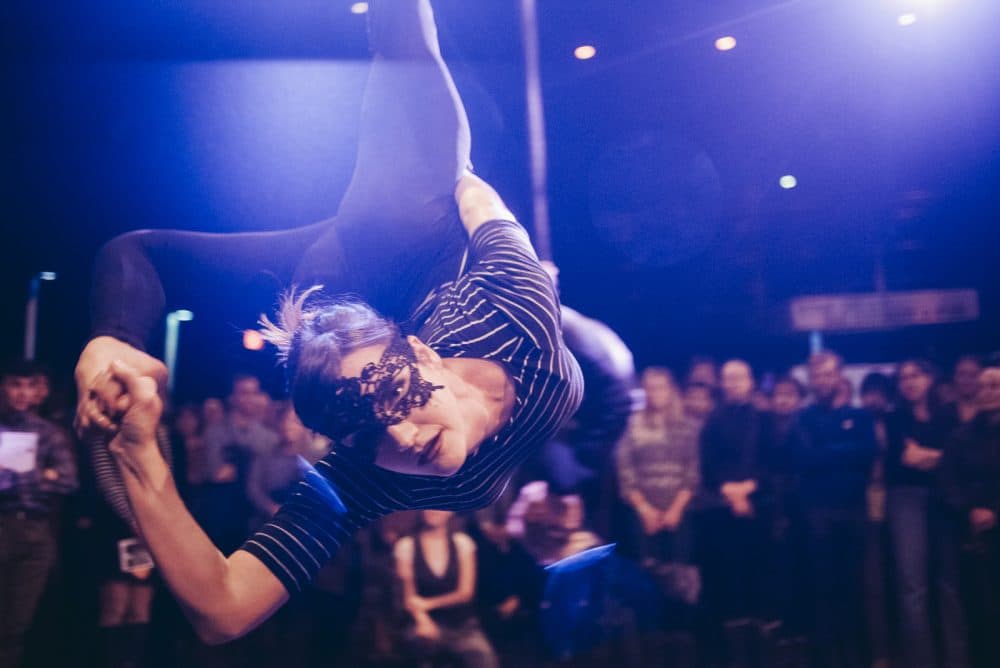 "Each time, we reach beyond the circle of regular theater people to find artists with different aesthetics and different audiences," he says. "Two of our ensemble members are artists of color, and those are artists and audiences who are hard to reach in Boston — we are a heavily segregated community, and it's a bedeviling problem.
"I'm very excited having people in the work who experience the world differently than I do as a straight, white man," he continues. "I do my best to shut up and listen, and as director try to create the opportunity to share their work."
One such artist is Mike King. King, who goes by M.I.C. when performing, is a rapper new to the style of collaboration "IRRESISTIBLE" employs.
"I think it's a really cool idea, bridging the arts and giving people that wouldn't normally work together a common idea, and [seeing] what kind of art comes from that," he says. "It's more of a blessing than anything — I don't normally get to express my creativity, and it just invigorates me to get out there."
King doesn't normally get to express his creativity, as he put it, because unlike most of the other performers, he is not a full-time artist. King counsels teens in Boston at the Home for Little Wanderers, a nonprofit child and family service agency focusing on behavioral, emotional, social and physical well-being within at-risk circumstances. His performance, which he hopes will grow to include rapping from multiple ensemble members, mimics a traffic stop and the situations people of color can experience when dealing with police.
Another artist interpreted the theme through an entirely different time period. Tess Degen, a theater artist originally from Berlin, found inspiration in stories of the Berlin Wall. Her piece, "JUMP," again produced in collaboration with other artists, tells the true story of Helga Knittel, who jumped from a second story window to find freedom in West Berlin while she was pregnant.
"This is a kind of resistance I don't understand," says Degen. "That kind of jumping I can't fathom. So I'm exploring what that means for us today."
Another goal of the coLAB series is encouraging a more inclusive audience, and drawing larger crowd.
"Hopefully the people I involve, they bring their friends, and it widens the circle," says Evan "v.Kash" Lukash, a video jockey working primarily in Boston's nightlife. "This is definitely a new kind of performance, a new form of play, and it's a great way to bring in people who may not go sit through a play."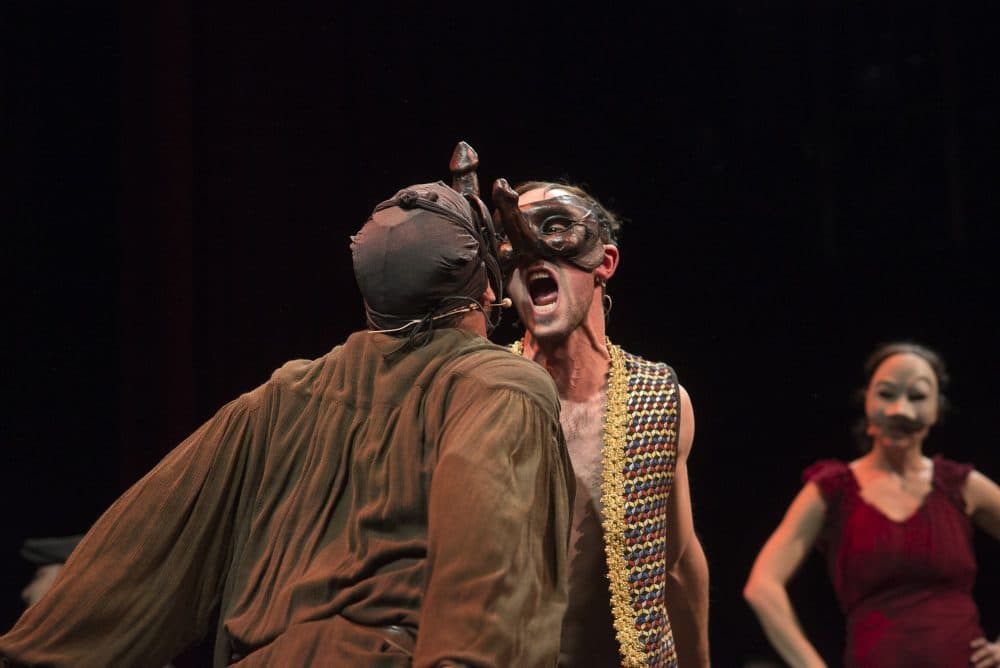 Slavick also hopes to encourage greater attendance with a new "pay what you will" system — tickets for "IRRESISTIBLE" are priced on a spectrum from $5 to $50, and audience members choose how much to pay.
"We work with artists across the economic spectrum, which means there are audiences in the lower economic strata," says Slavick. "It feels wrong to make art that is economically inaccessible. And if you make art [that is] politically and socially motivated, that's even more true."
Slavick's goals for the coLAB are lofty, and it seems as though all the pieces are in place. But every production has a myriad of challenges, and "IRRESISTIBLE" is no exception. For starters, there are many moving parts, and corralling the schedules of multiple working artists can be difficult. Additionally, the show is working with some explosive material -- there is always the risk people won't like it.
"This is certainly not your mom and pop narrative story telling," says Jesse Garlick, an actor and theater/dance educator working on the production. "This is for people who want to see stories you don't hear every day and are a little bit riskier. This is theater for the bold."
For his part, Slavick takes this risk and his hope for change in Boston art in stride, knowing that if the experiment goes wrong it is only for one night -- by design, coLAB performances are done only once.
"How do we bridge the divides that terribly separate our city?" he says. "Sometimes we are more successful, and sometimes we are less successful, but we think it's crucial. So we keep trying."
---
"IRRESISTIBLE" is at Sonia in Cambridge on Jan. 24 at 8 p.m.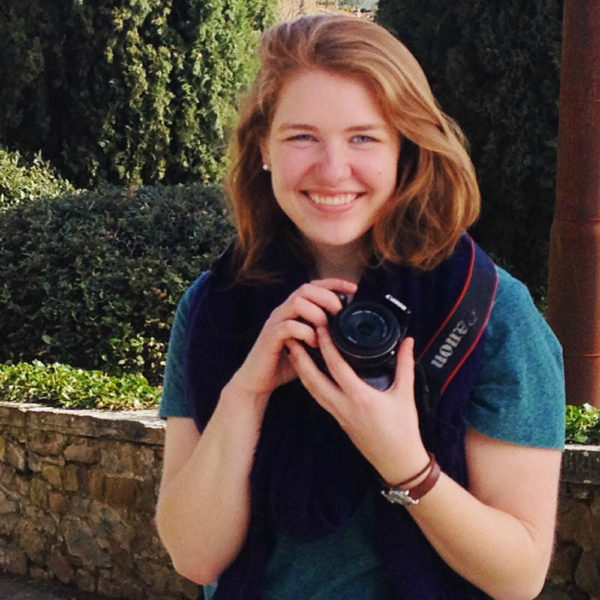 Hannah Chanatry Producer, All Things Considered
Hannah Chanatry is a producer for WBUR's All Things Considered.