Moods For Moderns: The Museum Of Fine Arts Boldly Basks In The 21st Century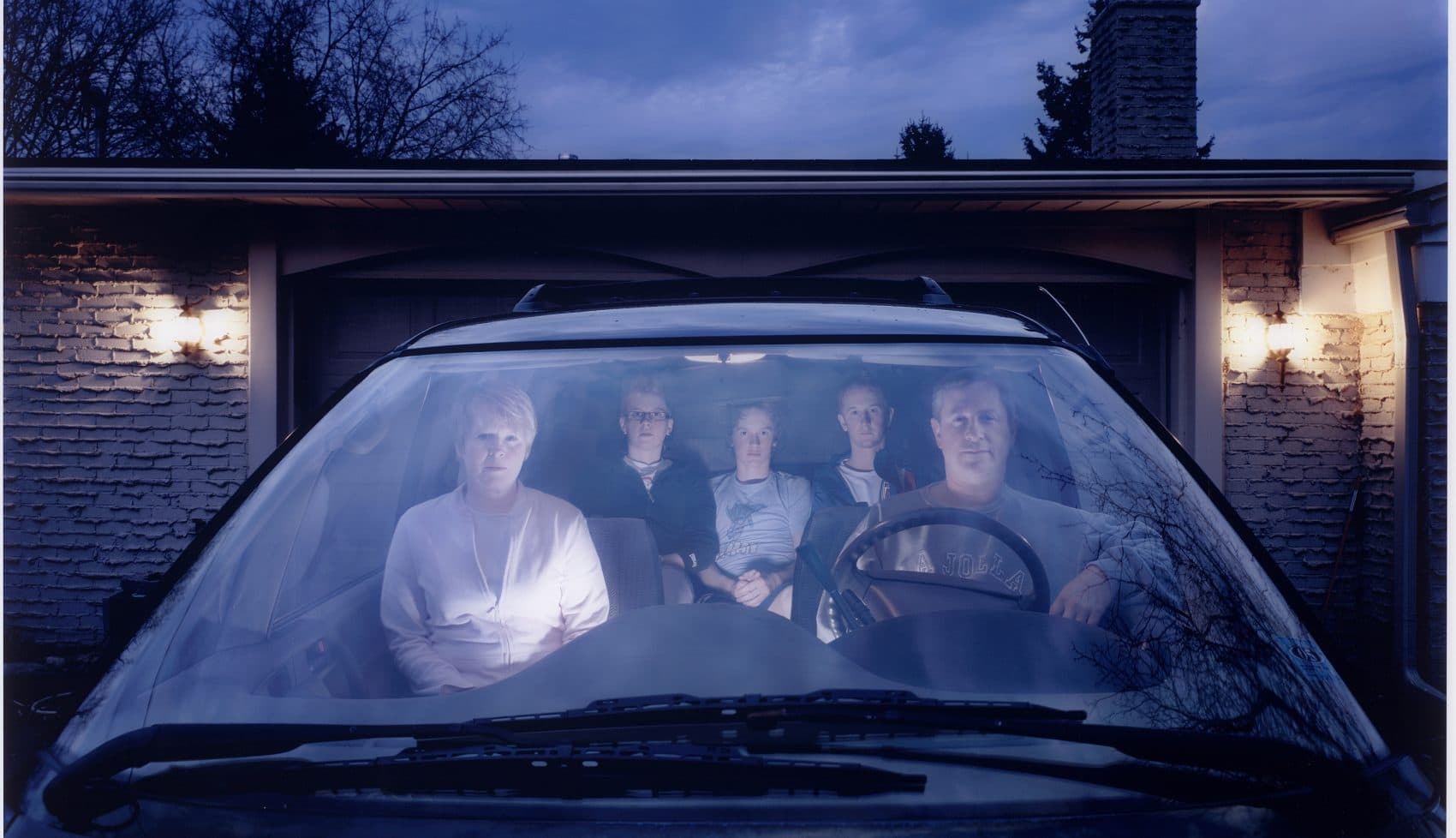 This article is more than 3 years old.
Visits to the Museum of Fine Arts Boston used to have a particularly 19th century feel to them. There'd be the big impressionist or post-impressionist exhibit, followed by a look at the Homers and Sargents in the permanent exhibit and then a minute or two to look at the paltry modernist and contemporary work.
It feels like a different artistic world at the MFA these days as the museum has boldly embraced the artistic life of the 20th and 21st century.
Not that there's anything wrong with previous centuries and big exhibits like "Masters of Dutch and Flemish Painting." They're a major reason we go to museums. But it also has to be a major part of museums' missions to engage with the world we live in -- the post-post-impressionist world. Fortunately that seems to be part of the "MFA 2020" strategic plan: "Deepen strategic commitment in modern and contemporary art to embrace the present and boldly anticipate the future."
It's that kind of engagement that the MFA was offering up in spades when I went there recently, from Mark Rothko to Takashi Murakami, and from the ongoing "Making Modern" collection to the unique "(unexpected) families." Add in M.C. Escher and the Klimt-Schiele exhibit and you have a pretty robust look at modern times at the MFA.
Modernism

One could argue -- many have -- that modernist or 20th century art is no more of the moment than impressionist painting and sculpture. That's not my take. The worlds of great modernists like Picasso and Rothko — and in other idioms, Stravinsky and Schoenberg, Faulkner and Beckett — still describe the world we live in, whether it's the horrors of war in Picasso's "Guernica" to the search for a new kind of spiritual transcendence outside of organized religion in Rothko's paintings.
Of course, all great works of art have something to say about the way we live our lives, but they don't necessarily engage the world we live in. Impressionist and post-impressionist art represent the birth of the modern age and no visit to the MFA is complete without visiting Messieurs Monet and Van Gogh.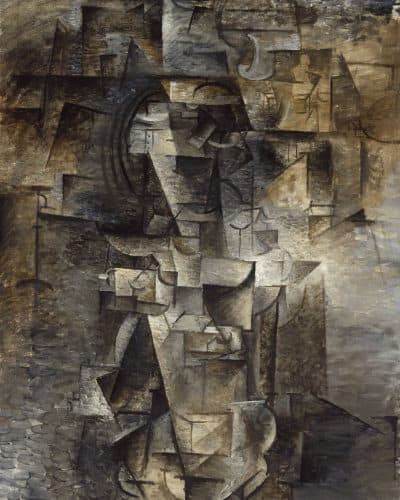 But something shifted after World War I — people grew more suspicious of governmental and religious institutions and adopted a bleaker, more alienated view of the world in general. And that's still the world of today, even when those suspicions shift from left-wing progressivism to right-wing populism. Formalistically, modernists were less interested in representing beauty than in embracing a more warts-and-all canvas.
Until recently, the MFA's modernist collection has languished, but the arrival of Matthew Teitelbaum as director in 2015 and a strategic plan seem to be pushing the museum in the right direction.
"There's been a long-held perception that our modern and contemporary collection is weaker than other areas in the museum," acknowledged Edward Saywell, chief of exhibitions strategy and gallery displays. "Within the strategic plan, a commitment to modern and contemporary is called out … the modern and contemporary collections are seen as not as deep and not as broad. In a sense this has partly been self-critical, thinking about what are the strengths we can play to, what we have underplayed, what are the acknowledged gaps to fill, and thinking creatively about stories we can talk about across time and across culture."
Modernism also exacerbated, perhaps even created, the rift between artists and audiences, many of whom still balk at the abstract expressionism of a Jackson Pollock (or Rothko) or conceptual art that leaves many a head being scratched about what the concept is.
The MFA has wisely provided some guidance for both the initiated and skeptics. "Making Modern," on the top floor of the third floor of the Art of the Americas wing, is a smart mini-tour of 20th century art, navigating some of the major artistic movements in a handful of galleries. No one is going to confuse the MFA's collection with MoMA or even the wonderful Cleveland Museum of Art when it comes to modernist painting, but the MFA has turned a liability into a virtue in "Making Modern" by contextualizing what they own.
Each of the galleries, according to the MFA, represent a "moment — from Mexico City to New York to Boston — illustrating the evolution of Modern art in North America."
Georgia O'Keeffe is currently holding forth at the Peabody Essex Museum (through April 1), but whether you've seen that exhibit or not, this lovely MFA grouping surrounds her with her pals Arthur Dove, Marsden Hartley, Stuart Davis and Charles Sheeler. If modernism is more concerned with interior lives than exteriors, someone forgot to tell these artists, whose landscapes bounce between representation and abstraction in five divergent ways.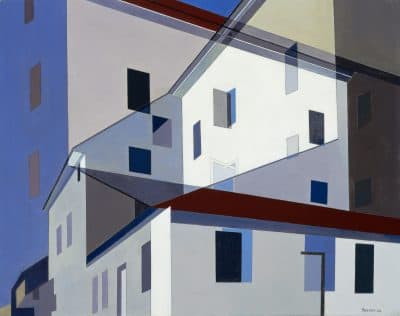 O'Keeffe's bright blue landscapes usher you into the exhibit with an airy, and eerie, sense of calm. The bright blue sky and a distant mountain are seen through the dead eyes of an antler in "Deer's Skull with Pedernal." Sheeler's exteriors and interiors of houses are an odd but inviting cross between Edward Hopper and Salvador Dalí.
You can go from there to "Beckmann in Boston," detailing the 1940s émigré response — not just Beckmann's — to German expressionism, a bracing reminder how the horrors of the Holocaust shaped modern aesthetic thinking. Even Beckmann's positive portrait of supporter Percy T. Rathbone, MFA director from 1955 to 1972, adds to the sense of sadness, if not tragedy, in the gallery.
Juxtapositions of Jackson Pollock and Pablo Picasso smartly delineate the differences and similarities between the two titans of the 20th century. Pollock's "Troubled Queen" and Picasso's "Standing Figure" ask the question, "Who was the more abstract of the two?" It shows, said Sebastian Smee in his Boston Globe review, that "Picasso's influence on Pollock is at once massive and demonstrable."
Frida Kahlo's radiant "Dos Mujeres" centers the "Kahlo and Her Circle" room, including Diego Rivera and José Clemente Orozco works, an attempt to expand the dialogue of American art beyond U.S. boundaries.
Meanwhile in the Linde Family Wing for Contemporary Art, you can take a Zen bath in "Seeking Stillness." Agnes Martin's contemplations in white, accompanied by some of John Cage's more accessible music and a video of performance artist Joan Jonas' "Reanimation," lead you into the main event: Mark Rothko's 11 startling works comprising the "Reflection" exhibit. These aren't works for the typical 10-second museum flyby. Take the MFA's advice and spend a minute in front of each one as they go from beautifully constructed blobs to something more soulful and mystical, as WBUR's Andrea Shea pointed out in her piece about the Rothkos.
Those 10-second flybys can lead to the kind of dismissals of geometric painting that you find in, say, Yasmina Reza's play "Art," but a closer look at the Rothkos can leave you weak in the knees. As with contemplating Michelangelo's "David," these works go beyond words, beyond interpretation, to the transcendence that Rothko was desperately seeking. But unlike "David," we have no biblical story to guide us or any representation of real-world majesty. We're on our own.
"If you think of the Mark Rothko installation," said Saywell, "it's no secret that our abstract expressionist collection is weak. Here we had the opportunity to bring in an artist who has enormous significance within 20th century art and do it with a level of depth." Saywell cited the MFA's collaboration with the National Gallery of Art in Washington, D.C., how the Rothkos fit within the "Seeking Stillness" gallery and the abstract painter's dialogue with Rembrandt.
Contemporary Art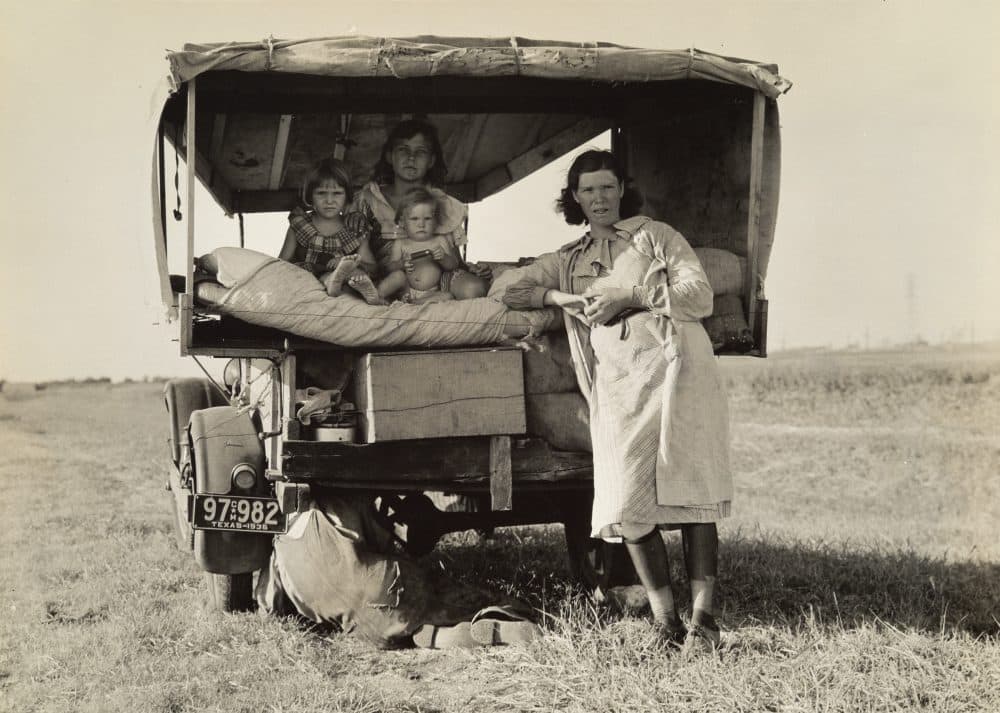 "Making Modern" isn't the only place where creative juxtapositions reign -- they're scattered throughout the museum's contemporary collections. The inviting photography exhibit "(unexpected) families" asks not only what constitutes a family, but what constitutes art.
Unlike the airiness of "Making Modern" these photos are crowded together as if they were hanging in a small European museum dedicated to the old masters. But these photographs are shot by mostly new masters, combining into a melting pot of families, some defined by biology, others by comradeship or profession. The photos cut against time, class, geography, politics and aesthetics to show a less abstract view of yearning than Rothko's paintings. Sons lament a lack of connection with fathers, one gay man finds his family in community rather than in any traditional way of thinking about family.
The grouping that really struck me centered on three families in cars anchored by Julie Mack's ironic photo-realist "Self-Portrait (Julie) With Family in SUV, Michigan, 2007." On either side are families in dire straits, Dorothea Lange's "Migrant Family, Texas, 1936" and Mary Ellen Mark's portrait of homelessness, "The Damm Family in Their Car, Los Angeles, California, 1987."
Very few people would choose the life of the migrant family or the Damms, with their cars on the verge of breaking down, over Julie Mack's. Nevertheless, Mack also captures a sense of desperation, maybe even dread, though her car is an oasis of modern comfort. All three families look as if they're facing a world of unknown terrors with very little in the way of sustenance from the family. (The Damm family photo is from a Life magazine spread that led to an outpouring of donations for the family. Four months later the money, cars and furniture were gone, used to buy drugs.)
Another exhibit, "Takashi Murakami: Lineage of Eccentrics" is a deeply entertaining coupling, with Murakami and Japanese art historian Nobuo Tsuji pairing Murakami's avant-garde cartoonish paintings with pieces from the museum's Japanese collection. Artist and scholar ask their own questions about art, particularly Western art, and come up with answers that call for more eccentricity and playfulness as well as flatter surfaces and a different kind of Zen religiosity. This is also a family-friendly exhibit, given Murakami's often child-like whimsy.
As with Rothko, Saywell notes that "We look for loans that create really strong conversation with the rest of the museum." This one's a pretty great conversation.
There's one other aspect of recent visits that the Murakami exhibit captures. On the two recent weekdays I went, the MFA seemed younger and more ethnically varied, particularly at the Murakami and "(un)expected families" exhibits. As Boston and America's demographics continue to change, all arts organizations must realize the need to change and broaden their definition of what they offer audiences.
There's still a long way to go at the MFA and most every other established arts organization, but diversity is also a key ingredient of the strategic plan, according to Saywell. "It is absolutely fundamental to our thinking and I would just elaborate how incredibly important it is that we engage with our local communities more deeply and broadly, particularly communities that might not visit us or have us on their radar."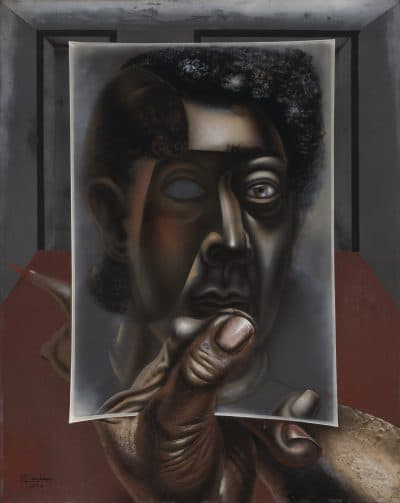 The MFA looks as if it's committed to living in that modern/contemporary world. There are other smaller contemporary exhibits that speak to gender diversity as well -- Annette Lemieux' "Mise en Scène"; "The German Woodcut: Christiane Baumgartner"; "Joan Jonas: Ice Drawing"; "Daniela Rivera: The Andes Inverted" and "Landscape, abstracted." More major 20th century exhibits have recently opened, such as "M.C. Escher: Infinite Dimensions" through May 28 and you can see modernism take shape in "Klimt and Schiele: Drawn" also through May 28.
But the one piece of art that symbolized this more modern tour of the MFA is one I might have missed if The ARTery's Maria Garcia hadn't pointed it out — David Alfaro Siqueiros' 1937 "Autorretrato con espejo" or "Self-portrait with mirror." Its amalgamation of styles, its warts and all view of reality, its Latin American pedigree and its confrontation with power elites are all part of a modern attitude. It is also seriously fun and contemporary despite being 80 years old.
It is, as the wall description notes, a selfie.