The Red Sox And Alex Cora Make For Great Drama But Is The World Series Victory Art? You Bet It Is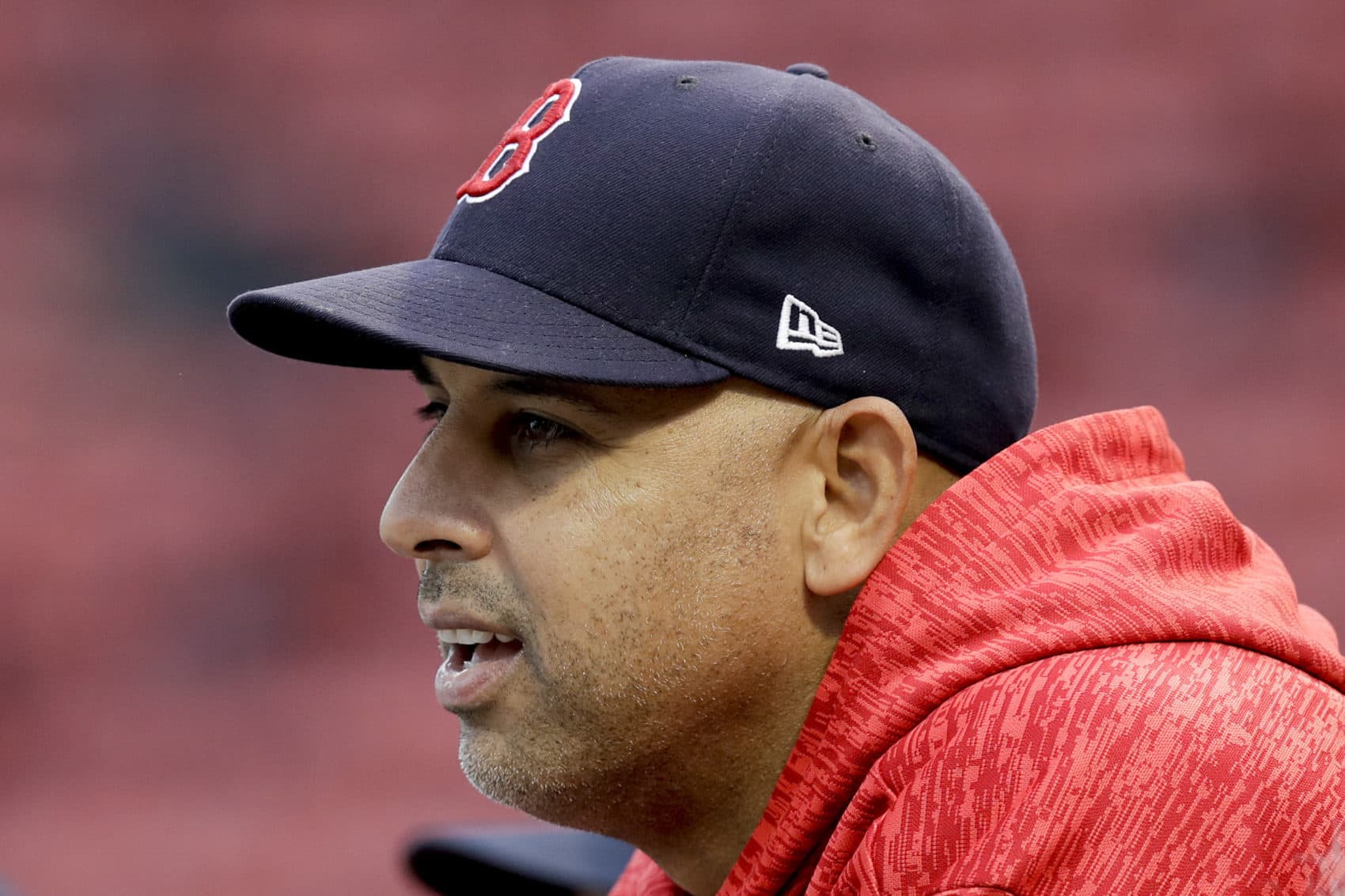 This article is more than 2 years old.
A friend recently asked me and a fellow theater critic if we thought that the Red Sox' thrilling Game 4 playoff win against the Houston Astros qualified as great drama. I was about to reply that it did qualify as great drama, but not as art. It didn't signify anything greater than itself — other than a certain tribal good feeling among the players and the fans, which is true of almost any team sports event.
I immediately thought better of it. The team, symbolized by Alex Cora, the amazing rookie manager, does really stand for more than the sum of its parts. You can point to a lot of individual things — Cora leading the team's effort to provide hurricane relief for his native Puerto Rico or Mookie Betts delivering food to the homeless, unaware that he was being caught on video, after a World Series victory in Game 2.
All of that, along with the Red Sox' infectious team spirit, is tremendously praiseworthy, but what really strikes me about Cora and the team in terms of making the Red Sox special are two things. If Shakespeare's "The Merchant of Venice" celebrates the question of mercy, then Cora's Red Sox celebrate the question of loyalty. And if Ibsen created the perfect symbol of standing up to the mob in "An Enemy of the People," Cora did a pretty good job standing up to everyone from ESPN and talk-radio goons to everyday fans (guilty as charged) in doing what he thought was right instead of following conventional wisdom.
The most obvious example is how he stuck by his players going through tough times. And the most obvious example of that is David Price, who was stung badly by the Yankees, in Game 2 of the American League Division Series. It seemed as if Price was going through his post-season horror show again. I remember how everyone from Bomani Jones on ESPN to my local barista thinking the manager had lost his mind for not taking him out of the starting rotation after that outing.
Cora stuck with him and the road to redemption is part of Boston baseball history now. But Cora didn't rely on blind faith. Dodger manager Dave Roberts stuck with his guys, too. (Roberts is also part of Red Sox history, as without his stolen base for Boston in 2004, the Red Sox would have been swept by the Yankees.) But Cora backed his loyalty up with keen perceptions about the game and the players on both teams. He saw something, he said, about the way Price was pitching against the Yankees that reminded him of the guy who was so dominant in the second half of the season.
He repeated the same scenario with Jackie Bradley Jr., sticking with him despite his woeful first-half batting average, partly for his great fielding but also because he thought Bradley was making good contact with the ball. And did that ever pay off in the second half of the season, not to mention the playoffs. The same for his much-maligned bullpen, so suspect as the Sox entered the post-season, and so dominant once they got there. Again, it wasn't that he stuck with his guys — Joe Kelly, Matt Barnes, Ryan Brasier and Craig Kimbrel — but he knew whom not to go to and how to plug up bullpen weaknesses with starting pitchers. (And yes, I was one of the maligners.)
Maybe the most impressive move he made during the World Series was how he handled his two talented third basemen, Rafael Devers and Eduardo Núñez. After platooning them all season, he decided to start Devers in Game 1 of the World Series against fellow lefthander Clayton Kershaw. Cora went to a disappointed Núñez before the game and told him to be ready because he was planning to use him in a key spot late in the game. Núñez relaxed and hit a three-run homer in the seventh inning, pretty much putting the game out of reach.
Think the what-have-you-done-for-me-today Bill Belichick would have done the same thing? Can we say Malcolm Butler, whom Belichick benched for still unknown reasons, possibly costing the Patriots last year's Super Bowl. Núñez probably would have been kept out of the game by Belibot for talking back to him.
Cora not only seems to love the game, but to love life. My favorite post-game interview was on MLB when he was asked about all of Núñez's flopping around the stands, home plate and seemingly everywhere else in Game 3 of the Series. Was Cora worried? He just laughed and talked about how hyper-emotional the third baseman is, recalling a time during the season when he was hit in the stomach by a pitch and was lying on the ground yelling, "I'm dying, I'm dying." Cora just laughed and said, "Eduardo, you're not dying."
There was something lovable about each of the previous three world champions this century, but the latest feels particularly sweet. We have become a nation of blowhards who think that there is nothing special about expertise. Corporations no longer feel any loyalty to their workers, and the workers follow suit.
This year's Red Sox temporarily shut up the blowhards with Cora's expertise and they made loyalty and egolessness central to their narrative. Alex Cora not only conducted the team like a great maestro, he wrote a script for our times. Bravissimo.