Responding To Racist Incident, MFA Revamps Welcome For Students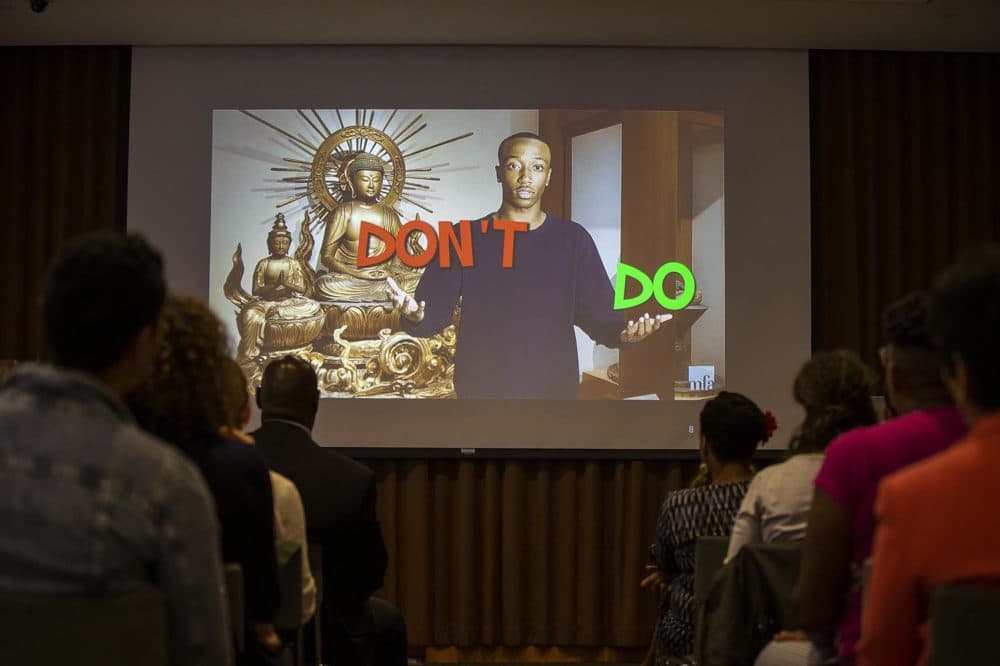 The video reads like the pre-flight safety briefing on an airplane. But instead of preparing for take-off, school groups are being informed of the "do's and don'ts" of entering Boston's Museum of Fine Arts.
Like a kind of museum orientation, it will give students insight into what they can expect in the MFA. On Wednesday before a room of school administrators, retired and current teachers, and other community members, museum staff unveiled the new video as well as other new procedures they're putting in place to make the MFA a more welcoming place before school groups even enter their galleries.
It features two MFA teen scholars Jennifer Rosa and Jadon Smith, students of color who spent this summer at the MFA working with one of the museum's few non-white curators, Layla Bermeo, the Kristin and Roger Servison Associate Curator of American Paintings.
"We're glad you're coming and can't wait to share the artwork with you," Rosa said in the video, which will play for every school group before arrival from Wednesday on. "Here are some ways you can help us preserve the art for the future and ensure that everyone has a great experience."
The video is one of the ways in which the MFA is reevaluating its welcome for visitors after the May 16 racist incident that is still reverberating at the museum and beyond, nearly five months later. In May, a group of seventh grade honor roll students from the Helen Y. Davis Academy in Dorchester were subjected to racial harassment and discrimination, while on a field trip to the MFA. All were black and brown students who had received the opportunity to visit the museum as a reward for good behavior. A patron in the gender-bending fashion exhibit commented on how "certain students should be learning not stripping" when a few of the kids did a model walk in the gallery. Later, outside a gallery of ancient African art another patron commented on the "[expletive] black kids."
Teachers with the group felt the security guards were following them throughout the galleries, while ignoring white students. After an internal investigation that utilized security footage and dozens of interviews, the MFA revoked the membership of and banned the two visitors whom the students said had insulted them. The museum did not impose consequences on museum guards, saying that it may have looked as if the guards were following the kids but in reality were only going off and on break and overlapping.
Other changes by the museum include increased staffing at the school group entrance from five to 10 staff members, tours will be extended from 60 to 75 minutes, and new customized handouts for chaperons and teachers with on-site contacts for assistance during the visit. The museum is adding a "Gallery" hosts pilot program where trained educators will provide directions and answer questions in highly visited galleries. They're expecting to recruit up to 10 hosts to work between 10 a.m. and 2 p.m.
A statement sent out Wednesday morning by Iván Espinoza-Madrigal, executive director of the Lawyers for Civil Rights, which is representing several of the students and teachers from the Helen Y. Davis Academy, said his clients prefer not to speak at this time, but they feel excluded from this process.
"The students and their teachers are learning a painful lesson in how elite institutions respond to racial inequity: mouth a few platitudes, ignore the victims, and wait for the storm to subside," Espinoza-Madrigal wrote in the statement.
"Despite repeated requests from the students and their teachers for a meaningful and comprehensive apology from the museum, and for much-needed mental health support services for the children — neither has been forthcoming."
Several times when asked about the school, Makeeba McCreary, the MFA's chief of learning and community engagement, said she couldn't comment on pending litigation and wouldn't mention the name of the school in her presentation. She also said she couldn't address the students' claims of being excluded until the investigations have been concluded. In June, Attorney General Maura Healey's office confirmed it began investigating the incident when the allegations became public. Also in June, the MFA hired an outside firm, Casner & Edwards, to conduct an external investigation after concluding its internal probe.
"Did [the Helen Y. Davis students'] experience inform some of our decisions? That I think is absolutely correct," McCreary said. "I think that we have to really analyze what broke down, what went wrong, and then you start to think about where the solutions are."
An estimated 60,000-plus students come to the MFA every year, she said during the presentation, but only about 20,000 use a guide when they're moving through the museum. In January when she started her job, McCreary noticed that outside of cultural events, communities of color weren't as engaged with the museum.
"So Martin Luther King Day, 10,000 African American, Latino, white, a really wonderful diverse audience [is here] and then the day after we are back to predominantly a white older demographic visiting the museum," McCreary told the group. "So 'belonging' very quickly became a part of the thing that I was interested in."
She began listening sessions with students and faculty and K-12 educators in March and expanded to include families and artists. Those became known as "inclusion roundtables" focused on race, something that became increasingly important after the incident in May. Many of their suggestions were put into action.
"You know whenever you convene people and you ask them for advice you're supposed to take that advice and use it," McCreary said. "I feel really good that we've delivered on that."
No students or faculty from the Helen Y. Davis Academy were present on Wednesday.
My Brother's Keeper, an organization that supports youth of color, has been working with the MFA to bring community members together around issues of equity at the MFA after the May incident. Joseph D. Feaster Jr., co-chair of the program, said My Brother's Keeper invited the Helen Y. Davis Academy executive director to the video unveiling at the MFA.
Feaster Jr. said he is pleased with what the MFA has done so far.
"Time will tell whether that will work," Feaster said. "But I think the progress that they have made has been. There's always more to be done."
Retired K-12 visual arts teacher Denise Berkley had been a part of the MFA focus groups who conceptualized the new procedures for welcoming student groups. She remembers bringing students of color to the MFA years ago and encountering hostile responses from security guards when her students touched something by accident or out of excitement.
"It's just preparation," Berkley said. "You explain to [students], you come up with a protocol where you know how a museum functions and how you function in the museum, you walk in with joy, you look with your eyes, not with your hands."
"If everyone's on the same page on how to respond when something's happening, there will be no miscommunications," she continued. "There will be no issues with how certain people are treated as opposed to how you treat the public in general."
Gavin Smith, assistant head of school at Fenway High School, said he attended a meeting with the MFA a few months ago and felt the museum was really interested in having educators help them put in place better practices for visiting students.
"I think they were very open to our conversations," said Smith. "I noticed that a lot of things we talked about that day, well, not everything but a lot of things that we talked about that day are reflected in one the video, which is phenomenal and is beyond anything that I could have ever expected."
McCreary admits the video is "one input" and that there are a lot of other things that need to happen, but it's a start.
"I think just the fact that we made a video for students means that's a value of ours that we care about kids and we care about our responsibility in preparing them for their experience here," she said.
As far as a letter of demands made by the students and teachers of the Helen Y. Davis Academy in June, she said she would have to defer that to their attorneys.
"I think that's for later on down the line," McCreary said.