From A Double Life To 'Becoming A Man'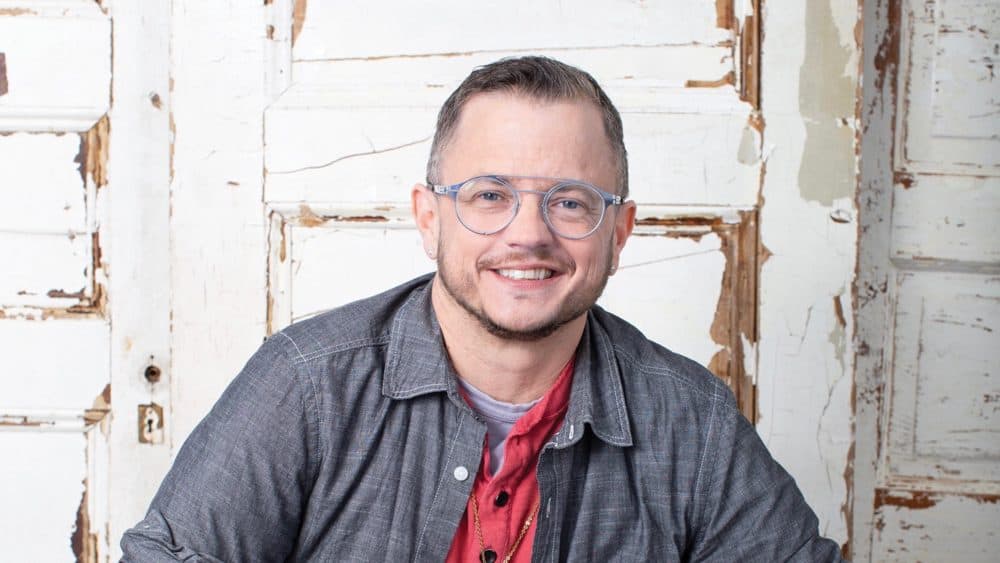 "Stories help us disrupt and think differently as a culture," says P. Carl, the playwright, dramaturg, and author of the recent memoir, "Becoming a Man: The Story of a Transition." With this book, Carl adds his narrative to the conversations surrounding trans identity and white masculinity.
On one hand, there are precious few stories of trans men in popular culture. But on the other hand, Carl will be the first to point out that even as someone who "lived the life of a woman at the mercy of patriarchy and misogyny," he is still susceptible to engaging with toxic masculinity.
At Emerson, where he's a distinguished artist in residence, he teaches a course called "Burning Down the House: Disruptive Narratives in Theater and Life," in which students look at the theoretical, historical and political natures of storytelling. More diverse stories are now being told on the stage, but the leadership behind the curtains is still largely white, male and affluent.
"The historical problem of storytelling in theater is it being monosyllabic," says Carl. Because popular theater has been historically written, acted, directed and produced by white creators, theater is inherently oriented to whiteness. Even as theatrical institutions mobilize to diversify and be more inclusive, this still assumes whiteness at its origin story. That's something Carl sought to counter when creating HowlRound Theatre Commons, which has been a part of Emerson College since 2012. Theater by and for people with marginalized identities can find space and funding for their stories to be heard.
Carl himself is a white man, an identity he transitioned into at age 50. He adopted a new birthday on March 16, 2017, the day a stranger called him "sir" and he finally felt at home in his own body. "Becoming a Man" chronicles the journey of his transition with all the messy bits that others might not have offered on a platter for public consumption. His writing exhibits the life of a multifaceted (and sometimes contradictory) human, who grew up as a daughter and a sister, but was never a girl or a queer woman. He writes, "Sometimes I have the courage to look back and tell you about what Polly went through and other times I only want to convince you I was always only Carl."
The overarching theme of Carl's memoir is the concept of "doubling." "People of color and women and queers and trans folks all know what it means to double," he writes, "how to perform two different versions of themselves depending on the context." Carl writes that until the #MeToo era, perhaps the only group who hadn't experienced this internal divide were white males. Then they were suddenly being asked to been seen as a group, with all the social mores that came with the problematic history of that monolith. "Not all men!" they protested.
As someone who has only recently adjusted to the inherent privileges of being recognized as a white man, Carl admits there is something seductive about not having to double. Men are allowed a certain level of obliviousness and simplicity. Pre-transition, while Carl's brothers kicked up their feet after Thanksgiving dinner, Carl washed the dishes alongside his mother out of a sense of gendered duty, even though he was just as tired as the other men. Now Carl gets to be a "guy's guy" who likes beer and bourbon and athleticism, but that instinct of being a "good daughter" hasn't left him, as his parents' health sharply declines.
That's not to say that Carl doesn't see the fluidity of gender. Living between the binary just wasn't his experience. He feels grounded as a man in ways he couldn't have imagined prior. "As I transitioned and began to feel how important a body was to a head, I found the ability to explore places and feel things that weren't possible until I transitioned," he says. One passage tenderly describes a visceral new sensation he feels upon seeing his wife, Lynette D'Amico. Other passages invoke the anger he's always felt, but others now viewed through the lens of his masculinity.
When I ask Carl why someone who has worked in theater for over 20 years chose to write his life story as a memoir, he admits that exploring those emotions would have been impossible to face in a play as the story's first iteration. In retrospect, he says it's very hard to dramatize emotions while you're still living them. "When you tell your story for the first time to yourself, it's more natural to be journal-keeping and prose-making."
However, he still gets to explore that drama, because "Becoming a Man" is being adapted into a play by the American Repertory Theater. He jokes that people who are "others" will often present their life stories as one person plays, because theaters are only willing to fund one actor. When Carl told A.R.T. that this story will take at least seven actors, they agreed wholeheartedly. There are many selves presented in "Becoming a Man" and it would be a disservice to boil Carl down to one.
"Burning Down the House" used to be an elective class at Emerson College but with its explosive popularity, it is now a requirement for performing arts students. Carl says, "The most important thing for me as a teacher is to find a way for students to connect to their experiences in an embodied way. The crazy ways culture bears down on us must be fully felt together in the body, we can't be disentangled." Understanding the physical self is key to understanding your inner self. He understands this as a trans man, but he wants students of any marginalized background to feel connected to their physical selves. He says, "The more embodied they feel, the more they feel they can handle what comes next."