The Pops Gear Up To Celebrate Keith Lockhart's 25th Year At The Podium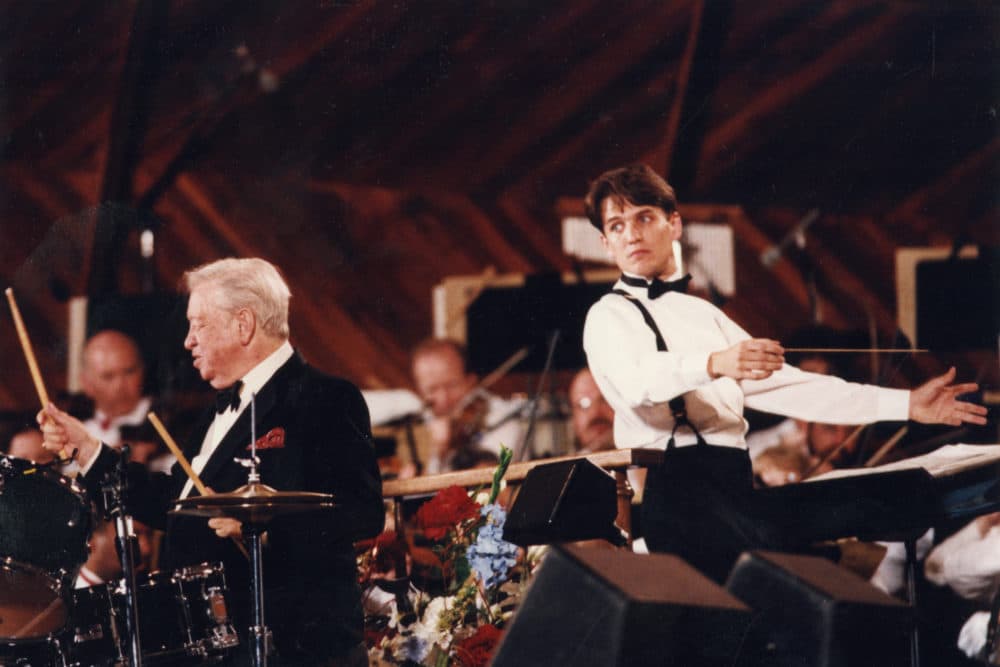 This article is more than 1 year old.
Keith Lockhart was just 35 years old for his debut as the Boston Pops new conductor in 1995. Excitement and hype swirled around the young artist's arrival, and his fresh-faced, boyish charm drew comparisons to heartthrob celebrities like Tom Cruise.
But along with his charismatic youth Lockhart brought honed musical chops, a confident conducting style and a passion for creative collaboration. Those skills, among many others, have carried his relationship with the orchestra forward for a whopping 25 years.
On May 6, the Boston Pops begins a season-long party of performances to celebrate Lockhart's quarter-century milestone, which he said is making him feel a little embarrassed.
"I've never been a big anniversary person," he admitted this week as the Pops released the upcoming season's line-up. "I've kind of thought that whatever it was — whether it's, you know, a Pop's tenure or a wedding anniversary or birthdays for that matter — it should be just as significant at 24 and 26 as it is at 25." But Lockhart said it is a good chance to look back and reflect on the fact that a quarter-century of music making has indeed passed.
While 25 years is a milestone, it's not a record tenure for a Boston Pops conductor. Arthur Fiedler stayed on for nearly 50 years, from 1930-1979. The Pops were founded in 1885 to bridge popular music styles with orchestral ones. Like his predecessors, Lockhart works hard to maintain that tradition.
"I think one of the keys to the Boston Pops' success is that we are, at our heart, a great orchestra that plays great music written for orchestra," he said, "And we try not to forget that."
BSO music director Seiji Ozawa brought Lockhart to Boston after Hollywood composer John Williams left the Pops' principal conducting position in 1993. Lockhart's debut concert in 1995 featured Dvorak's "Carnival Overture," the theme from Disney's "The Lion King," and "Charlie on the M.T.A." As he led that local classic, Lockhart playfully sported a train conductor's hat at the podium.
Over the years he's led the orchestra through more than 2,000 concerts in spaces including Symphony Hall, the Hatch Shell each Fourth of July and Fenway Park. Lockhart and the Pops have embarked on 45 national tours to more than 150 cities in 38 states. They've gone to Japan four times.
At home, Lockhart has consistently shaped performances with a diverse slate of guest artists ranging from cellist Yo Yo Ma, to Steve Tyler of Aerosmith, Elvis Costello, Bernadette Peters, Steve Martin and Senator Edward Kennedy.
The upcoming 2020 season reflects Lockhart's mixed-terrain programing path that's straddled Broadway musicals, rock, jazz, orchestral and American popular music. Many of the artists who've joined Lockhart in the past are returning to Boston to celebrate.
When his colleagues started talking about doing something of a 25th-anniversary retrospective, Lockhart said his first thought was, "well, we don't want this to be a kind of stuck in the mud, 'gee, remember when' sort of season...that really could, you know, kill the vitality this season. But I'm thrilled with the kind of mix and balance that we have accomplished."
There are more than a few "looks over the shoulder," as Lockhart put it. Vegas duo Penn & Teller are bringing their comedy-infused magic to Symphony Hall on May 6 for opening night.
"Penn and Teller were not only on my first season there," Lockhart said, but also, on his first week of the job, "And believe me, I had no idea what hit me at that point."
Another pending reunion is with the Tufts University-born alternative '90s band Guster. They played with the Pops in 2005 and return May 8 and 9.
Lockhart said he's also thrilled to present a concert version of the Tony Award-winning musical "Ragtime" on May 21 and 22. The team behind the original Broadway hit — playwright Terrence McNally, lyricist Lynn Ahrens and composer Stephen Flaherty — are adapting it to honor the conductor's anniversary.
"I think it's a brilliant musical. It's a very American musical," Lockhart said.
For all the Luke Skywalker and Yoda Fans, Lockhart is conducting the Pops orchestra as they play Hollywood composer and Pops conductor laureate John Williams' score for "Star Wars: The Empire Strikes Back" while the iconic film screens over their heads (May 13, 14, 16 and 23). On June 10, Lockhart will do it again for "Star Wars: The Story in Music" that presents a sampler of music from nine "Star Wars" movies.
Also in June:
Amanda Palmer — the creative force behind the Boston band Dresden Dolls — takes the stage with her husband, sci-fi and fantasy fiction author Neil Gaiman.
A "Celebrating 25 Years with Keith!" program stars Megan Hilty and Jason Danieley on June 2, 3 and 4. They'll be performing songs by George Gershwin, Lockhart's favorite American composer.
The party moves to the Berkshires for the June 20 Pops' performance at Tanglewood with Trey Anastasio, founder of the Vermont jam band Phish.
All this celebrating will be a lot to take in for Lockhart, who's been pondering what he feels most proud of when he looks back on his tenure with the Pops. He said it's hard to come up with a clear-cut answer.
"The job has been so life-defining. I've done so much — so many tours, so many live concerts, worked with so many people," he said.
But a few moments do stick out, he said, including his first Fourth of July concert.
"Just because I walked out on that stage and just couldn't believe the sea of humanity that was in front of me," Lockhart remembered.
Then he went a little deeper. "I think I'm proudest of working with my team and with the orchestra," Lockhart, now 60, said, "to keep playing great live music of a really varied and interesting variety for lots and lots of people."
---
The Boston Pops' season kicks off May 6.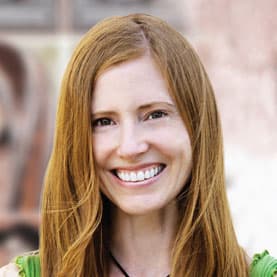 Andrea Shea Senior Arts Reporter
Andrea Shea is WBUR's arts reporter.